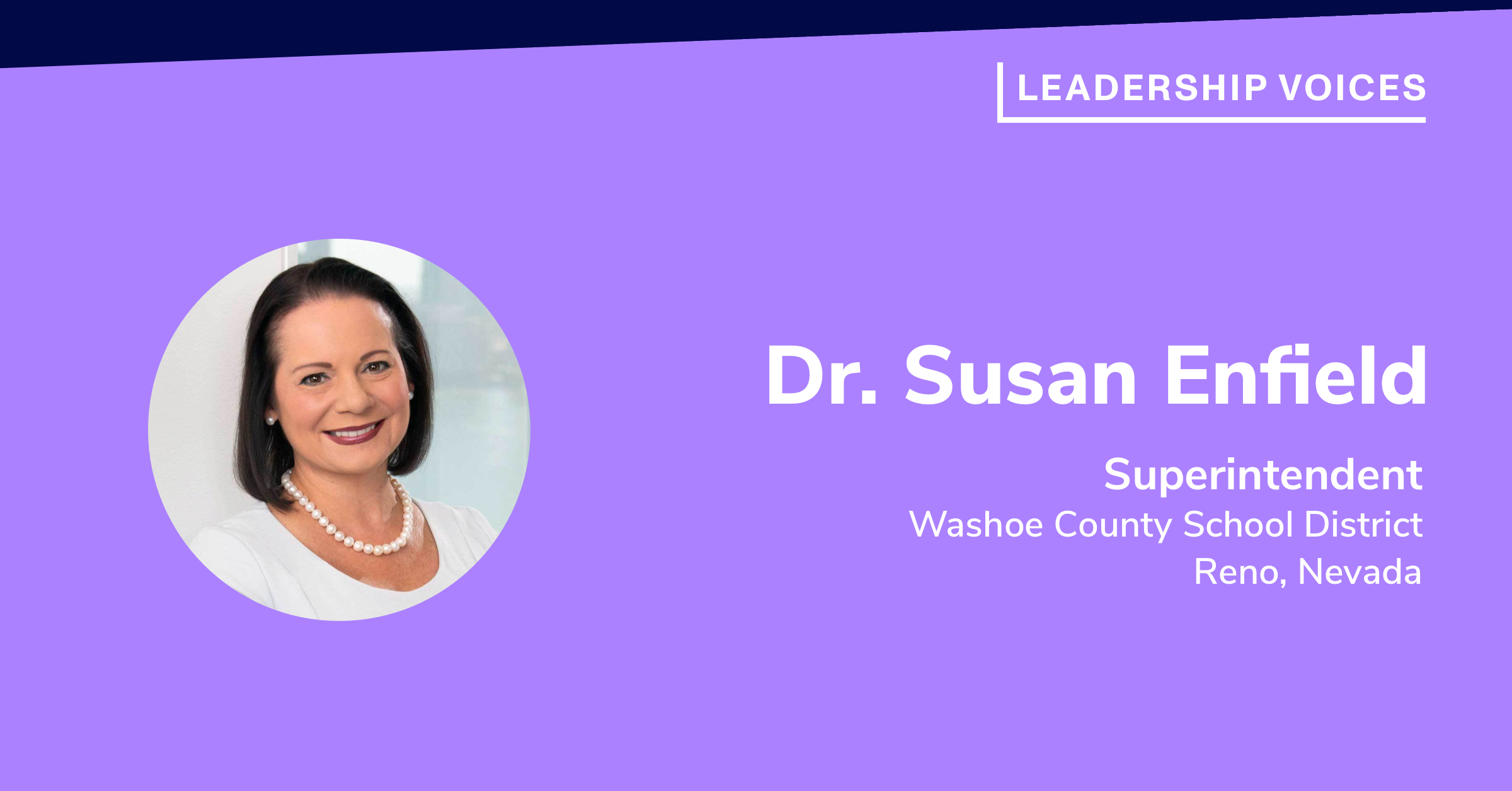 5 questions with Nevada superintendent Dr. Susan Enfield
October 11, 2022
This year, Dr. Susan Enfield embarked on a new chapter of her career in public school administration, and she's bringing years of wide-ranging experience to her new role in Nevada.
In an interview that has been edited here for length and clarity, we asked Enfield about her move from Washington state's Highline Public Schools—headquartered in the King County city of Burien—to the Washoe County School District in western Nevada. She shared with us her top priorities while getting down to work in a new state and community.
Can you describe your transition from the previous roles you've held to this new opportunity in Washoe County?
Prior to the end of my ninth year at Highline, I knew that it was time for me to find my next professional challenge.
I knew that I still wanted to be a superintendent, but I was very specific in wanting my next role to be in a district where I felt we could do meaningful work while also being in a location that worked for me personally. My mantra is always, "Health and family first."
Washoe is close to my family. It's in the heart of mountain biking country, which is my husband's favorite thing to do, and the district itself is a good size—it has just over 60,000 students. It also has a strong school board and really talented, dedicated people throughout the district. It's an amazingly supportive community with a lot of challenges, so I felt like the conditions in the Washoe County School District were in place to do the kind of meaningful, lasting, and change-making work that will impact kids' lives.
What would you say are your most important focus areas for the district right now?
I've identified three priorities. The first one is getting back to basics—making sure that all students are known, challenged, and supported to succeed. We need to refocus on the business of educating children.
The second is building trust by fostering relationships with families and the community. I want to make sure that our families and community members know the district really is here to partner with them in educating our children, and I want the district to be seen as a trustworthy organization by people in the community.
Finally, I want to create a healthy, supportive, and resilient organization where staff members are valued and supported to succeed. The last two years have taken a toll not just on our children, but on our educators as well. I want to make sure that, as a system, we're applying the lessons we've learned from the pandemic and are taking care of our people.
Are there any tips you have for other superintendents who might be starting out on a journey with a new district or in a different region?
First of all, I always say, "Choose your professional home wisely." I've seen superintendents go to districts where they just weren't the right fit for the community, so I think you really have to do your homework and make sure that your values align with the district's values and that it's a community you can really see yourself living and leading in.
The second is to reach out to other superintendents you know—ideally in the region you're interested in—to gather useful insider information. You need to be really honest with yourself about the kind of leader you are and how that will determine the fit between you and the organization.
How do you plan to support students holistically this year and in the future?
I think we make a mistake when we continue to separate social-emotional learning and academics because that's where criticism comes in—people can get the idea that we're somehow focusing on social-emotional learning at the expense of academics.
So rather than continuing to talk about social-emotional learning as a distinct phenomenon, we need to integrate it and talk about what it really is. We want our students to be able to self-regulate. We want our students to understand how to resolve conflict in a nonviolent way. We want our students to know what it means to be part of a learning community. How do they function in society along with other people?
These have always been core skills that we've taught in school. I think, more and more, we need to talk about the work we're doing in different ways. We need to use language that actually talks about what we're doing rather than focusing on a label that can be misinterpreted. We have to minimize distractions so that we can focus on the core work.
Is there anything else you'd like to share?
One of my other priorities right now is to work with the legislature to improve funding for public education across the state of Nevada. Right now, a first-year teacher here in Washoe County makes roughly $25,000 less than a teacher in my previous district, Highline. I receive about $3,000 to $4,000 less per pupil here in Nevada than I did in Washington state. Those kinds of disparities need to be addressed.
Also, right now, the way that we rate our schools often has to do with attendance policies that I don't believe are in students' best interest. We have to move past the days of coming to school or work sick, whether you're physically ill or struggling emotionally for whatever reason. Don't get me wrong—I'm not talking about kids who are chronically absent, but if your kid needs to stay home, keep them home. I think that that's a conversation that we have to start having at the state and national levels.