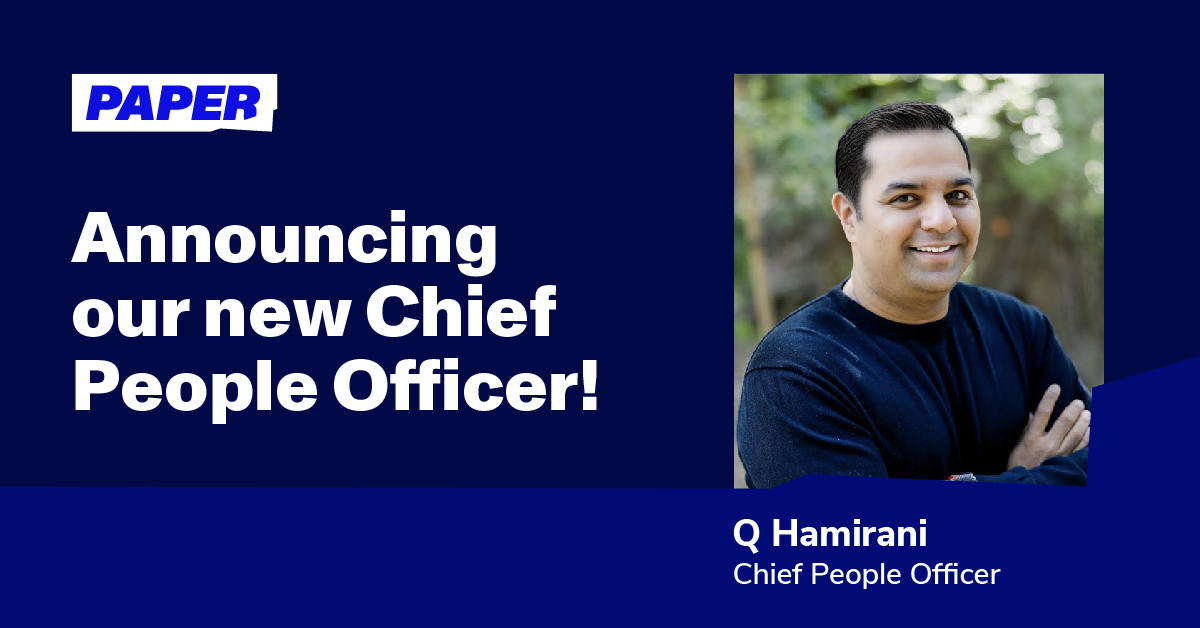 Welcoming our New Chief People Officer, Q Hamirani
Apr 12, 2023 10:41:30 AM
Paper's mission is to help students turn struggle into success so they can reach their potential academically and gain confidence for life after graduation!
They say it takes a village to raise a child and we believe that it takes a dedicated team to support the academic success of millions of students. That's why our people and culture are integral to our success.

With this in mind, we are thrilled to announce our new Chief People Officer, Q Hamirani!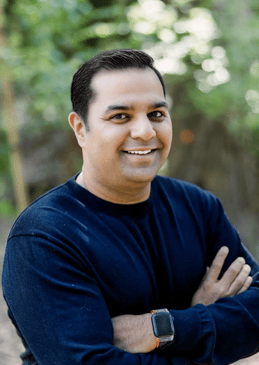 As Chief People Office (CPO), Q will lead the scaling of our people strategy, strengthen Paper's employee experience and culture, and build out a meaningful approach to diversity, equity, and inclusion (DEI). In this newly created role, Q will oversee all aspects of Paper's People Team, including talent acquisition, people ops, total rewards, and HR systems.

Supporting our team and prioritizing our culture is the first step in being able to support our students. That's why we've brought Q in as our CPO, to help ensure that we are prioritizing the needs of our team members and investing in our culture. He brings an impressive depth of experience, which will be invaluable in supporting our team that makes Paper so special.

From strategic vision to supporting distributed workforces, Q's time spent with high-growth organizations and first-hand experience from working across his own startups will be incredibly valuable in supporting our team as we continue to grow and evolve.

He spent the last five years as a global people leader at Airbnb, where he built out Airbnb's Global People Operations Team from the ground up, led them through a successful IPO, and incubated several people programs – including their highly successful Live and Work Anywhere program.

We spoke with Q to get to know more about his experience, why he joined Paper and his plans for the People Team!

1. What made you interested in joining Paper?

My initial interest sparked from a commonality between my own core values around continuous learning, and Paper's mission to help promote learning and growth for future generations. My interest got deeper as I learned more about Paper's journey to date, the company's recent explosive growth through the pandemic, and the potential for future growth and impact. My son is now 2 years old and I hope he gets the opportunity to use a platform such as Paper to enhance his learning experience!

2. Why do you think working in education and edtech is important?

Education is the key to shaping the next generation's future and opportunities. Being able to work in this sector allows me to have a direct impact on the next generation. Education has always been a critical part of my own personal journey and continues to be until today. I just finished a music production course and typically do a learning program every few years to help me grow. I have also been on a board of a non-profit that supports education for underprivileged women and children in developing countries for 8+ years. Traditionally, edtech has been on a lag in terms of evolution and adoption and I think we are in a unique moment in time to change that.

3. How will your success with AirBnB prepare you for this new challenge?

We went through numerous unforeseen macro events at Airbnb including turning the company around during the pandemic in a remote setting (Airbnb was not a remote company prior to the pandemic), going through a successful IPO, and helping our employees stay productive and engaged in a remote world. My success at Airbnb was due to my continued desire to understand and align with the rapidly evolving business challenges while staying true to our overall mission. I believe this continued resilience to push the status quo and create innovative solutions from my time at Airbnb has prepared me well for my new adventure with Paper.
​
4. What are some of the benefits and challenges in a remote-first workplace like Paper?

​One of the key benefits of a remote-first workplace like Paper is the flexibility that it provides all employees ​to curate their own productive lifestyle and the broader diverse talent pool that it provides employers to recruit from. However, when employees are working in different locations, it can be challenging to ensure effective communication and collaboration. Remote workers may feel isolated or disconnected from the rest of the team, which could impact morale and productivity in the long run. It will be important for organizations like Paper to develop people strategies and programs that address these challenges while leveraging the benefits of remote work.

5. What are some of your initial goals for your tenure at Paper?

​My initial goal ​is to learn and understand the history, overall context, and current challenges that Paper faces. This will enable me to align our people team priorities to meet the business needs and build a scalable team to help support all our Paperites.

6. What would you want people to know about the challenge facing HR practitioners in today's world?

HR practitioners face many challenges in today's world, including continuing to understand the overall business challenges and building programs that promote productivity in a remote world. To succeed, they need to be agile, innovative, and unconventional in their approach to people programs while willing to iterate and adapt as needed.

Thank you to Q for taking the time to answer our questions. We are excited to see all that you accomplish at Paper!

Want to join Q and the Paper team? Check out our open positions on our Careers Page.