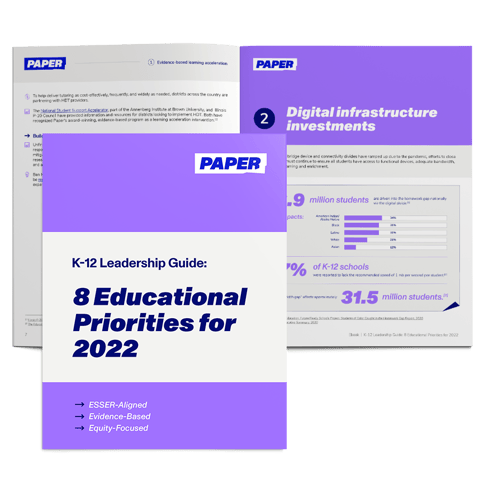 K-12 Leadership Guide: 8 Priorities for 2022
As we go back to school, there is no going back to normal.
Amid renewed uncertainty and heightened community needs, learn what district leaders across the nation know is working, and what needs work.
Examples from the field are compiled in this guide alongside data, research, and funding guidance on creating a brighter future for K-12.
8 educational priorities for the 2022 school year—each being ESSER-aligned, evidence-based, and equity-first
Insights and stories from conversations with over 100 district leaders and educators nationwide
Data and evidence-based interventions from Brown University, NWEA, The Learning Policy Institute, etc.
Examples of how districts are following state and federal guidance for one-time relief funds
Additional resources to inform districts' strategic plans