Come work with us
Paper is one of the fastest growing companies in ed tech. We're shaping the future of education. If you're passionate about innovating, educating, and making a difference in the lives of every learner, Paper just might be the place for you.
Our unique culture
You'll feel it the second you meet the team—and when you see the impact we have on schools and students. Paper is driven to build an amazing business like none other, but we're also fueled by a mission that is much, much bigger. It's exciting, challenging, energizing, rewarding, and a whole lot of fun.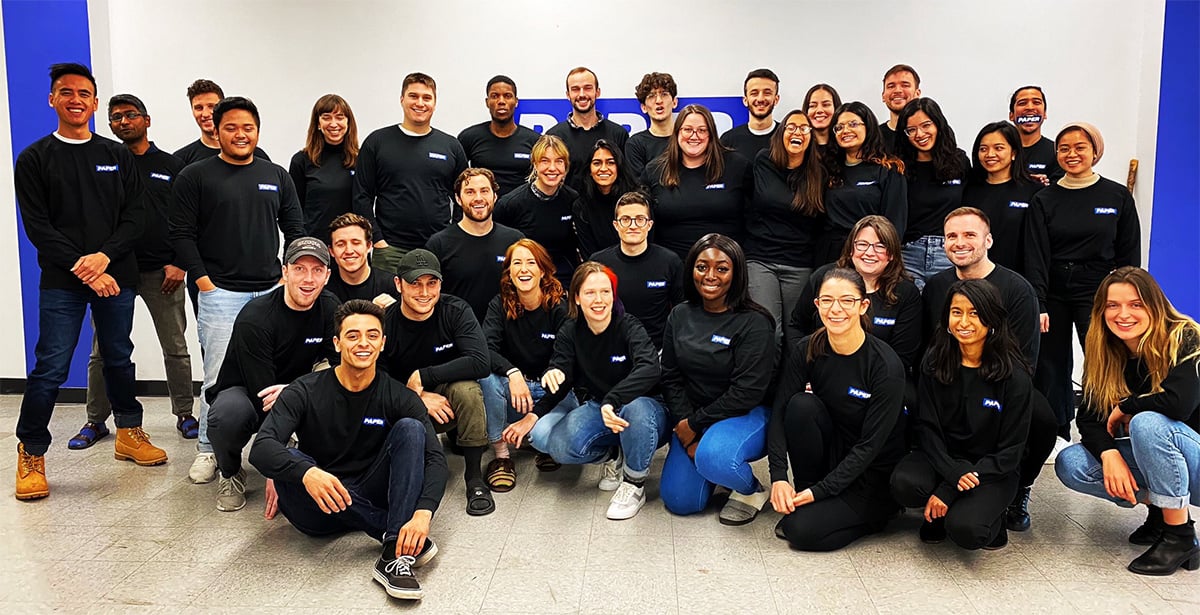 You solve the big problems. We support you along the way.
Ready to join the Paper team?
| | |
| --- | --- |
| Marketing | We're a tight, nimble team with big objectives: get the word out about Paper, spark interest in our target market, and keep our audience compellingly engaged. We use data, martech, creative thinking, and top-notch teamwork to make it all happen. |
| Partnerships | At the foundation of our team are two core values: trust and credibility. Our team treats our partners' challenges as our own. And from education to tech, we know our stuff. Working with our partners, we paint the vision of a better future, prove to our clients they'll be successful, and work hard to earn their business. |
| Customer Success | Our team turns vision into reality for our partners. We work with customers to define what success means for their Paper implementation and then take the lead on achieving it. We have the people skills, the technical skills, and the leadership to help districts successfully implement a new solution that transforms the way students learn and teachers teach. |
| Engagement | How do you roll out Paper to thousands of students, teachers, and administrators in a school district—and get them to love using it? Talk to the engagement team! We're experts at driving user adoption, and we won't stop until we've reached every student and teacher who can benefit from Paper. |
| Service | Everything Paper does is about getting learners connected with us. We're the tutors who guide students to solve problems, grasp concepts, and sharpen skills. You won't know what question may be coming next—but you can be certain that supporting learners in gaining confidence at every step will be rewarding! |
| Product | We take the challenges our partners and students face and create solutions using people, design, and technology. It's part science, part art, and a lot of exciting problem-solving. |
| Engineering | Our team is responsible for the platform that powers Paper. We work in tight, agile teams to design and code exciting tech that scales to millions of users. |
| Labs | The best-run organizations use data to guide their decisions. Our team is responsible for extracting the gold from all the data that Paper generates—unlocking insights to help students learn, teachers teach, and make sure our team and our tech run optimally every single day. |
| Talent and People Operations | We find the world's best talent to help grow our company. And we create a supportive working environment for you to thrive. From recruiting and onboarding to helping build and maintain a great culture, we're 100% focused on what makes Paper great: our people. |
| Finance | Finance fuels Paper's growth. We work with VCs and other investors to fund our vision. We support our sales teams in cementing client partnerships and own the day-to-day management of our company's financial resources. We ensure that we have what it takes to fund every sprint—and also win the marathon. |
Ready to join the Paper team?