Why Paper Tutors Love Supporting Students
Meet our tutors
Paper's expert tutors provide 24/7 homework help, writing feedback, and study support for every subject, at every level.
Our tutors use the Socratic method
Rather than giving away answers, Paper tutors ask students guiding questions to solidify fundamental concepts and promote long-term academic success.
Paper Tutors Explain Their Approach to Tutoring
Students come to Paper with a question or challenging concept.


Tutors identify what students know and pinpoint knowledge gaps.


Tutors guide students through the problem by asking questions to help them progress.


Tutors clarify points of confusion for strong conceptual understanding.


Students leave each session more confident and independent.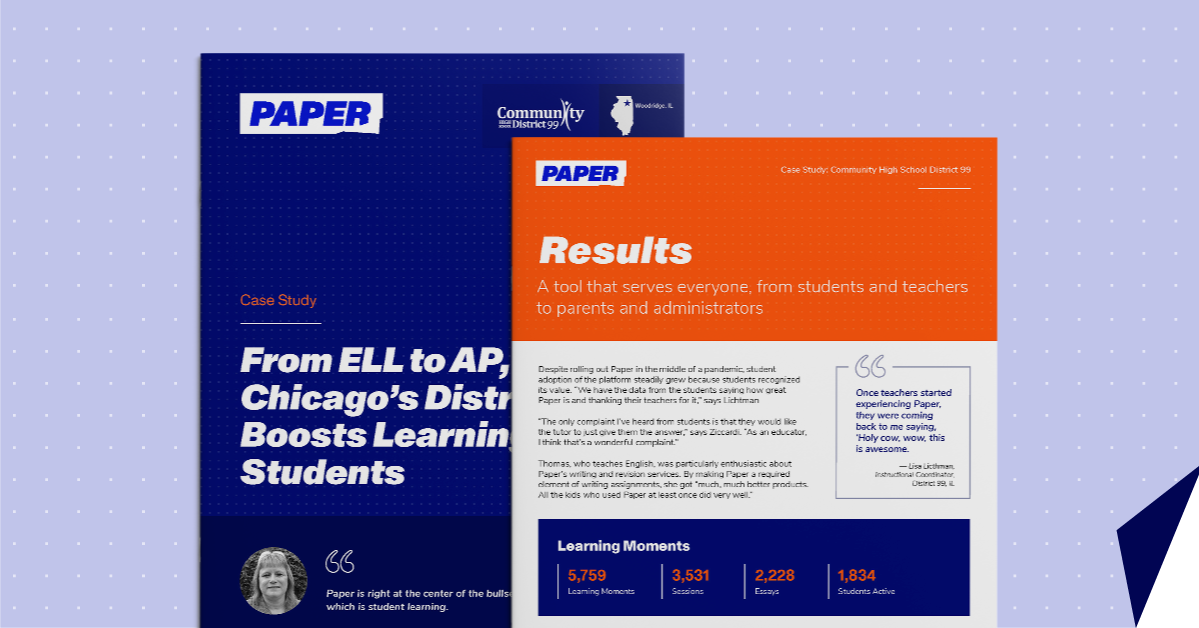 Chicago's District 99 leverages Paper's commitment to the Socratic method.
Lisa Lichtman, an instructional coordinator specializing in technology, touches on the Socratic approach of Paper's tutors: Paper provides "actual partnership in learning, not just someone who gives students the answer," says Lichtman.
What makes a Paper tutor?
We're proud to be picky. Every member of our team is an employee of the company—not a contractor—and is carefully selected to make sure your students get the very best help.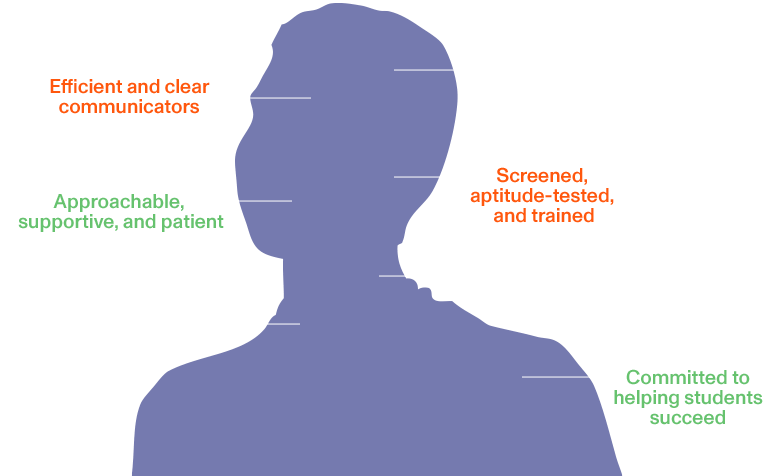 Giving every child an opportunity to succeed
Individualized support from committed tutors can help students excel at school. Paper tutors embrace the importance of tutoring for helping learners meet their goals.
When schools implement effective tutoring programs, students build confidence and pride in their learning.
And when students build confidence, their thirst for knowledge is limitless.
Paper Tutors on the Importance of T...
How do tutors engage with students?
We respond to student requests within seconds in an on-demand, live chat environment.
Paper Tutors on What Students Ask...
Rich online interactions
Tutors provide whiteboarding, file sharing, and expert help across all content areas and grade levels in four languages.
Right-sized help
Students can get support for five minutes—or five hours—letting them weave extra help into the natural flow of their studies.
Timely writing feedback
ELA specialists provide detailed and user-friendly annotations with grade-appropriate feedback, same-day or next-day.
Hear how teachers are gaining the benefits
"It's like having [a teacher] outside of the classroom. So I rely on it 100%."
"[Paper tutors] are giving specific feedback on particular essays, sentence structure, and just all the details that I personally don't have time to [address] for every single student in my class."
"Thank you for your wonderful tutoring assistance. It's so valuable for us to always have someone there to help our students."
Start providing unlimited, 24/7 high-dosage tutoring at scale