Teachers
Get more fuel to do the work that you love
Paper's tutors act as 24/7 virtual teaching assistants, extending your bandwidth while lessening your workload.

"It's nice to know there's someone else out there who can jump in my role, and do something similar to what I would do at any moment."
You have one of the world's most demanding jobs
Paper is here to help you support your students and deliver targeted instruction—all while keeping you in the loop.
Help your classroom thrive
From ongoing training to supporting your unique instructional goals, Paper helps you do the work you love.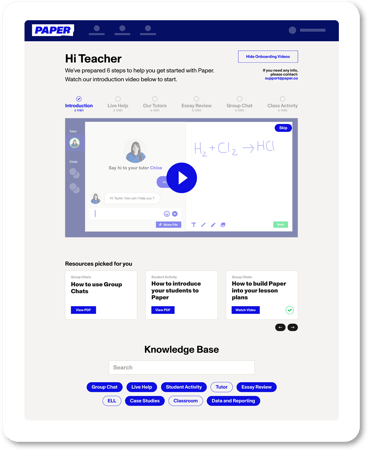 We provide comprehensive professional development

You don't need anything new added to your workload. Bringing Paper into your classroom is frictionless, and our dedicated professional development and support teams ensure that you get way more out of Paper than you put in.
We align with your teaching methodology

Paper's tutors never give away answers. They use the Socratic method to help students lean on what you've already taught them, helping them become confident and independent learners.