Paper delivers unlimited, 24/7 high-dosage tutoring
Students get homework help, writing feedback, and study support on demand. Teachers gain insights into learning gaps. Administrators have visibility into where support is needed.
On-demand live chat with an expert tutor
Subject area specialists respond to student requests within seconds.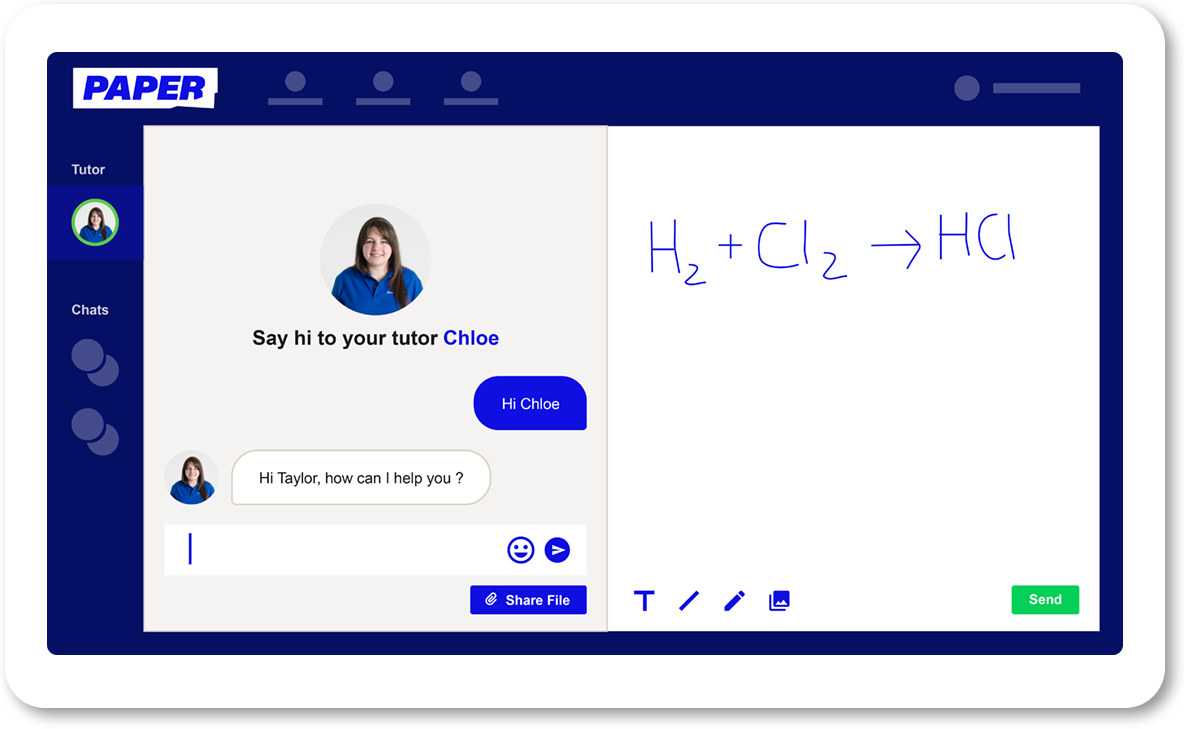 Rich online interactions
Whiteboarding, file sharing, and expert help across all content areas and grade levels in English, Spanish, French, and Mandarin.
Right-sized help
Students can get support for five minutes—or five hours—letting them weave extra help into the natural flow of their studies.
Insights for teachers
Teachers can easily see which students are seeking help, in which subject areas, with full visibility into student sessions.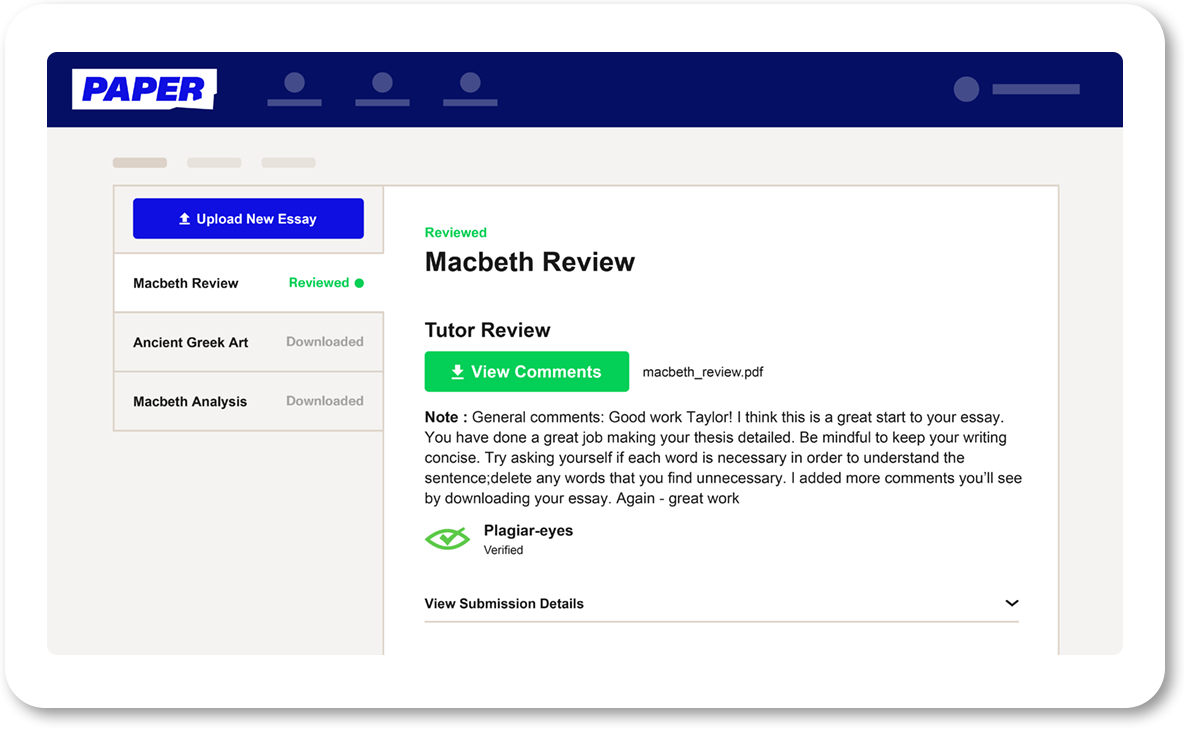 Expert help with every type of writing
Students can submit any written work, including essays, lab reports, research papers, or college application essays.
Detailed annotations and thorough feedback
Tutors provide detailed notes on grammar, structure, and content. All work is checked for missed citations or plagiarism.
An extra set of eyes on every first draft
Because students' work has already had an initial grammar and content sweep, teachers receive higher quality submissions that cut down their grading time.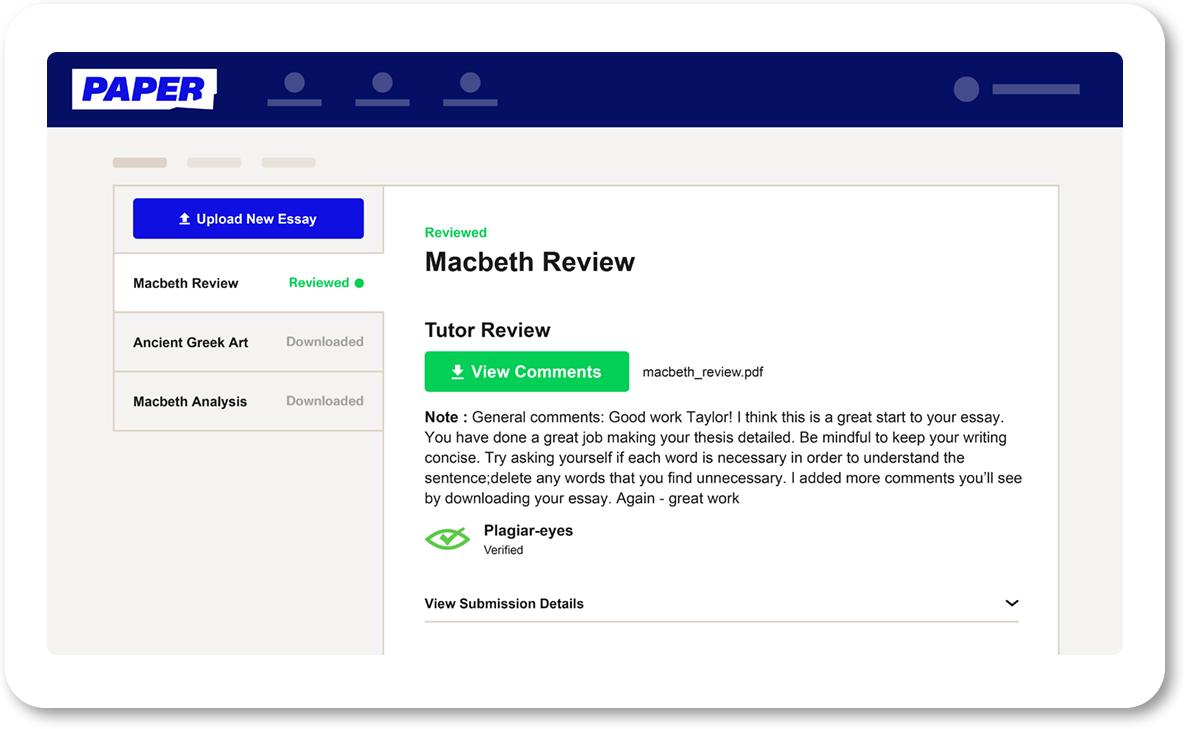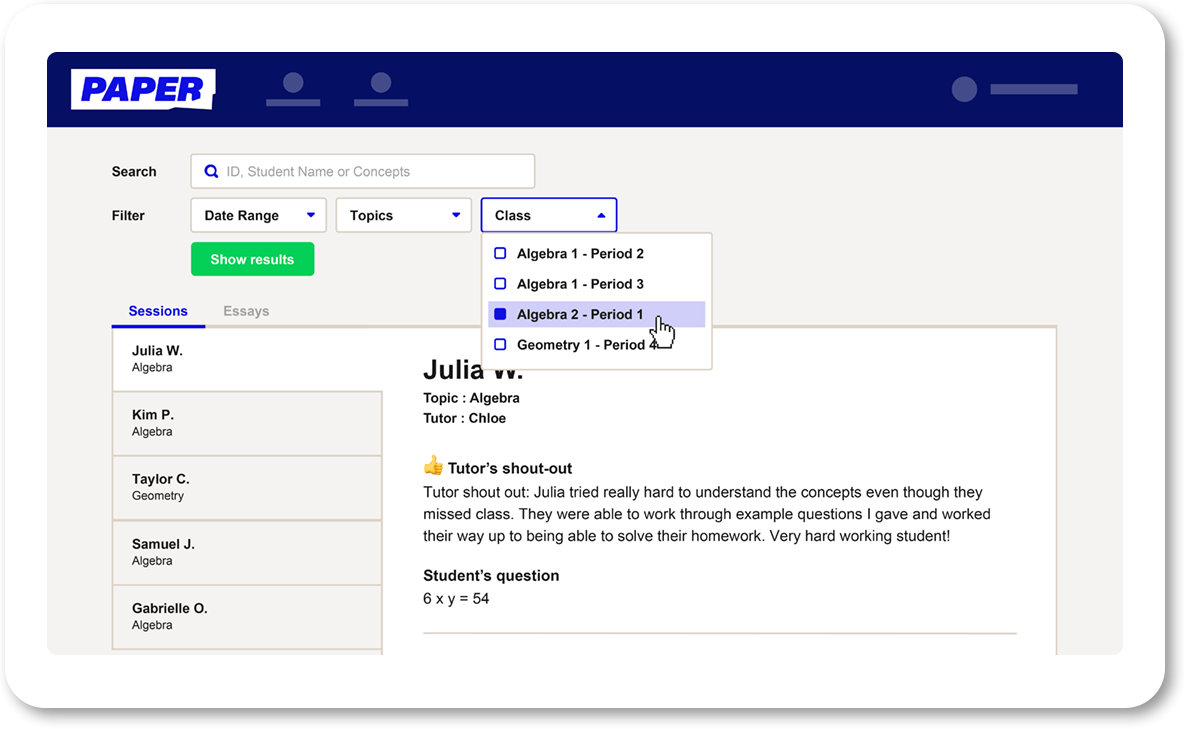 Full transparency into student activity
Teachers have visibility into every essay, session, and group chat their students have on Paper in real-time.
Insights into student learning
By seeing where students need support outside of class, teachers can pinpoint learning gaps and offer more targeted instruction.
Tutor-tagged sessions for teachers
When students deserve a pat on the back, or perhaps need more in-class assistance, Paper tutors will annotate specific sessions for classroom teachers to review.
Monthly reporting for teachers
Reports provide teachers with a synopsis of their students' activity on Paper, including usage rates and the concepts they've asked about.
Administrative reporting and analytics
Gain insights into adoption and the biggest opportunities for meaningful intervention.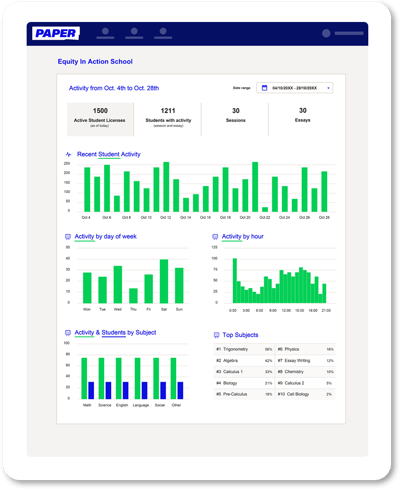 Visibility into usage
See when and where students are using Paper at specific sites and across your district as a whole.
Identify student support needs
Learn which content areas students are asking about and the times of day (or night) they're studying.
Monthly administrator report
Site-level reporting highlights teacher and student engagement and includes the courses and content most commonly asked about.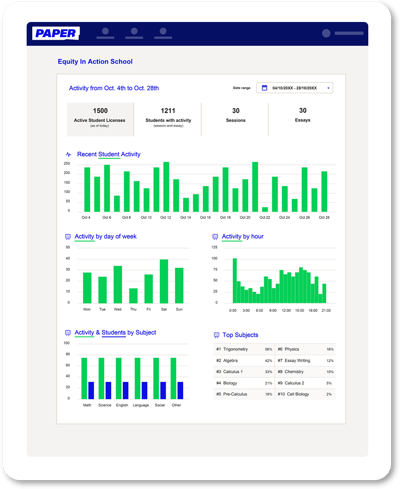 Built for seamless adoption
Give learning help to all the students who need it—quickly and effectively.
Seamless integration
Paper easily integrates with your existing tech infrastructure for single sign-on and student rostering.
Dedicated, unlimited support
From day one of our partnership, you have a dedicated support team to ensure you reach your goals with Paper.
Specialized teacher training
Paper trains your teachers and staff (even parents!) to ensure community buy-in and the most effective usage.
Safeguard student privacy
Our technology and processes are designed to integrate with and augment your existing security and privacy practices. Paper operates under strict adherence to student data privacy laws such as COPPA, FERPA, and CSDPA. Paper is also a signatory of the Student Privacy Pledge and a member of the A4L Community and SDPC.



Paper goes far beyond what schools, private tutoring, and guardians alone are able to provide.