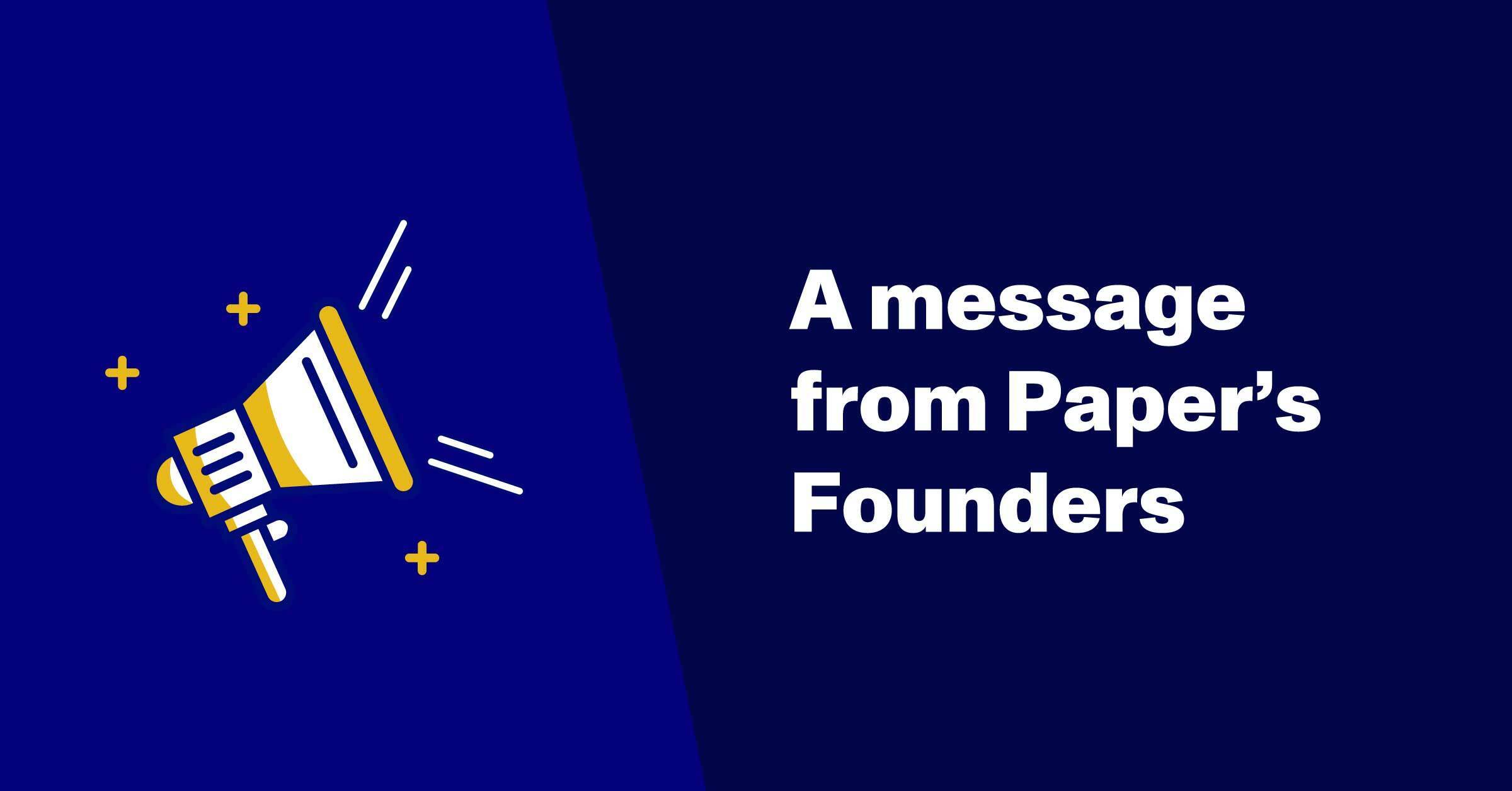 A message from Paper's founders
Aug 1, 2023 2:30:00 PM
Paper's Founders sent the following email to Paper employees earlier today.
---
The landscape of growth in 2023 has shifted, evolving significantly for all organizations globally, including ours. At Paper, we've witnessed an outstanding increase in our product engagement and seen significant academic outcomes delivered by our product across our partner communities. However, like many sectors, education is experiencing shifts in market conditions. School districts, mirroring many companies, are striving to achieve more with less.

This evolving environment prompts us, like our partner schools, to optimize our investments and align our organization for long-term sustainability. As Paper has grown rapidly, we are now entering a new phase, focusing on sustaining our achievements and building on our successes.

Today, we are sharing the difficult decision to optimize our workforce across various departments. These changes within our organization have impacted 106 Paperites on our corporate HQ team, roughly 4% of our total workforce, that will be leaving Paper today. This was not a decision we made lightly. Every step of this process has been carefully considered, and we're committed to treating this situation with the utmost respect and empathy.

Although these efforts strengthen our position for the future, we are acutely aware of the emotional and psychological toll such changes can bring. Nothing can change the reality of losing a job, but we're making it a priority to ensure those affected by the reduction have our support to put them in the best position possible. Our separation package for those leaving us today includes:
Generous severance, with considerations for tenure and family planning.
Extended employment period and benefits coverage, in addition to the severance package, we will continue to pay impacted employees through this week. We'll also provide access to support resources like Spring Health and LinkedIn Learning for 60 days.
Continued Paper platform access, maintaining access to Paper for their children through the 2023-2024 school year.
Keeping laptops, provided by the company.
To those who have been impacted, we want you to know that your contributions have created transformational impact on students all over. While you may be leaving us today, the outcomes of what you have created will be felt by communities for generations. We have continued gratitude and appreciation for the dedication and hard work that every single one of you has contributed to creating something truly unique.
Our Future
This is a new chapter of growth for us and a significant impact on Paper as we know it today. While not easy, this change allows us to sustain our business and continue to serve our students.

We recognize the importance of our mission—with millions of students now relying on Paper, our ability to maintain our service is crucial. As schools reassess their paths forward, it's essential for Paper to have a healthy financial outlook, reinforcing the confidence in our long-term viability.

Our collective pursuit and passion for our mission will help us navigate through this difficult but necessary transition. Together, we'll continue to make a difference in the lives of the millions of students who depend on us.
Philip Cutler & Roberto Cipriani
Paper's Founders