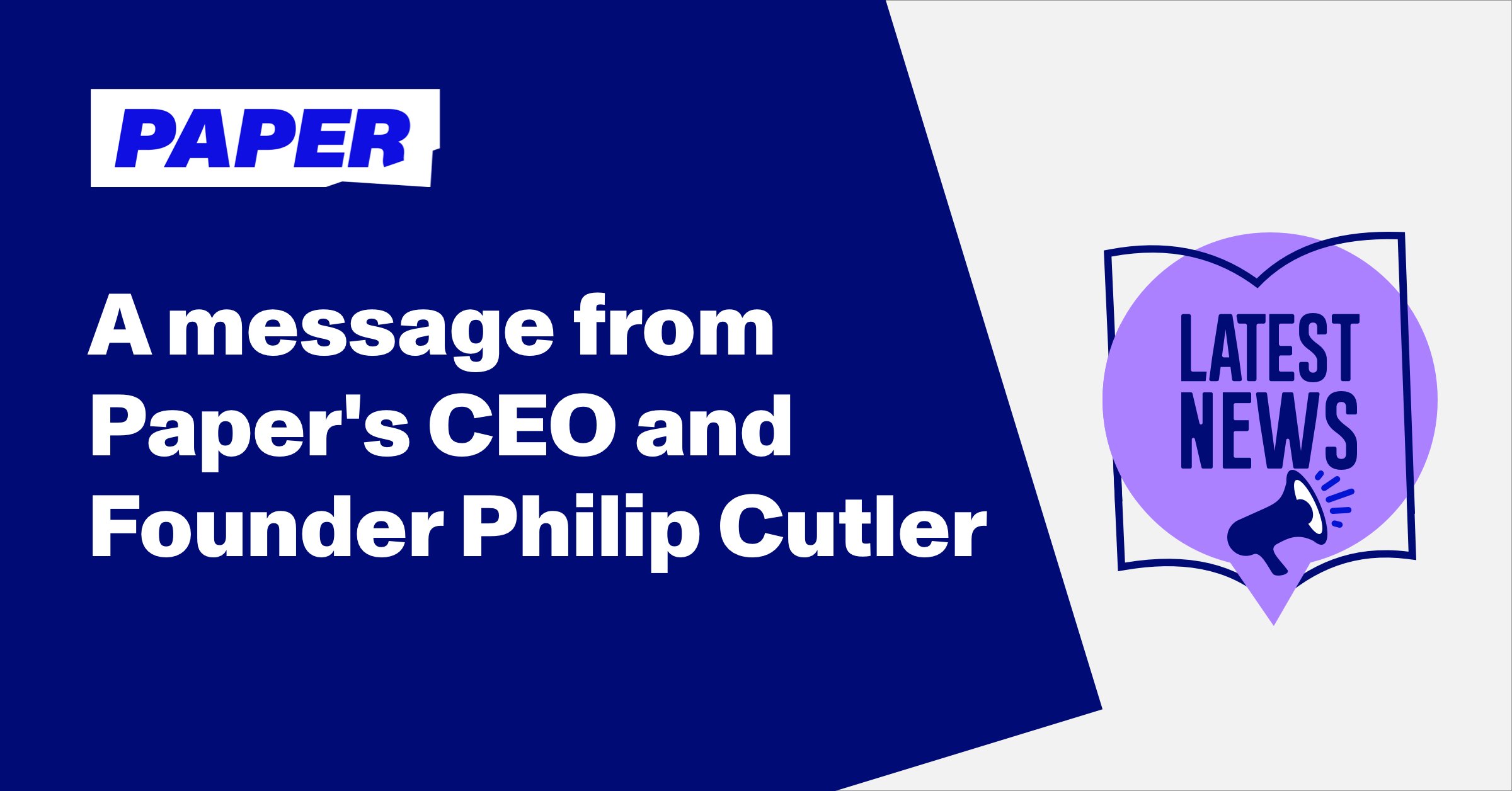 A message from Paper's CEO and founder Philip Cutler
Apr 17, 2023 1:56:52 PM
Paper founder & CEO, Phil Cutler, sent the following email to Paper employees earlier this afternoon.
---
Today we're sharing the difficult decision to restructure Paper. The decision is rooted in our need to accelerate building a comprehensive Educational Support System to better empower students and do so in a prudent and sustainable way.
Providing students with the resources they need to reach their potential is how we make every decision in the company. Today was no different. The difference, however, is that this decision has a real-world impact on the lives of 81 Paperites, roughly 3% of our employee base (15% of our corporate non-tutor team). It has an impact on people who have dedicated their professional careers to making the lives of students everywhere better.
To those of you who are staying, today won't be easy, but it is nothing compared to those who have been impacted directly by these changes. Today and the coming weeks will be about supporting them as they move on to a new chapter.
To those departing, I owe each and every one of you a tremendous amount of gratitude. Working alongside each of you as we have built Paper has been a pleasure. Many of you I've had the fortune of getting to know personally. Some I wish I had more opportunity to do so. But for all of you, the impact you have created has had a positive impact on our students.
I want to begin by explaining how and why we have arrived at this decision.
Since 2020, you have heard me talk about a comprehensive Educational Support System. One place where students can go to get the resources they need in order to reach their full potential; a pathway toward success for every student irrespective of whether their goal is college or another meaningful path into the workforce.
Today's decision is ultimately about focus.
Over the last few years, we have established ourselves as leaders in the 24/7 live support space. The shift in the classroom during the pandemic accelerated our success in tutoring, making it easy for districts to buy and adopt Paper. And while the upside and growth potential for tutoring and academic support remain strong, it's time to take the next big step and broaden our support for students from the day they enter kindergarten to and through graduation.
This decision is one that has been made proactively by our leadership team. We were not put under any pressure to make this change, but rather the leadership team, led by me, believes that this action needs to be taken as responsible stewards of our business and, most importantly, for the students who rely on us. Paper has done a remarkable job of adapting to changes in the market – today's change, which is painful, is made in the interest of more broadly and better serving our students.
Paper is privileged to be in a strong financial position, but that situation can change if we do not take the necessary steps to maintain it. We believe that creating a business that sustainably supports students and does so in a manner that is financially responsible gives us the best long-term opportunity to create change in all our communities.
Reducing our workforce is by no means a reflection of the work that has been done by those of you leaving us. In fact, we would never have reached the size, scale, and potential we currently have if it wasn't for their contributions.
I recognize that nothing can change the reality of losing a job, but we're making it a priority to ensure those affected by the reduction have our support to put them in the best position possible. Our separation package for those leaving us today includes:
Generous severance

, with considerations for tenure and family planning.

Extended employment period,

in addition to the severance package, we will continue to pay impacted employees through this week.

Stock option vesting

, allowing new hires who have not reached their 1-year cliff to exercise their options.

Extended benefit coverage

, including support resources like Spring Health, Headspace, EAP, and LinkedIn Learning benefits for 30 days.

Job search support

, via an opt-in process, that we believe will give each impacted employee the opportunity to quickly deliver value to a new employer.

Continued Paper platform access

, maintaining access to Paper for their children through the 2022-2023 school year.
The Path Forward
For everyone who is staying, use today as an opportunity to thank and honor those who are leaving. Let them know that their contributions have been meaningful, and most importantly, they have made a positive impact on students everywhere.
For those who are going to be departing today, I want you to know that you are all special. I cannot thank you enough for bringing your talents here and deploying them in an effort to support students and make the world a better place.
You've made a real difference here, and I have no doubt you will continue to make a difference wherever your path may lead.
Phil