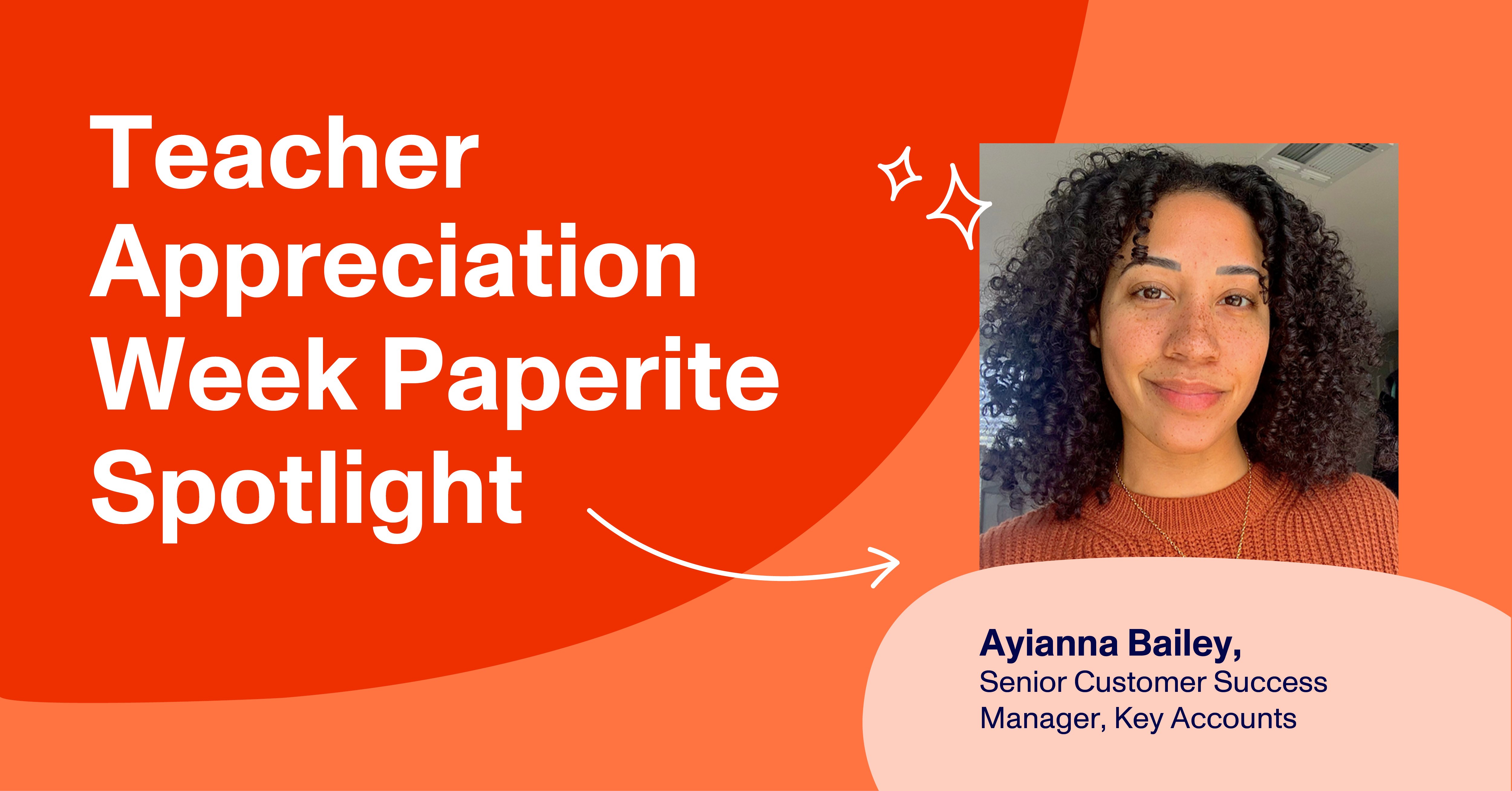 From classroom to customer success: The story of Ayianna's transition to edtech
May 4, 2023 6:37:19 PM
As Teacher Appreciation Week draws to a close, we want to shine a spotlight on Ayianna Bailey, a former teacher who is making a big impact in her current role as a Customer Success Manager at Paper. Ayianna's experience in the classroom has been invaluable in her work with the Clark County School District and her efforts to build awareness of Paper's Educational Support System (ESS.)
---
Q: What inspired you to become a teacher?
A: "After learning about the inequities present in our education system in America, and the ways those inequities disproportionately affected students of color in low-socioeconomic communities, I felt inspired to apply to the Teach for America corps and be a part of the movement to provide equitable educational experiences for all students. I knew being a classroom teacher would not only push me to grow as a leader and person, but also to have an impact with students who deserve the same resources and support that I had in my own education."
Q: What led you to transition out of the classroom and into the edtech industry?
A: "After my time in the classroom, I spent four years as a leadership coach with Teach for America Las Vegas. I worked with first and second-year teachers to help them grow in their practice and achieve ambitious outcomes with their students. I loved supporting teachers in drafting a vision for their students and working relentlessly to achieve it. I enjoyed tackling the daily challenges my teachers faced in a system that was working against their vision, and brainstorming ways to keep equity at the center of every decision they made. I care deeply about my community and ensuring our students receive the education support they deserve. When I had the opportunity to continue that impact in my community as a CSM for Paper, it was a no-brainer for me!"
Q: How has your experience as a teacher informed your work at Paper?
A: "As a CSM, I am tasked with ensuring our stakeholders see the value in our ESS. I regularly have to put my teacher hat back on in order to make these connections with our customers, understand their circumstances and provide the appropriate support.
I remember being overwhelmed with the workload, the shame I felt when I couldn't meet all of my students' needs, wanting my students to have the same resources as their affluent peers, and feeling disappointed by systems that felt out of my control.

I also remember the joy I felt when I found a free resource that worked for my students! I remember my excitement and pride when they made milestone achievements, and I remember feeling grateful for persevering even when it felt impossible.
All of these experiences from the classroom inform and shape my work as a CSM and the many ways I advocate for educators and students in all spaces."
Q: Are there any specific skills from teaching that you find valuable in your current role?
A: "The skill I find most valuable in my work today is around building meaningful and trusting relationships.
In the classroom, having excellent rapport with my students was my top priority, as it strongly impacted my ability to hold them accountable to audacious goals, design instruction that is relevant to them, and resolve conflict with compassion and trust. I approach my work today with the same priority.
I'm able to support our customers in achieving their goals as a result of the relationships I've made and the trust that's been built in the community."
---
At Paper, we are proud to have former teachers like Ayianna on our team. Their experience and passion for education are invaluable in our mission to support students and teachers across the country.