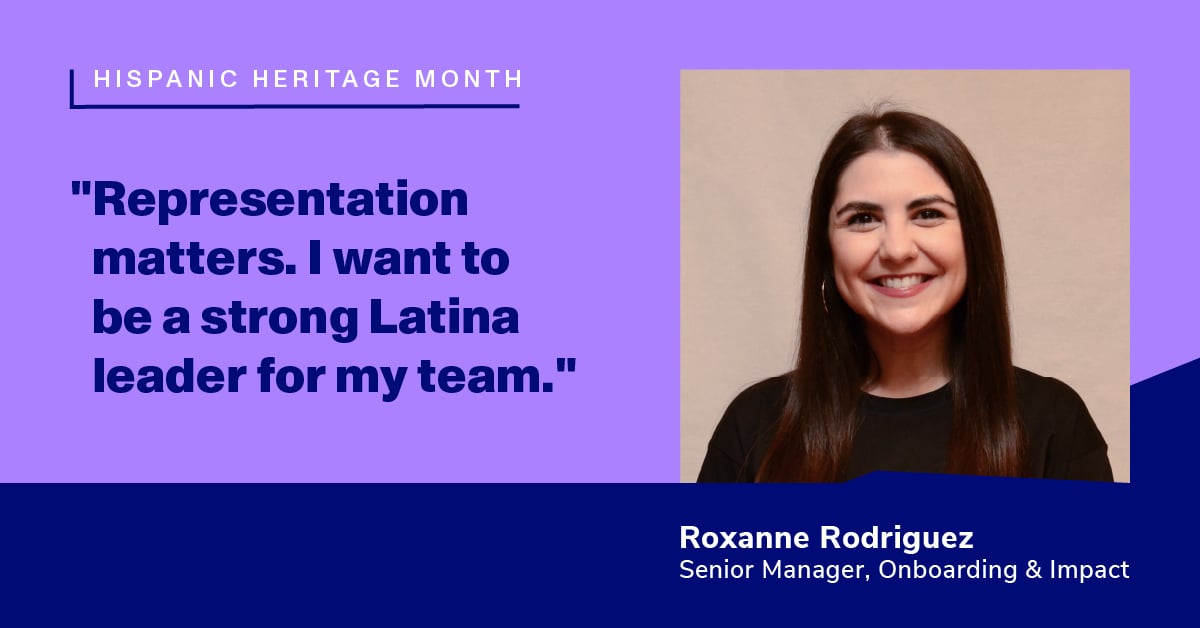 How to live Hispanic Heritage Month everyday with Paper's Roxanne Rodriguez
Oct 13, 2022 9:30:00 AM
Hispanic Heritage Month (Sept. 15 – Oct. 15) is a time to recognize, honor, and celebrate the tremendous influence Hispanic Americans and Canadians have had on our culture and world at large.
As this year's Hispanic Heritage Month comes to a close, the Paper Team wanted to take a moment to shine a spotlight on one of our incredible team members, Roxanne Rodriguez.
We dive into how she celebrates her culture at home with her family, how she embeds her culture in her daily work, and how we can all be better allies to the Latinx community.
How do you personally celebrate Hispanic Heritage Month?
I'm very proud of being Cuban-American and it's something that I carry with me everywhere I go. live Hispanic Heritage Month everyday—especially at home with my son whom I am working with to become a bilingual learner. As a daughter of Cuban immigrants I value and cherish my parent's sacrifices in coming to this country so that my sister and I could have a life of freedom and choice. I am thankful to them for all that I have but for also carrying on our history and culture through stories of our family. If I had to say, the biggest and most prominent aspects of our culture that I carry with me are food and music.
I cook a lot of Cuban food at home and it's really important to me that I'm constantly bringing my culture into my home life. I call my mom at least once a week for recipes and connect with her through food and our love of cooking. I find that I honor her and our culture by replicating her recipes. And I hope to carry that on to my kids. It is important for me to keep these traditions alive because it's important to celebrate my female ancestors, since my abuelas and bisabuelas were the ones typically doing the cooking.

As for music, we have regular dance parties at home—whether it's reggaeton and new age music or the oldies like Buena Vista Social club and Celia Cruz. Music and dance were really big parts of my upbringing and still such a major part of who I am, so I try to incorporate them in our daily lives.
Being a Latina woman in tech, how do you find that you're able to bring your culture into everything you do? What are some of the things that you've done to be really true to yourself?
Oftentimes when I'm leading team meetings I start my meetings with music. I love incorporating current Latin music like Bad Bunny so that people can connect with the culture and discover new music.I make sure to prioritize diverse hiring practices in my team. The onboarding team consists of such a diverse group of individuals, majority women. Representation matters and I want to be a strong Latina leader for them and show them that you can be a strong woman leader in a predominantly white male world. I empower my team members to be themselves authentically, whatever that looks like, because I live authentically as myself. That's the most important piece in all cultures, right? Being who you are, no matter the setting.
Outside of what you alone are able to do, what would you suggest for people who are wanting to be more ally orientated for Latinx folks in the workspace?
A big piece of it is just thinking before you speak. It is very easy to appropriate other cultures without even realizing it. The key is to listen to people and listen to their stories because that's how you learn more about others and their cultures. The biggest way to be an ally is to give space and listen and not always try to relate if you truly cannot. You don't have to relate to honor someone and their culture. Just celebrate that person's story, their perseverance and how brave they are to share their family's story with you.
Thank you, Roxanne, for sharing your thoughts and story with us, and reminding everyone to celebrate Hispanic Heritage all year long!