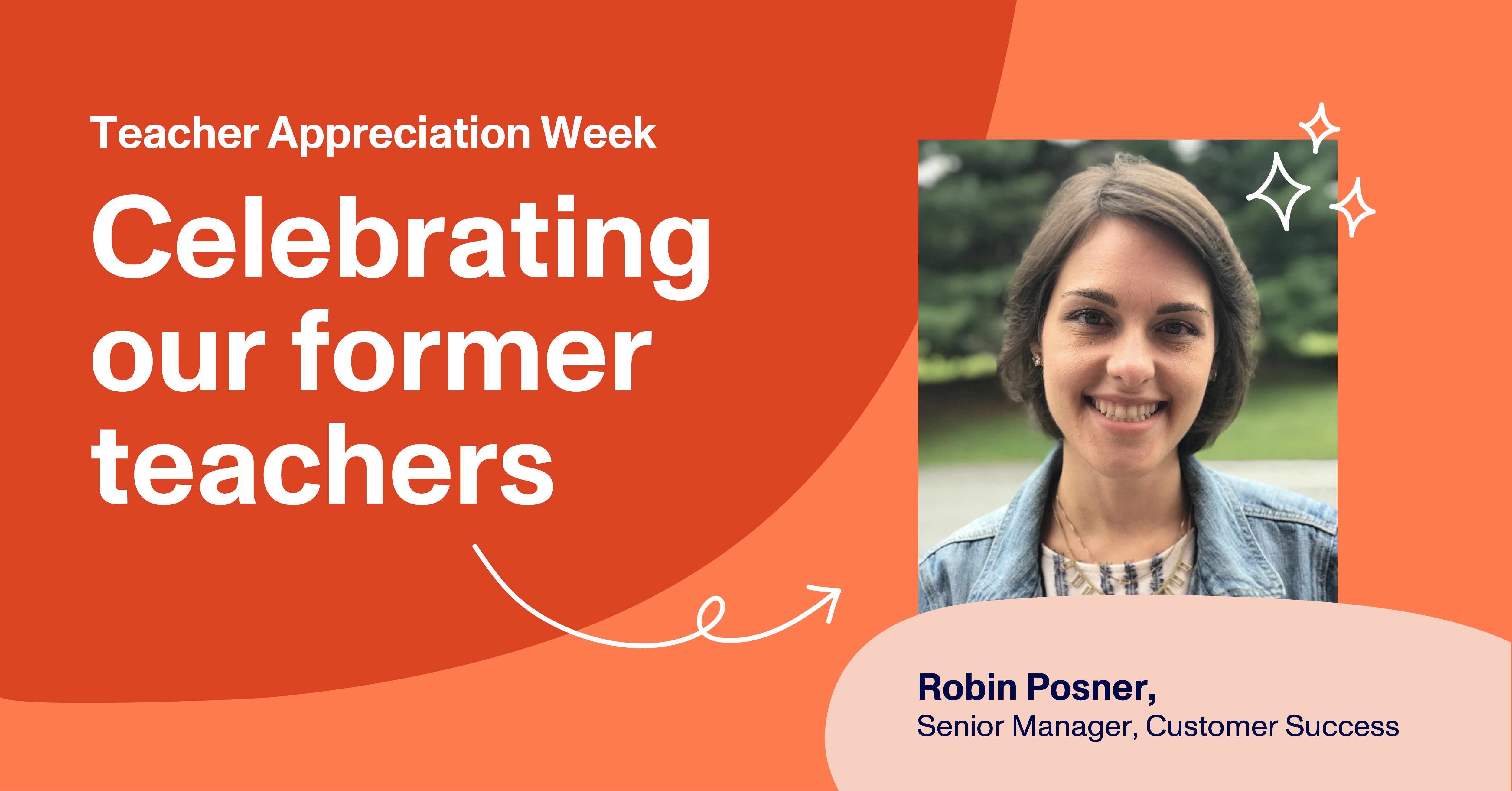 Leveraging classroom experience to build successful customer relationships with Robin
May 8, 2023 8:00:00 AM
Teachers are some of the most adaptable and flexible people around. They problem-solve on the spot, empathize with students, and adapt to different learning styles. It's no wonder that many educators transition into other roles that still allow them to make an impact in education.
At Paper, we're lucky to have Robin Posner, a former teacher, as a Senior Customer Success Manager and the first manager of the Customer Education team.
When asked about what she enjoys the most in her day-to-day work at Paper, Robin said, "The time I have to collaborate with the rest of the Customer Experience team has been my favorite part of the job so far. We all have unique customer stories and experiences that we share and learn from, building out our strategy for product adoption at our districts."
Robin's unique background as a former teacher has served her in creating the first iteration of our professional development offering for teachers for the 2022-2023 school year. "My knowledge of education and being an early adopter of technology in my own district has helped gain buy-in from other folks at districts and allowed me to be the subject matter expert in the room when it comes to adopting Paper," she said.
"I am well aware of all the different styles of training that are offered when a district purchases an edtech tool. We are unique in our enablement at Paper, and I love talking with our customers about all we offer to support them."
Robin's journey to edtech began with her love for teaching. She had always wanted to be a teacher, inspired by her own mother who was also a teacher. In high school, Robin decided to pursue her undergraduate degree in mathematics and secondary education after having a great AP Calculus teacher.
"Great teachers really do shape the lives of the students they work with."
But as many educators know, teaching is a challenging profession, and burnout is a common issue. After leaving the classroom in 2018 to become an instructional coach, Robin eventually transitioned into edtech. "Making the decision to leave the classroom was one of the hardest decisions of my life," she said. "I knew I had a natural way to build student confidence around mathematics, but I could not sustain the emotional exhaustion and time put into work outside of normal working hours. As it became harder to engage my students because of behavior management and lack of support from my leadership, that is when I knew I had to leave."
When asked about specific skills from teaching that she's found valuable in her current role, Robin cited adaptability and flexibility as key. She explained:
"Teaching and customer success are directly connected. In one role, you navigate relationships primarily with children or teenagers. In the other, you navigate relationships primarily with adults. All of them are individuals that want to feel successful and confident in their decisions and knowledge by the end of the day."
Finally, when asked how we can do a better job of supporting and valuing teachers as a society, Robin had some ideas. "Teachers need the respect of other working professionals and acknowledgement that what they are doing is hard work," she said.
"It's not just about the money. It's about appropriate resources, continuous training, accountability for troublesome behavior, and support. It takes a village to raise children and also to educate them."