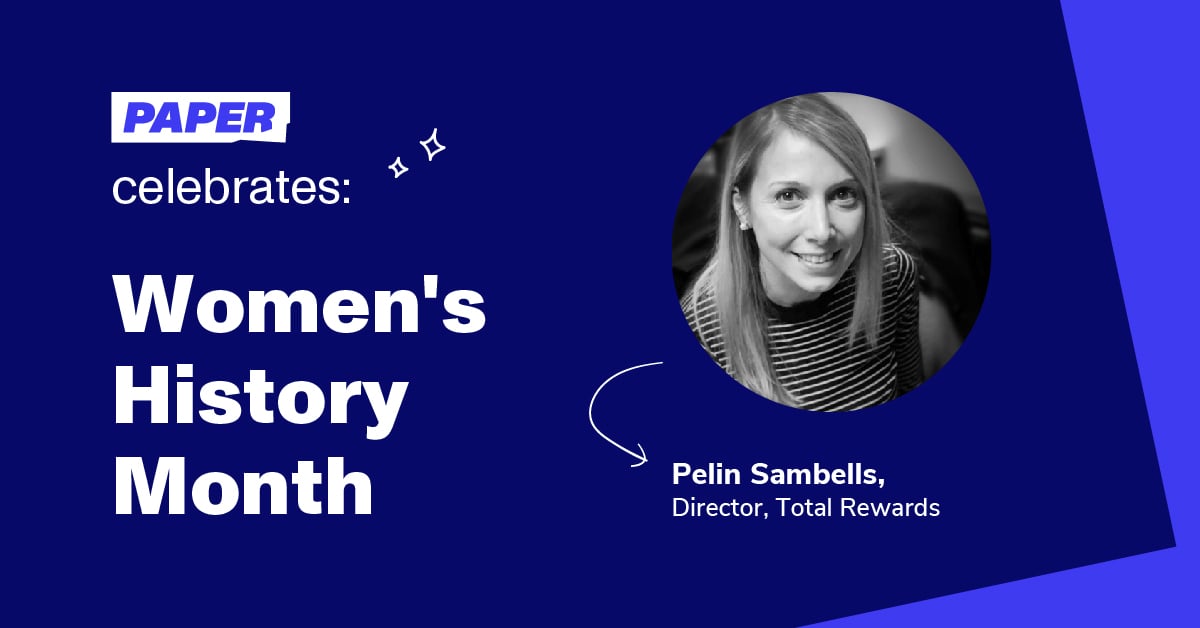 Paper celebrates Women's History Month
Mar 2, 2023 3:30:00 PM
Every March, Women's History Month is an opportunity to appreciate the incredible women who have impacted our world's history and recognize the biases and inequalities women still face today.
One of the many organizations leading this recognition is the National Women's History Alliance (NWHA), originally known as the National Women's History Project. Founded in 1980, this grassroots organization successfully lobbied the U.S. Congress to designate March as Women's History Month. Today, the NWHA provides information and training on women's history and promotes empowerment, equality, and inclusion.
Every year, the NWHA sets a theme for Women's History Month. The theme for 2023 is "Celebrating Women Who Tell Our Stories." In honor of that theme, Paper is telling the stories of the women who have helped build Paper's amazing culture and learning platforms. We will feature women helping to build our Education Support System, who create our employee culture, and who help recruit the best and brightest minds in education and edtech!
Paper recently announced that we have committed to increasing our investment in our employees' mental health! Our new and expanded resources will provide the tools and support needed to help our full-time and part-time employees stay healthy and productive. We look forward to seeing the positive impact this will have on our team!
To learn more about this incredible investment, we sat down with the Director of Total Rewards, Pelin Sambells (she/her).
Pelin brings more than 15 years of Human Resources and Total Rewards experience to Paper, developing a good understanding of how companies can drive engagement and balance having a healthy business and a healthy people-first culture.
Bringing her passion for mindful living to the workplace, Pelin and her team collaborated with Paper employees from all sides of the business to ensure the new benefits reflected employee needs. Paper's part-time Tutor employee base makes up nearly 80% of our workforce. Tutors are incredibly hardworking, so providing access to mental health resources is essential for them and our students.
"Part-time benefits are not very common, but it doesn't mean we couldn't lead the way by making this a reality, so we started exploring the Part-time benefits space to see what makes sense the most," explains Pelin. "I am thrilled that Paper was able to support this huge initiative"
Share who you are and your role at Paper.
I am the Director of Total Rewards at Paper. I started in March 2022 to build the Total Rewards function and also formed a team of passionate and hard-working individuals during my time here, delivering several high-value add projects. I started my career 18 years ago in the Human Resources field and can't imagine myself doing something else that is not directly related to people's experience. I have worked in several different industries, including Retail, Financial Services, Engineering, and now Education Tech. I'm a values-driven person and here to make a positive change by creating internally equitable and externally competitive Total Rewards programs to attract and help retain the best talent. We have an amazing People team in place and I am proud to be part of this team.
On a personal note, I am passionate about mindful living, human rights, animal rights, and environmental justice. I believe we can all be the change we want to see in the world, and change starts with us on an individual level.
What is an interesting fact about yourself?
I have an immigrant background - moved to Canada 12 years ago from Turkey, Istanbul where I was born and raised and made Canada my home. The reason why I moved is my Canadian husband, whom I met in Rome while on vacation. We have a very romantic story!
Offering benefits to part-time employees is rare; why did Paper decide to invest in part-time employees?
When you look at our PT employee base, they make up nearly 80% of our workforce, and they are 99.9% Tutors. We know how incredibly hard they all work and want to prioritize supporting their well-being as they support our students 24/7 on their learning journey. We also have heard from Tutors about their needs for benefits through several channels. Listening to our employees' needs and looking at the engagement data help us customize our programs and get creative to ensure we are not doing things in isolation which is exactly what we did. PT benefits are not very common out there, but it doesn't mean we couldn't lead the way by making this a reality, so we started exploring the PT benefits space to see what makes sense the most. After exploring several options, comprehensive mental health benefits and EAP services made so much sense knowing how important these resources are. I am thrilled that Paper was able to support this huge initiative.
The recent benefit upgrades have shown a significant focus on mental health. How did Paper choose to put focus on mental health?
Because mental health matters! The pandemic has highlighted that mental well-being has never been more important to our overall health. It is impossible to have a conversation about health and wellness without talking about mental health. We wanted to make sure there are benefits in place to support all our employees' mental well-being, so we made some great improvements to increase awareness and also the benefits we offer around mental health.
I know that there is significant inequity when it comes to having access to mental health resources which need a high focus. Since Paper is a remote-first company and we span across North America, we focused our efforts on virtual mental health platforms in both countries for our US and Canada-based PT employees where you have 24/7 access to self-guided resources, therapy sessions, and more. Our FT Canadian plan covered mental health services historically but the annual amount was not enough anymore to cover the increased costs of these services, so we quadrupled the annual amount starting from the 2023 plan year. We also offered the same virtual mental health services to our US FT employees. As a result, now regardless of the PT or FT status, we have mental health benefits as part of our offering for all of our employees (3000+). These new benefits are an investment in our people and are 100% employer-paid!
What are some steps you take and promote within your team to support mental health?
The thing is, work has a huge impact not only on our physical health but also mental health. My team's well-being is my number one priority. I make sure to check in with them often to see what they need and how I can support them. I pay attention not to skip my weekly one-on-one meetings with them to understand their needs and get together as a team as well to foster teamwork on a regular basis. I think connection has become even more important since we are all working from home which can be isolating. Cultivating belonging, connection, and inclusion helps the team not only with their engagement levels but also with their mental health.
I am also very flexible when it comes to working hours and their personal time off needs. I encourage them to take the time whenever they need it and ensure they know I am here to support them in any way I can. I believe that only when we prioritize our well-being and support our team members, we can continue to do what we do to make a difference in others' lives.
Thank you, Pelin, for sharing your personal story and professional insights! Stay tuned for tips for women in tech from Paper's Chelsea Moran.