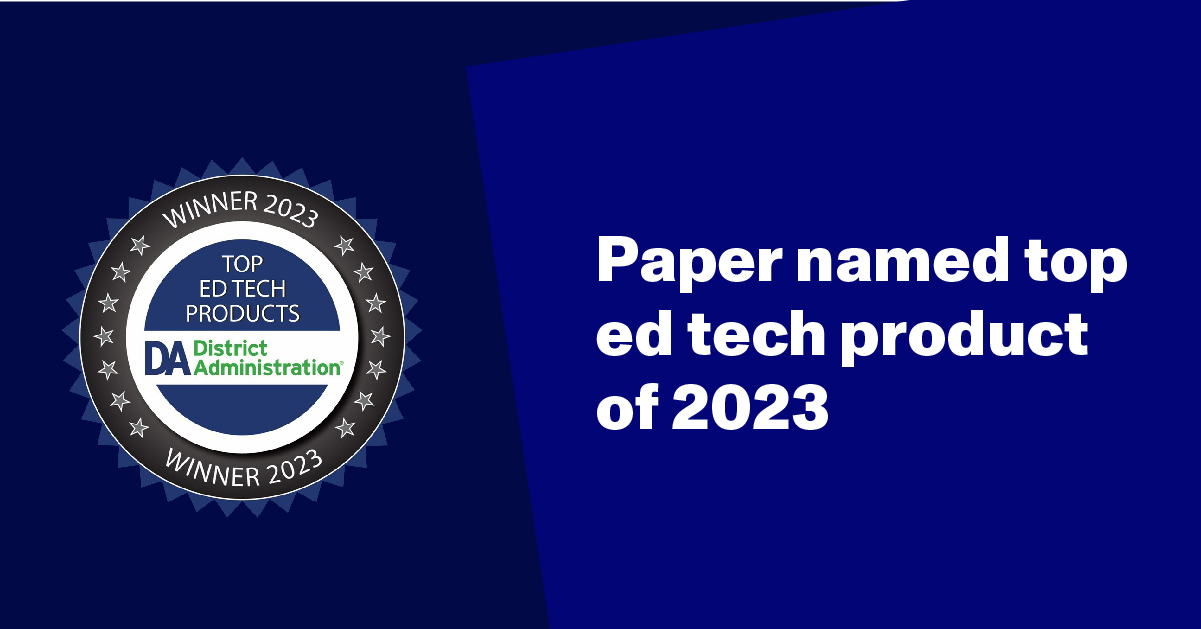 Paper™ wins DA award for Top Ed Tech Product of 2023
Jan 17, 2023 3:05:04 PM
Paper™, the leading Educational Support System (ESS), is proud to announce that we've been named a Top Ed Tech Product of the Year by District Administration in the learning environment and student support technology category.
The mission of the third annual award program is to spotlight the most innovative new solutions on the market that are helping school district leaders meet the ever-evolving technology needs of their schools.
The awards are presented each year during the Future of Education Technology® Conference (FETC).
"Paper is honored to be recognized by District Administration for helping hundreds of innovative districts provide their students with tutoring, writing support, college and career support, and after-school enrichment," said Phil Cutler, CEO and co-founder of Paper. "We look forward to expanding our footprint to ensure every student receives the support they need to succeed in school and beyond."
Submissions were judged on their innovation in the edtech space, with particular attention to how the tools are breaking new ground, how much value they add to education, how intuitive they are for users, and whether they deliver what they promise.
The Paper team is looking forward to providing an in-person product demonstration at the conference on Thursday, January 26, at the Expo Booth 4000 Pitchfest Theater.
More information about the 2023 District Administration Top Ed Tech Product Awards can be found here.