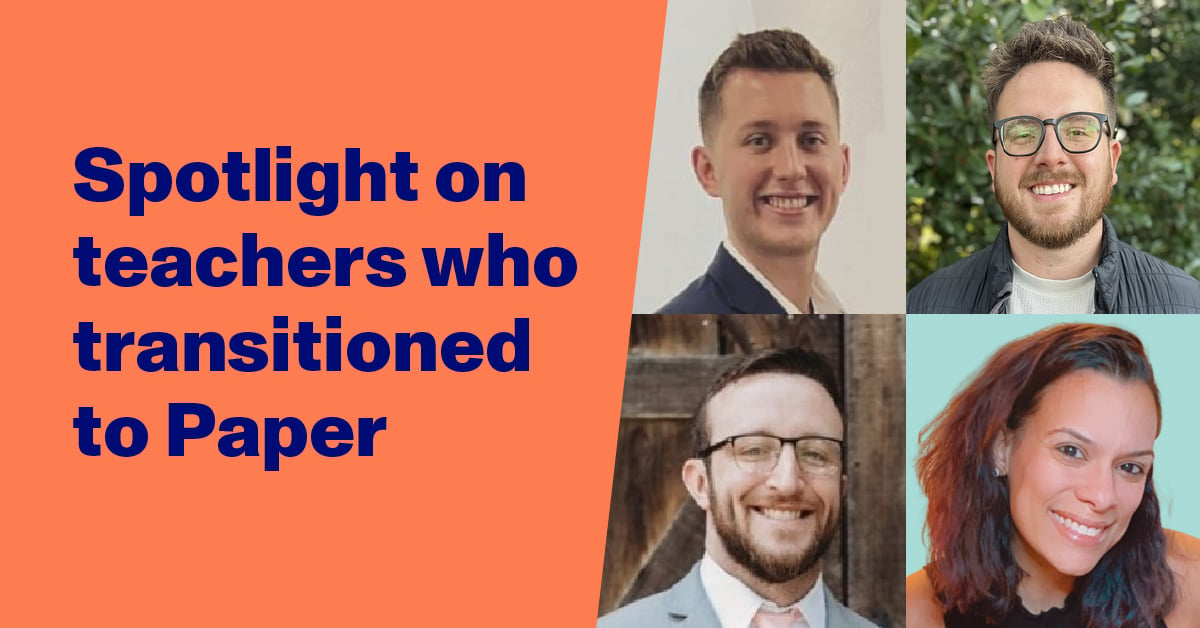 Teachers turned Paperites on how their love for teaching grew beyond the classroom
Dec 7, 2022 11:37:18 AM
As we continue to meet Paperites for our Team Member Spotlight Series, we'll meet four Paper team members whose love for teaching grew beyond the classroom. We'll learn why they chose to join Paper, what skills they've brought along from their time in the classroom, and what tips they'd share with educators looking to find their place in EdTech or other education-adjacent industries.
Are you an educator looking to start a new career path? Or perhaps are already in EdTech, but want to join one of the industry's fastest-growing companies? Check out our job listings on our Career Page.
Troy Scott turned his love for coaching into a teaching career. While creating a lesson plan on LinkedIn profiles for his Grade Ten Business students, Troy saw a post from a Paper employee and was intrigued, "I became an expert and learned everything I could about Paper."
All of his research paid off, and he landed his first role at Paper as a Partnership Associate. Troy quickly found how the communication skills necessary to teach a successful classroom lesson were just as crucial in his new role. Troy promptly grew into his new role and built relationships throughout the Paper community. Troy added, "throughout the whole organization, I Slacked everyone I could. Everyone was always willing to help!". His commitment paid off, and Troy was quickly promoted from Partnership Associate to Manager in his current role as Business Development Manager.
Jenni Selvaggi had always known she wanted to be a teacher, "I knew I wanted to help children grow." After spending ten years in a traditional teaching role, Jenni felt the need to create a more significant impact. "I wanted to leave education because I wanted to have a bigger impact," said Jenni. I had 32 kids I could impact every year, but now I get to do something where I impact 3 million kids every day."
After spending a decade teaching primary grades, she moved into a critical Data Specialist role within her school to support teachers by providing them data on how to better help their classrooms. While the transition allowed her to significantly impact her community, she still felt there was a way to make an even more significant impact.
LinkedIn posts from Paperites, sharing their incredible impact at Paper, caught Jenni's attention. She began learning everything she could, reading case studies and stories about Paper. As her excitement grew, she started to reach out to her network for tips on transitioning. "Every person had a different take on what I should or shouldn't do. I realized that I needed to take the information from everyone and pull the parts that align with me."
She credits carefully reading through job descriptions instead of just looking at job titles for helping her land a role at Paper. She learned that many of the skills that made her successful in education played an equally important role in the corporate world, "communication and collaboration, the ability to listen to others and being open to new ideas" are just as important.
Hayden Fath grew up watching his Dad teach, Hayden always knew he wanted to follow in his footsteps. After spending a year as a substitute teacher, Hayden landed a full-time role teaching sixth-grade math, "the fun stuff," Hayden joked. "Selling sixth-grade math to students daily, that's just like sales."
"Leaving the classroom was one of my life's biggest, scariest decisions. I loved my job as a teacher," said Hayden. So he identified the ways he was looking to grow as a professional. That list ultimately led him to Paper. He searched different EdTech companies, diving into what they brought to the table, their values, and their mission. "Paper stood out because their mission was so equity driven."
He then reached out to everyone he knew in sales and better understood what it would take to succeed. He built a portfolio, organizing his different skills and experiences. Now that he's landed his dream role within the Paper team, he shared advice for other educators thinking about finding a different path, "you should believe in yourself, you're [already] in one of the hardest professions, there's nothing you can't do!"
Jacob Rooney always knew he wanted to teach. He had such great experiences with teachers and coaches as a student, he wanted to provide the same support for future students. He spent the first six years of his career coaching football and teaching English to high school students. Every minute of his day was planned, waking up early for football practice, then spending the remainder of his day in the classroom. The long days began to weigh on Jacob, and he started his search for a role outside of the classroom.
Unsure of what a future outside of education could look like, Jacob reached out to a colleague who had recently completed a similar move. His colleague suggested he narrow down his skillset and identify roles that fell within. Eventually, that led him to his role at Paper!
Thanks to Troy, Jenni, Hayden, and Jacob for sharing your stories! Want to join them at Paper? Check out our Careers Page for a list of all open positions.