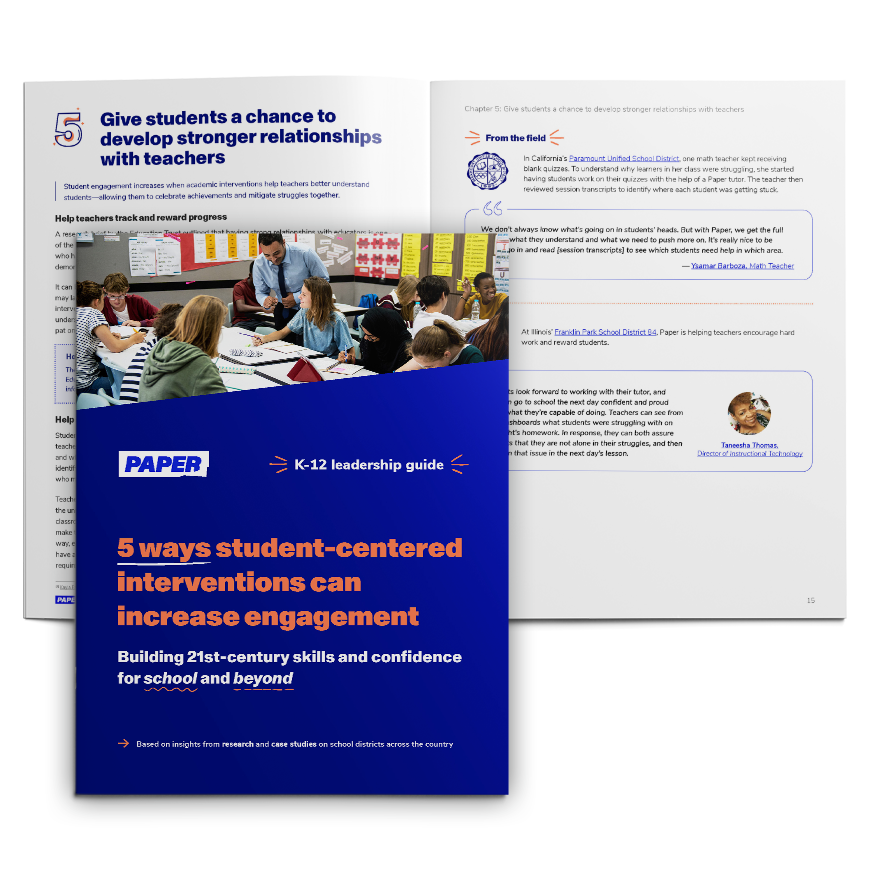 5 ways student-centered interventions can increase engagement
As attendance, enrollment, and graduation rates dwindle nationwide, K-12 leaders know their educational offerings must be reshaped to fit the student—not the other way around. Read how educational support can play a role in re-engaging students for success in school and beyond.
Data-backed insights on driving student engagement and learning acceleration, and how school districts can move these metrics simultaneously.
Five ways student-centered interventions can engage students and motivate them to succeed—not just for high-stakes assessments but also for college, career, and life.
Case studies of 10 school districts leveraging Paper's Educational Support System to empower students
Testimonials from students about what they love about the Paper solution provided to them by their school district.
Rightfully, there has been a heightened focus over the last few years on accelerating learning with robust interventions such as high-impact tutoring.
But many district leaders are also using the momentum from recent funding and technological advancements for academic interventions that promote student motivation, agency, and 21st-century skills as much as grade-level achievement.
This ebook outlines how academic interventions that combine the principles of high-impact tutoring and student-centered learning can supercharge engagement, drive learning acceleration, and lead to better college and career-readiness outcomes in your district.
Let's talk about your goals
Looking to implement high-dosage tutoring at your school or district? We'd love to show you how Paper can help make it equitable, scalable, and cost-effective.