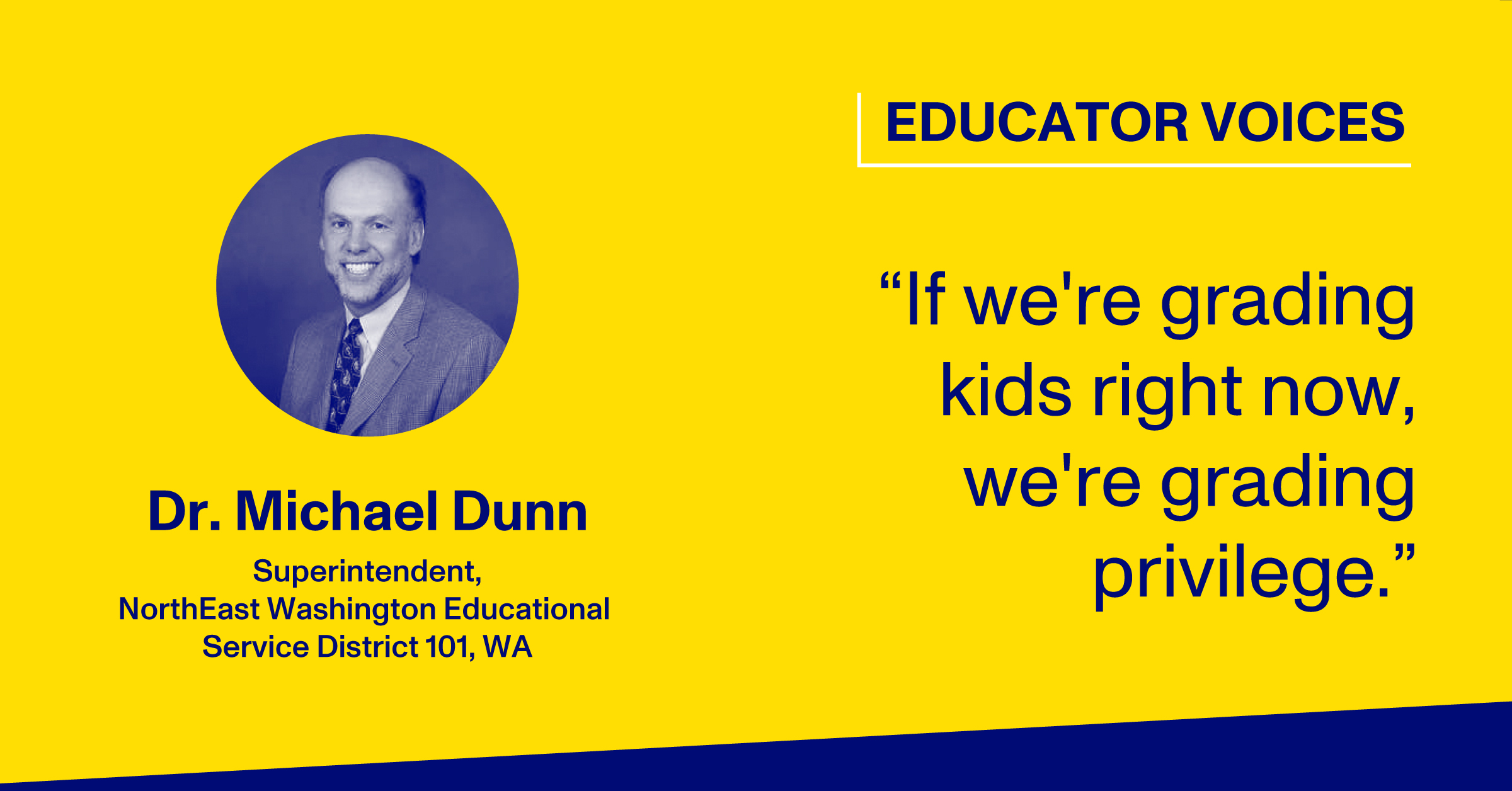 Conversation With Dr. Michael Dunn, Supt. of Washington's Largest ESD
May 12, 2020
Dr. Michael Dunn is the superintendent of NorthEast Washington Educational Service District (NEWESD) 101, Washington's largest Educational Service District (ESD) in the number of districts served, counties served, and geographic region served. They provide a wide array of programs, services, and support to over 100k students across 59 public school districts, 45 state-approved charter schools, and two charter schools located across seven counties in northeast Washington.
As we began delving into how Michael and his ESD's roles have changed during these uncertain times, he explained:
We need to be there for our superintendents and principals and their staff in a different way because they're frankly on the front line of being asked to do something that they had not heretofore been asked to do.
While some districts across the country have had proper Learning Management Systems already in place, Michael explained that most have not. Navigating how to use these new technologies is difficult in itself, but utilizing them in a way that is mindful of what educators, students, and families are capable of doing is an even more significant challenge, "particularly because we don't have equitable access for all kids either in terms of connectivity or devices."
Speaking on the issue of inequitable access to the internet, Michael shared that when schools first started closing due to the pandemic, he read about how the New York City Public Schools had many students without internet. "You don't think of that happening in a city like New York, and yet that is the case. That's certainly the case for districts across our region, many of which are rural and very remote," said Michael.
Fostering love and curiosity for learning
Michael weighed in on the question of whether or not teachers should be giving grades to students during this time: "In some ways, if we're grading kids right now, we're grading privilege." This is because not all students have the privilege to have support at home, to have a device at home, and to have high-speed internet. Though deciding how to assess students is a tough decision to make in a time like this, Michael thinks there is a lesson here:
I think maybe what this is teaching us is that by running a system where we thought grades were the be-all-and-end-all, that didn't really work to get to the intrinsic value of learning.
Michael stressed the importance of being mindful of lost instructional time, especially for the earliest learners, as in students in K-3, who are learning to read. If students are not reading on grade level by the end of third grade, he explained that the likelihood of them graduating from high school and moving on to post-secondary decreases dramatically because reading to learn starts in the fourth grade. Michael said that figuring out how to make up for this gap is crucial:
"The kid who's a senior in high school who is in a civics class right now, they're going to make that up in a different way than the first-grader who's trying to learn to read. And for subject areas like mathematics with concepts that build on one another, it's really hard to try to help kids understand new concepts when you're not there with them, and you can't monitor and adjust based on what they are getting and what they aren't."
Another lesson learned, said Michael, is that learning doesn't only take place in the confines of a classroom's four walls. He contends that we have to be prepared to learn in multiple ways, with the focus being on learning and not about the grade. Michael pointed out that he thinks the California State University system is doing an excellent job by clarifying that for students in the class of 2020 and 2021, test scores will not be considered in the same way.
And that helps us in the future, right? We had such gate-keeping mechanisms in place around GPAs that may or may not be legitimate or around SAT or ACT scores that may or may not be about the privilege a kid had in order to take the SAT prep course. So maybe we learn some good things coming out of this.
Running an ESD during a pandemic
With many distance learning efforts falling onto parents' shoulders, Michael touched on some of the challenges his ESD faces with supporting these parents. "In the state of Washington, where everyone's told to stay home, how do you gather parents other than via technology?" asked Michael. Since there is no face-to-face support for parents as they're learning new technology and new ways of helping their children, Michael explained that navigating these changes is especially complicated.
To serve districts during the pandemic, NEWESD has put together a menu of options for support from which districts can choose. Much of the work Michael's team is doing is around helping their community understand how to use a variety of platforms in a way that supports distance learning. Their coordinators have been busy providing online professional development around content via distance, as well as adapting it each week as districts tell them what they need.
Finally, Michael referenced an email he received from a frustrated superintendent in his region: "Michael, had I wanted to lead an online learning school district, I would have applied there. I'm used to having our 5000 kids come to our schools every day." Despite the many difficulties teachers and district administrators are dealing with right now, Michael says there is one aspect of school closures that is the most difficult of all:
I would say, as someone who's married to a teacher, who's daughter-in-law's a teacher, whose son is a high school assistant principal, the hardest part is they are missing the kids with whom they work.