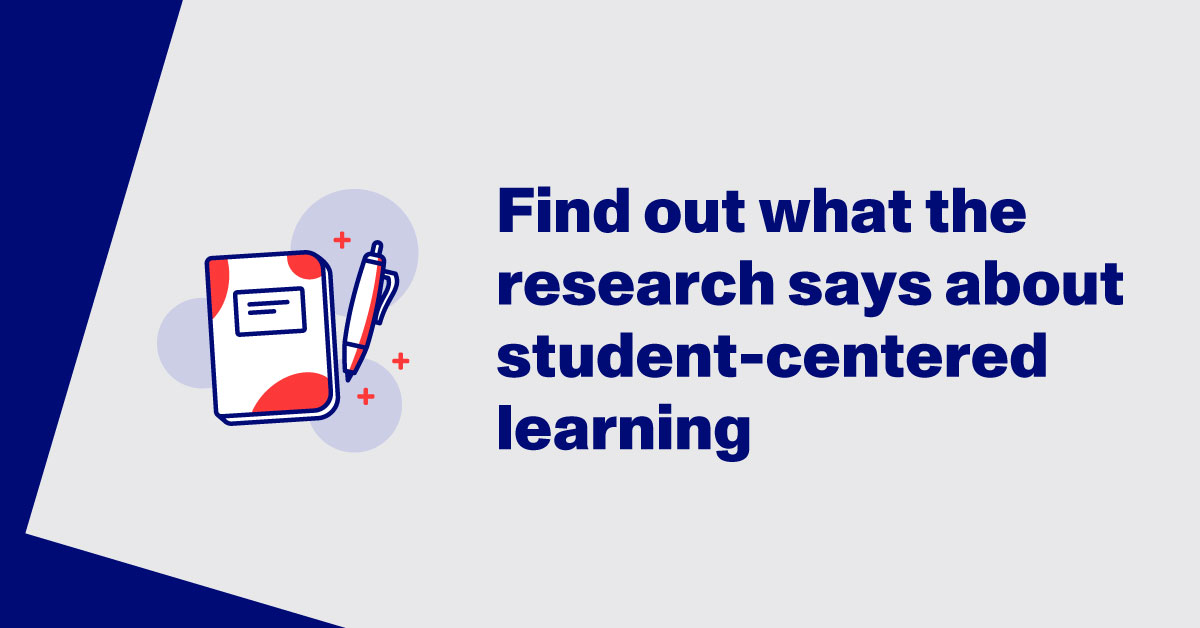 Student-centered learning: What the research says
August 1, 2022
The growing body of research around student-centered learning paints a picture of how to promote an enduring commitment to education for students. Now, the image is coming into focus.
As researchers explore the elements of student-centered learning, we continue to find out more about key attributes of this approach, what its effects are, and how to fine-tune efforts to promote it.
We'll explore some of what's been discovered so far, what topics remain to be explored, and what the current research tells us about the outcomes of student-centered learning.
Addressing the opportunity gap: Case studies from the Stanford Center for Opportunity Policy in Education
Research on student-centered schools completed in 2014 by the Stanford Center for Opportunity Policy in Education explored the results of this approach across a handful of California high schools.
Researchers identified several critical elements of student-centered learning embodied by the schools in their study, including the following factors:
Educational experiences are built to foster rich engagement in the learning process, and they often include inquiry-based instruction, student-directed learning, and more.
Personalization and meaningful connections among students, teachers, and the broader community feature prominently.
Decision-making involves the input of stakeholders throughout the school environment—from family members and educators to administrators, staff members, and beyond.
The schools in this study primarily served students of color, and they often had high populations of English-language learners and students from low-income backgrounds.
What did the case studies reveal? The high schools in this study outperformed peer institutions in terms of graduation rates, student assessments, and college persistence.
The authors also noted that additional academic support may be necessary when implementing successful student-centered learning models for learners who face higher barriers on the path toward success. Tutoring programs can play an important role here.
Qualitative research on student-centered learning in New England high schools
In 2016, the Nellie Mae Education Foundation (NME) and the University of Massachusetts Donahue Institute released an extensive report on student-centered learning practices in several high schools across New England.
The study's authors noted that the report "does not attempt to measure the impact of [student-centered learning] practices on students or gains in student learning." Nevertheless, the findings here have immense value for understanding the successes and challenges of student-centered learning.
Among other focus areas, the researchers studied examples of student-centered learning according to the following four tenets:
Learning is personalized.
Learning is competency-based.
Learning takes place anytime, anywhere.
Students take ownership.
Although the schools in this study often exhibited strong performance related to personalized learning and student ownership, the authors found that it was comparatively rare for schools to successfully implement learning experiences that could take place anytime and anywhere.
Furthermore, participants in the study often said that student-centered learning practices contributed to deeper student engagement.
From standardization to personalization: Education Evolving and student-centered learning
Following up on these studies—and on contemporaneous research from the Rand Corporation—Minnesota nonprofit Education Evolving released a report on the evidence for student-centered learning in 2018.
From the existing research, Education Evolving identified several attributes of student-centered learning that seemed to pervade current literature on the topic. However, the authors felt that nonacademic elements had to be taken into account too.
Altogether, the report makes the claim that there are seven key characteristics of student-centered learning:
Positive relationships exist among students and adults.
Learners have their foundational needs met.
Students cultivate positive, authentic identities.
Teachers facilitate and honor student agency and ownership.
Subjects incorporate learning that is relevant to learners' lived experiences.
Competency-based approaches prioritize personalized progress through the course material.
Students have the opportunity to learn anytime and from anywhere.
With this expanded scope in place, the report underscores the wide-ranging nature of student-centered learning and all of its constituent components.
Student-centered evidence for student-centered learning
Just as Education Evolving sought to expand the scope—beyond academics—of what contributes to student-centered learning, others have attempted to broaden our approach to gathering evidence.
Specifically, Next Generation Learning Challenges (NGLC) has created a "Full Spectrum of Evidence Toolkit" that helps unpack the concept of student-centered evidence as it relates to personalized, student-centered learning. After all, several of the outcomes that advocates of student-centered learning hope to achieve—such as student ownership and more meaningful connections between the classroom and the world beyond—are difficult to measure using a system-centered perspective.
According to the organization, examples of how to gather and use student-centered evidence could include surveys, assessments that incorporate students' voices, intentional listening, and partnering with students directly to make decisions.
With NGLC's toolkit, education leaders are encouraged to think critically about the kinds of evidence they gather at the local level and how that evidence influences their decisions.
Emerging areas of inquiry: Next steps for studying student-centered learning
The Students at the Center Hub, which is currently operated by KnowledgeWorks and was first developed by Jobs for the Future and NME, has an important mission: to serve as a clearinghouse for information about student-centered learning and related topics.
Ongoing research from the organization is underway to further explore the central elements of student-centered learning, like techniques for supporting student ownership and how to facilitate learning anytime and anywhere. Several current avenues for research center on outcomes for students from marginalized backgrounds and responsive student-centered learning practices.
How does student-centered learning benefit learners?
Student-centered learning may benefit learners by promoting stronger engagement with topics that are relevant to students' lived experiences and future contexts. As we've seen from the research, there is some evidence to suggest schools operating according to student-centered learning principles outperformed similar schools in terms of key metrics such as performance on assessments, graduation rates, and persistence in higher education.
Additional research, potentially incorporating a greater body of student-centered evidence, will no doubt reveal a fuller, more accurate picture of what student-centered learning can do for students. As further details emerge, education leaders will glean deeper insights from this growing area of research, enhancing their efforts to help today's students become lifelong learners.
For more information about what student-centered learning is, and how to implement student-centered strategies in your district, check out our K-12 guide to student-centered learning.