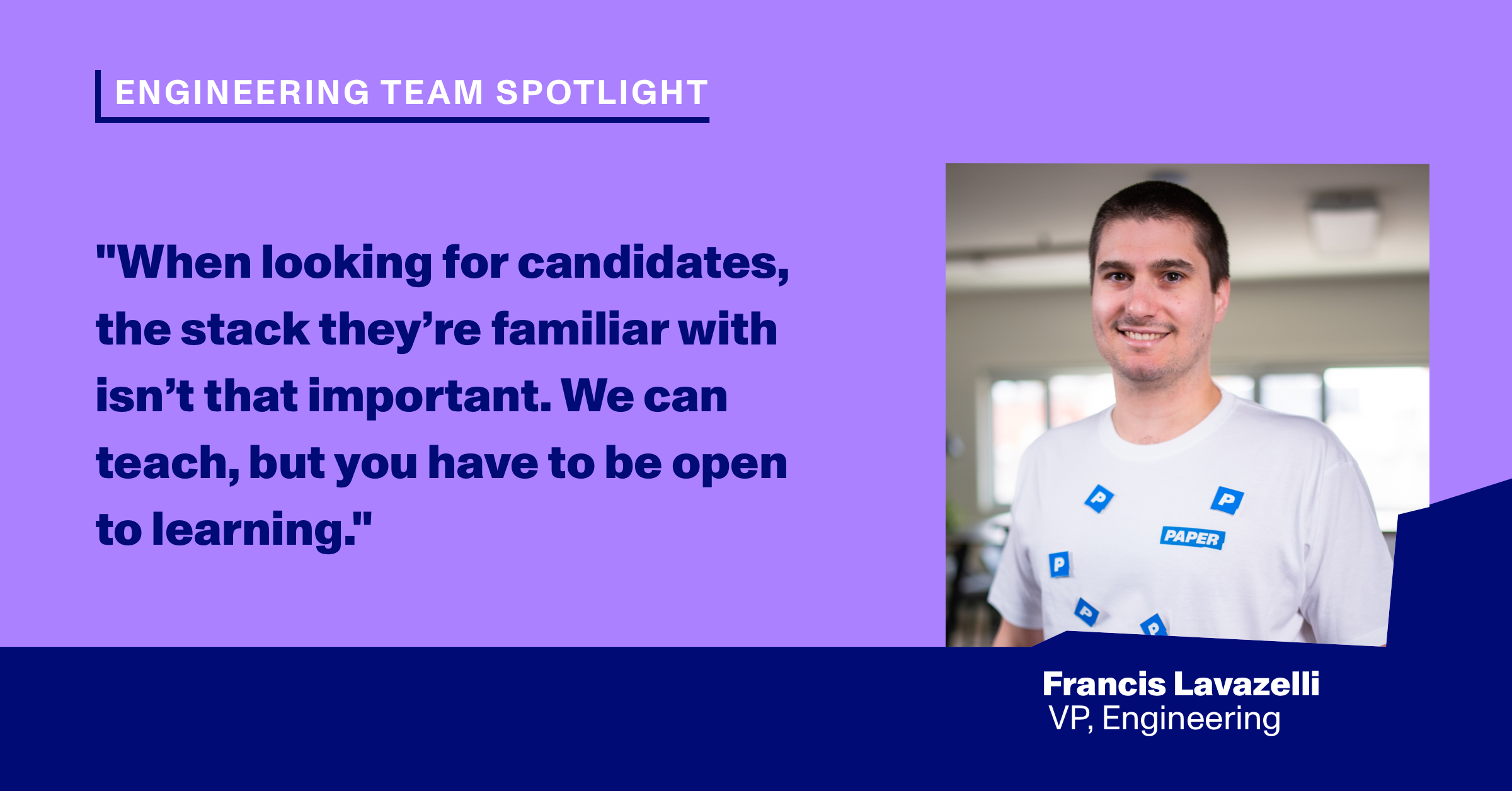 From Intern to VP: A conversation with the talent behind Paper's Educational Support System
Oct 19, 2022 3:42:53 PM
As part of our Team Member Spotlight series, the Paper team recently sat down with Paper's Francis Lavazelli, VP of Engineering. We discussed his inspiring journey at Paper, how we grew his team, what he does to stay connected with his coworkers, and the qualities he's looking for in new team members.
Paper's Engineering Team will be attending the Vue Conference in Toronto from Nov. 1 - Nov. 3, 2022. Come out to learn more about Paper and our engineers at our booth in the expo center.
For more information about joining the Paper engineering team, you can review the available roles on our Career Pages or follow us on LinkedIn or the Paper Careers Instagram.
Tell us about your journey at Paper.
I started as an intern at Paper in 2015 when Paper's founders, Phil and Roberto, answered a message I posted on a Facebook Montreal startup group. The agreement was a simple one; I'd help out a few hours per week after school on the evenings I wasn't working my part-time job if Roberto agreed to be my programming mentor. After we completed the FounderFuel startup accelerator program and raised some early-stage funds, Paper was finally able to offer me a full-time position as a software developer.
This coincided well with finishing my college degree, so I was able to quit my part-time job and devote my time entirely to Paper. Being the first developer on the team allowed me to learn so many new things—including how to scale applications for millions of users and build effective software teams, which I was eventually given the responsibility to do.
I was promoted to Director of Engineering in 2019, splitting my time between tactical and strategy work. When Covid hit, Paper went through exponential growth as schools and districts transitioned from brick-and-mortar learning to online solutions. Navigating through the challenges of the pandemic while collaborating with the leadership team at Paper to adapt our culture to being remote-first gave me the skills and confidence to be able to effectively lead the entire engineering team at Paper, which is when I transitioned into the VP role.
Talk us through how you grew the engineering team.
When we started building the department, we were initially a team of four full-stack developers. The platform had low traffic, and we were running a more simplistic application out of one virtual machine, so we needed well-rounded developers who were able to do both front and back-end development. The team structure evolved with changing business needs. We wanted to build a mobile application, so we had to extract our backend layer into an API, which represented the second major step in the team structure's evolution. At that stage, the team was split into a frontend team, focusing on the web app and mobile application, and a backend team building and maintaining the API.
As the team grew, managing two large front and back-end teams became unsustainable, leading to the third major restructuring of the team, which was a squad-based approach. Squads are multidisciplinary, allowing each squad to focus on a specific product area or persona on our platform. This allows each team to focus on a specific set of problems and how to solve them optimally. The squad-based approach also forced us to start thinking about how to model our infrastructure so teams can work as independently as possible, launching our endeavors into a service-oriented architecture.
What was the transition from in-person to fully remote like for your team?
Covid was a big learning curve for us. Collaboration had always been so important, and all of a sudden, you couldn't just turn around to ask someone for help or work on a problem together.
Even dealing with the logistics of getting everyone set up was difficult. We learned a lot! We had to find new ways of communicating, and we learned that there is no such thing as overcommunicating.
We started doing different things to spend time as a team. We played lots of virtual games on Slack together. We also started doing lunch and learns, where people present on a topic they're interested in, even if it isn't engineering-related. For example, one of our team members had previously worked in Finance, and they did a presentation on Financial literacy. These kinds of things are fun and bring the team together.
What was your favorite lunch-and-learn?
It was actually engineering-related, haha! A frontend lead had taken interest in Cypress, a Javascript end-to-end testing framework. He did such a great job of explaining it and how we could benefit from it that we adopted it as a standard practice! Setting up the framework to meet our needs was a challenge, but we now have 80% of our end-to-end regression test suite automated using Cypress.
What skills are you looking for as your team grows?
It boils down to personality—someone who wants to be a part of a team. Being excited to learn, and share. When looking for candidates, the stack they're familiar with isn't that important. We can teach, but you have to be open to learning. Being an excellent communicator since we work so closely together is also really important. We're looking for people who are excited to be a part of Paper and our team.
Thanks, Frank, for taking the time to speak with us!