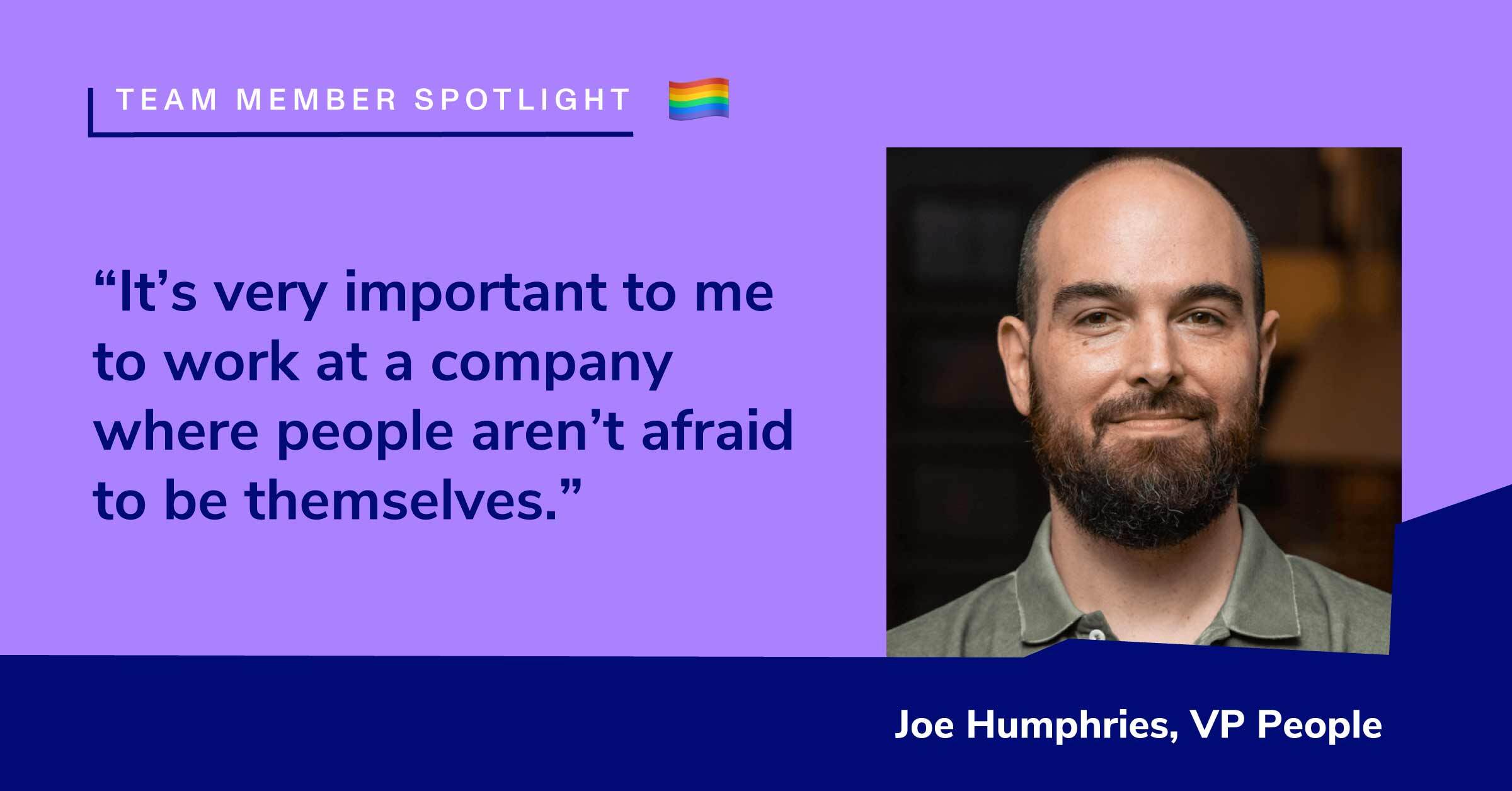 How to celebrate pride all year with Paper's VP of People, Joe Humphries
Jun 28, 2022 11:10:18 AM
As Pride Month 2022 comes to a close, we want to remind everyone of the importance of celebrating Pride every day! While it is wonderful to have a month dedicated to Pride, it is vital that we honor, protect, and respect our LGBTQIA+ family, friends, and coworkers all year!
Paper is proud to create an inclusive and safe space for folks of every race, creed, color, or orientation. We recently hosted a highly-attended Pride event as part of our annual retreat and will continue to run programs to engage, highlight, and celebrate our LGBQTIA+ community members throughout the year!
We interviewed our VP, People Joe Humphries during Pride Month and asked him about his experience at Paper, what the company is doing to celebrate Pride, and how Paper plans to create an inclusive space all year long.
What's your name and where do you live? Any family you want to mention?
Hi, I'm Joe Humphries, VP of People at Paper. I live in New York City with my husband Kevin and my houseplants.
Please explain your role within Paper.
As VP of People at Paper, I do everything I can to make sure that every employee at Paper has the tools, resources, and guidance to do their best work and create the best possible outcome for schools and their students. I also work to make sure we can recruit the best and brightest folks to help us grow!
As an emerging leader in tech, what steps have you taken to create an inclusive environment for employees?
One of the most important steps you can take as a leader is to make sure that every employee knows that leadership has their best interests in mind. I want all our team members to have a voice and know that their voices will be heard and respected. Creating an inclusive environment at any company is always going to be a journey and never a destination, but I'll always be committed to ensuring everyone feels comfortable and respected.
As a member of the LGBTQ+ community, what does it mean to you to have a welcoming and inclusive workplace?
It's very important to me to work at a company where people aren't afraid to be themselves. I know what it's like to be afraid to be out in the workplace. I'm in a position where I can lead by example, if my being out and open about who I am, in turn, can encourage others to feel comfortable and feel the same. I feel like I'm taking the right steps to make all of Paper as inclusive as it can be.
What challenges do LGBTQIA+ folks face in the workplace?
Just like sexuality exists on a spectrum so do the challenges that LGBTQIA+ communities. No two challenges are the same. We don't come out once, we come out every day, every time we meet somebody new, every time we want to introduce somebody to our spouse. Over time it gets easier, and it gets better, but it's always a bit difficult or stressful because you don't know who is on the receiving end of that information, and how they're going to react. This is why I'm so happy to be in my position because I'm able to ensure we're building an inclusive culture where I can feel comfortable and everyone can feel comfortable.
What advice would you give to someone who wants to be an ally?
Listen, ask questions, be open and inquisitive, be sympathetic, be a friend, and don't assume just because you have a gay friend means you're an ally. It's a journey, everything that you can do to learn and understand everyone around you and expand your perspective will help you get closer and closer to allyship.
It is also important to be an ally all of the time, not just in June, not just in front of LGBTQIA+ folks in your community. The key is to be an ally all of the time.
How did you celebrate Pride?
All month long, but also all year long! My husband and I attended New York Pride events this year. We haven't been able to go over the past few years with Covid and it's one of my favorite events, so we were excited to go back and be present for the march right near Stonewall, where the gay rights movement began. It was a great chance to reflect on everything that previous generations went through for me and the current generation to come as far as we have today.
Thank you, Joe, for sharing your thoughts and story with us, and reminding everyone to celebrate Pride all year long!