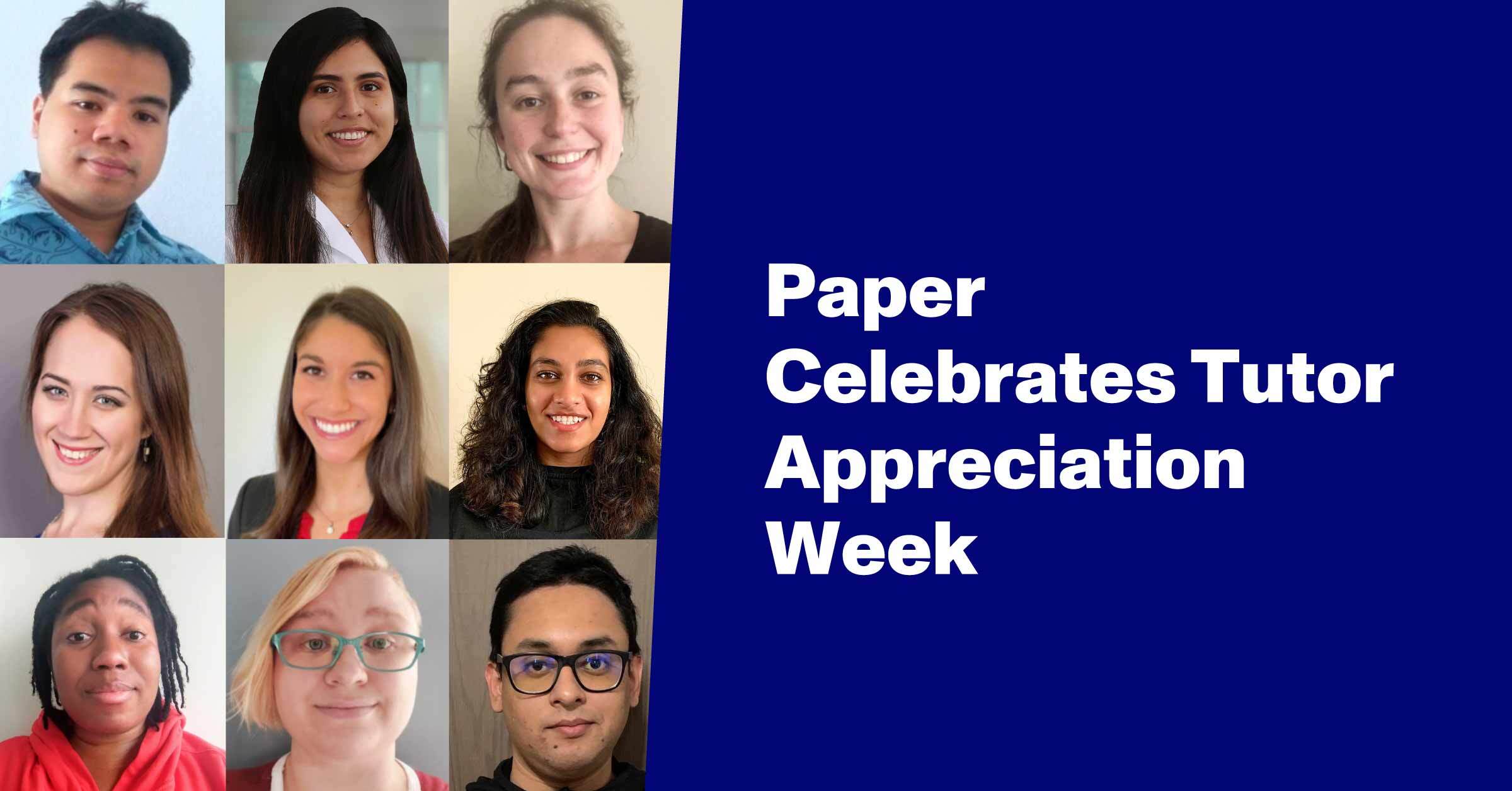 Paper Celebrates Tutor Appreciation Week
Oct 6, 2022 12:23:23 PM
National Tutor Appreciation Week was started over ten years ago by the National Tutoring Association. Tutor week is dedicated to the incredible tutors across the country who work tirelessly to help millions of students from every walk of life and grade level.

Tutors are vital to our students and our work here at Paper. We partner with our tutors to help students reach their full potential. Paper is constantly working to improve its tutors' experience by listening to feedback and better understanding the challenges they face. Ensuring our tutors have the support and tools they need to help students succeed.

Our effort to engage with our tutors includes recruiting some of the best and brightest tutors to become corporate team members. As corporate team members, they can help shape and improve our tutoring program and our product offerings.

As we celebrate National Tutor Appreciation Week 2022, we wanted to take a chance to highlight a few of our former tutors who transitioned to become full-time corporate team members at Paper. We spoke with Tobi Garza and Nick Jorgensen to discuss their experience as Paper tutors and learn more about their current roles at Paper.
Tobi Garza, Talent Sourcing Coordinator
What initially attracted you to Paper?
I was a stay-at-home mom just casually browsing Indeed, and I came across the essay reviewer role. I had no idea what Paper was, but I applied for it. I didn't think about it again until I was contacted by a Paper recruiter, and then I learned all about it. Between my initial scheduling for the interview and my interview, I fell in love with the company, and I've continued to fall in love as time has passed.
What encouraged you to apply for a permanent role with Paper?
I graduated with my bachelor's in finance this last May, and as much as I love full-time tutoring, reviewing essays for eight hours a day was not sustainable for me schedule-wise. So I was looking at leaving Paper to find the start of my career, and this position opened up, so I applied, and I didn't think I'd get it, but thankfully I did!
Let's talk about your experience so far. What has that been like?
I love it. I don't know if it's just the luck of the draw or if the team is excellent. My job is great. I'm learning so much. I'm super excited to learn new things every day, and the job is very hands-on. I can't wait to keep learning from and shadowing my peers to gain more knowledge on recruiting. Right now, I am just living on cloud nine!
Let's talk about work-life balance. What does that look like since transitioning into this full-time role?
I'm a natural workaholic, but the culture at Paper truly encourages employees to take time off to reset. My boss tells me to stay off Slack and rest when I'm not feeling well.
Nick Jorgensen, Employee Experience & Culture Coordinator
What initially interested you in joining Paper?
When I first saw the ad for Paper on Indeed, I had just finished my master's program. I was looking for a college-level teaching job, but it was right during the middle of the pandemic, and obviously, schools weren't hiring. Teaching jobs were few and far between. I needed something to help tide me over until I could find a teaching job. I took the job as an essay reviewer and enjoyed it. I worked as a tutor for a long time before working at Paper, so I feel like it was a natural transition into the role—and the flexibility made it hard to think about transitioning to something else.
I wasn't thinking about making a career move after joining; it wasn't even on my radar. But when the summer internship program popped up for tutors, I was concerned about not having enough hours over the summer. I thought joining the corporate internship program would be a good chance to supplement my time and income for the summer. I was surprised when I got the internship! I honestly didn't think I was going to, but I was extremely happy that I did.
What was your transition like from being a tutor to being an HQ employee on the People Team?
Within the first couple weeks of the internship, my gears started to turn. I thought to myself, "maybe this is something I should pursue career-wise,"—especially since I was disillusioned with getting into higher education. The internship went really well. I loved the team and the atmosphere at Paper. I kept hinting that I wanted to stay on full-time, and luckily, they made room for me on the team! I don't have any plans of going anywhere anytime soon. I enjoy working on a team and working at Paper. I feel like it's a perfect fit for my style and pace.
How is the lifestyle change, from thinking you were going to be in a classroom every day to working from home?
Honestly, I really love it. I feel like the work/life balance that Paper offers is what I was looking for—whether I knew I was looking for it or not! I've been able to set up a working life that I enjoy and don't get burned out. I definitely feel like if my career had gone in the direction I wanted, I could have easily become burnt out or disillusioned. My schedule is really flexible, so I can do the things I need to do on a personal level without feeling stressed about it or that I'm leaving my team in the dust. Paper suits the way I want to work and the pace I'm comfortable with at work. I mean, I feel like I got fortunate here.
Thanks, Tobi and Nick! We appreciate you taking the time to share your experience.


If you are interested in becoming a Paper tutor, please visit our tutor webpage!