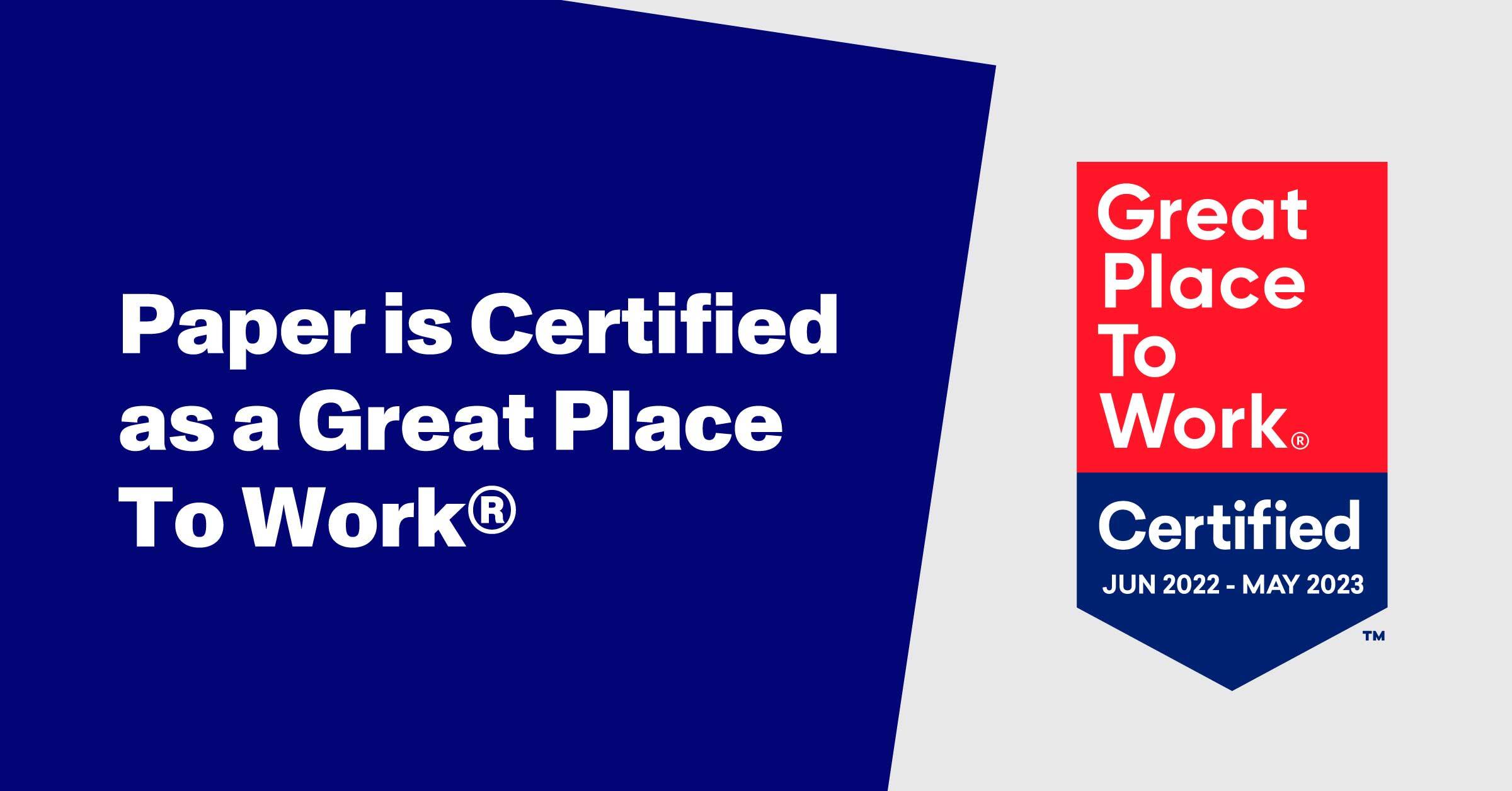 Paper earns Great Place to Work Certification®
Jun 13, 2022 10:13:39 AM
Paper, the leading provider of unlimited, 24/7 academic support, is proud to announce that it is a 2022 Great Place to Work-Certified® Company!
This prestigious award is based on employee feedback gathered from Great Place to Work, the global authority on workplace culture. See Paper's profile on the Great Places to Work website here.
The results illustrate Paper's ongoing commitment to prioritizing people as well as its unwavering dedication to its corporate values of selflessness, positivity, integrity, tenacity, creativity, and excellence.
"We have known it for years, but now it's official!" said Joe Humphries, Paper's vice president of people.
"Every day we strive to make Paper an amazing place to work and grow one's career, and it's an honor to be recognized for our efforts. We've only just begun!"
The competition process to be ranked on this list is employee-driven, based on two criteria: two-thirds of the total score comes from confidential employee survey results, and the remaining one-third from an in-depth review of the organization's culture.
This offers a rigorous representation of the organization from an employee perspective and an overall portrait of the workplace culture. Together, they provide crucial data relative to five trust-building dimensions: credibility, respect, fairness, pride, and camaraderie.
"Building a healthy culture for our team members is every bit as important to our growth and success as designing a world-class, equitable academic support platform for our partners," said Phil Cutler, founder and CEO of Paper.
"We are proud to receive this honorable accolade and remain committed to fostering an inclusive work environment in which our Paperites can work alongside our partners to democratize academic support for all."
Paper has more than doubled the size of its 100-percent remote workforce in the past 12 months and continues to hire. Check out our latest openings here!