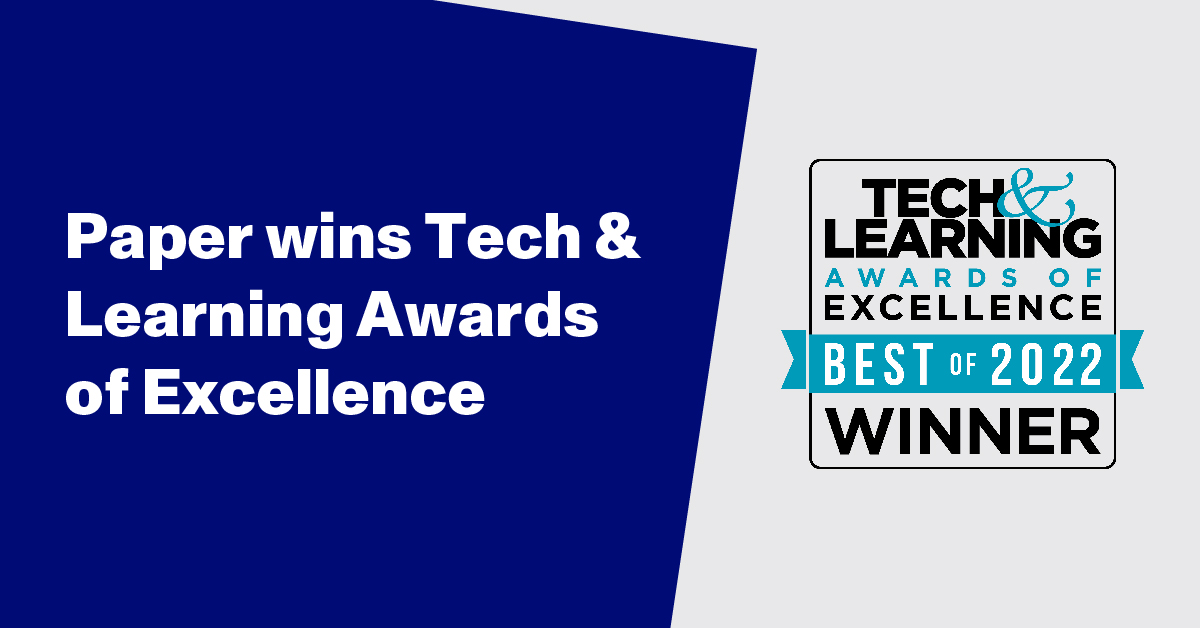 Paper recognized as winner of Tech & Learning Awards of Excellence: Best of 2022
Jan 31, 2023 10:21:59 AM
Paper™, the leading Educational Support System (ESS), is pleased to announce that we have won in this year's Tech & Learning Awards of Excellence: Best of 2022 in the Secondary Education category.
The awards reward the very best products in the education technology industry from the last 12 months, selecting those that really help to aid education professionals, students and/or teachers.
"We are honored to receive this recognition from Tech and Learning," said Philip Cutler, CEO and co-founder of Paper. "Everything our team does is focused on building students' confidence for school and life beyond. Thanks to our team for working tirelessly to deliver our support to over 3 million learners, and to our partners for trusting us to work alongside them."
Paper's product was judged based on its feature set, innovation, perceived value and ease of use, following which it was deemed to be a standout within the sector and selected as a winner.
"This year's nominated products reflect some of the trends we are seeing in education: a greater focus on wellness, new features being added to products to create flexibility for a variety of learning environments, new opportunities, student mastery to assess and personalize learning, and a focus on providing all students with equal access to technology," said Christine Weiser, Content Director for Tech & Learning. "Our judges were impressed by the breadth of these new products and the industry's willingness to embrace innovation to support all students."
More information about the 2022 Tech & Learning Awards of Excellence can be found here.