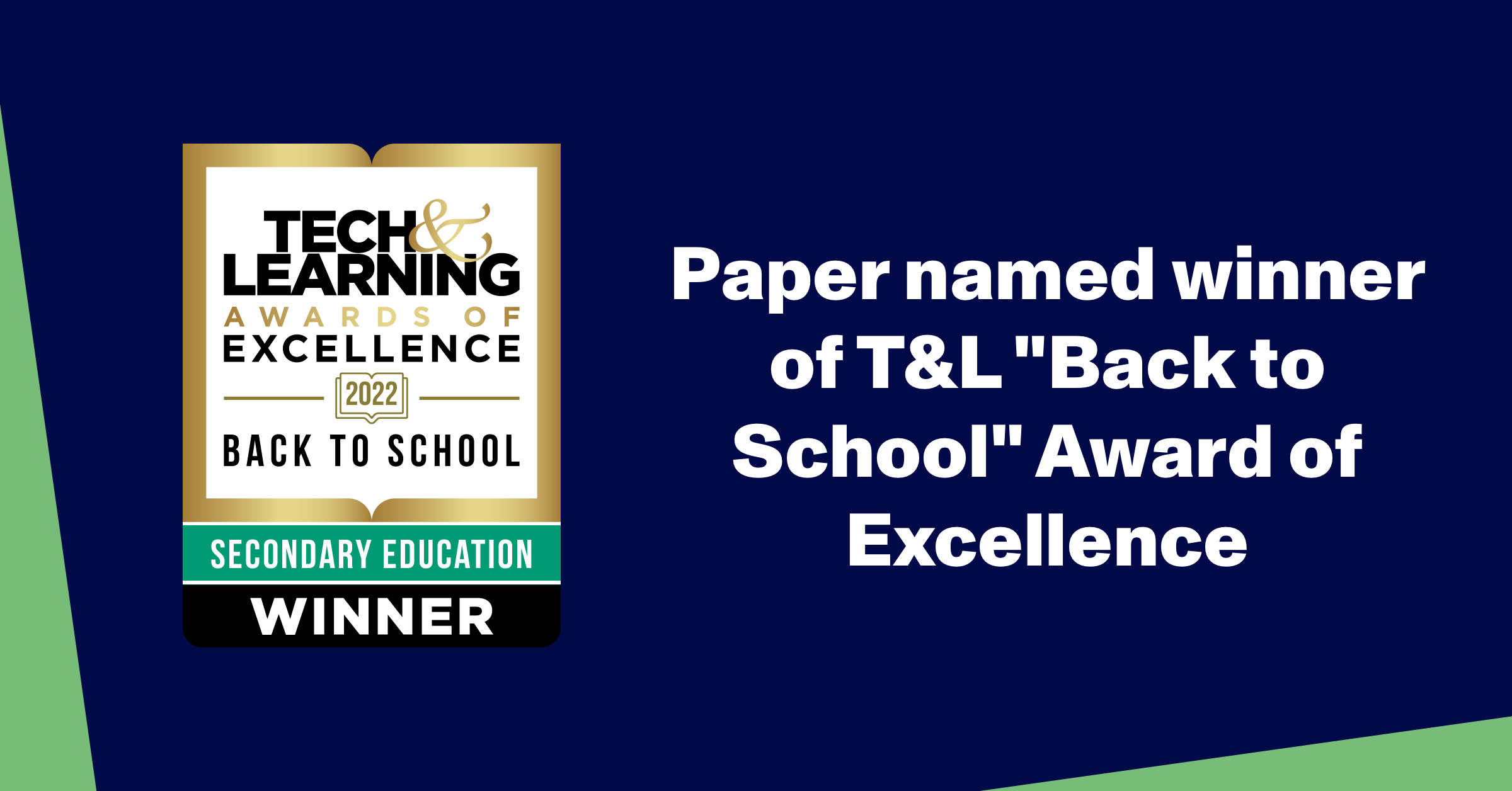 Paper™ wins 2022 Tech & Learning Award of Excellence in secondary education
Sep 13, 2022 9:26:39 AM
Paper™, the leading Educational Support System (ESS), is thrilled to announce that it has won a 2022 Tech & Learning "Back to School" Award of Excellence in Secondary Education for its unlimited, 24/7 academic support platform.
As schools get ready for the 2022-23 school year, Tech & Learning's Awards of Excellence program, "The Best Tools for Back to School" is designed to help readers find the most impressive products and solutions that will support their work in any learning environment.
"We're honored to be recognized by Tech & Learning for this award," said Phil Cutler, Paper co-founder and CEO. "We're proud to have built an ESS that promotes educational equity while supporting all school district community members. We're passionate about making sure that nothing gets in the way of learning, and we're working district by district, state by state, to make unlimited, 24/7 support the norm."
Founded and led by mission-driven educators, Paper supports more than 2.5 million K-12 students across North America with 1:1 instructional support available from multilingual instructors in English, Spanish, French, and Mandarin.
"As we head into another uncertain year in education, technology will continue to be one of the key drivers for innovation," says Tech & Learning Group Publisher Christine Weiser. "Our judges chose the winning products recognized here for their versatility, compatibility, value, and ability to help schools solve challenges and support continuous instruction. Congratulations to all of our winners."
On Paper's secure chat-based platform, fully background-checked tutors work individually with students to help them master concepts, improve their writing, and facilitate the completion of their coursework. Teachers and administrators have complete access to the platform to view tutoring session transcripts, student insights, and analytics that help power data-informed instruction and decision-making to improve student outcomes.

To learn more about Paper's Educational Support System or request a free demo please visit paper.co/demo-request.