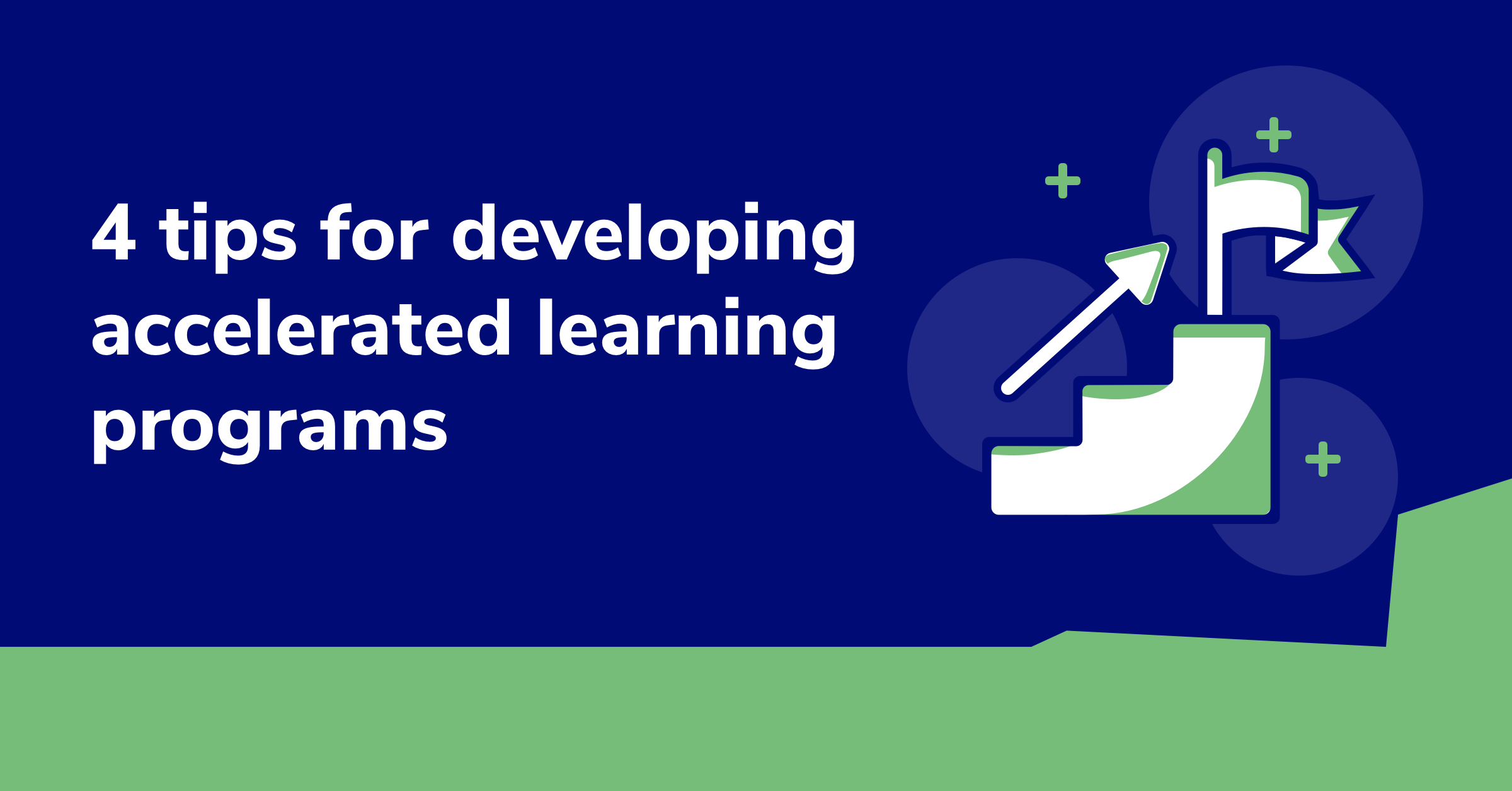 4 tips for building out accelerated learning programs in your district
June 27, 2022
Setting up an accelerated learning program takes careful thought and deliberate action, but the importance of such an effort is difficult to overstate. These programs can help students look forward to a bright future—even following the tumult of recent years.
What is accelerated learning in education?
In education, accelerated learning refers to the process of giving students the assistance they need to stay on track for meeting the educational goals associated with their grade level. Standards remain the same, and targeted strategies are used to ensure learners are able to bridge any gaps in their understanding that may have resulted from issues related to unfinished learning.
This strategy stands in contrast—and in some ways as a complement—to remediation, an instructional tactic in which students are first tasked with repeating concepts from the previous grade level before moving on to new objectives.
With accelerated learning strategies, students receive the guidance they need to approach a new school year knowing they're encouraged to explore fresh material. They'll also know that they have the support they need if they find themselves struggling with prerequisite concepts.
Here, we'll explore four tips for administrators who want to leverage learning acceleration best practices in K-12.
1. Identify strategies that are appropriate for learners at certain grade ranges
Learning acceleration strategies may look a bit different for students in primary, middle, or high school.
Accelerated learning in elementary school
Providing students with a supportive environment can be crucial for young learners. A Chalkbeat article about how schools have implemented accelerated learning highlighted the creation of after-school "acceleration groups" at a school in Indiana. There, students can review concepts from the previous year as needed. For example, the learners might focus on multiplying single-digit numbers after school while learning about two-digit multiplication during the school day.
Accelerated learning in middle school
In the middle grades, it's especially vital that the scope of accelerated learning programs encompasses subjects beyond the core content areas of math and ELA. In particular, Mark Schneider, director of the Institute of Education Sciences, underscored how important it is to gain science skills in middle school to pave the way for later STEM education. That's why the institute included a middle grades science challenge among the learning acceleration competitions announced in December 2021.
Accelerated learning in high school and beyond
It's hard to stay engaged with learning if you don't see how it connects to your future. Schools and districts must devise strategies that help high school students keep career and education pathways in sight following the completion of secondary education. This concept is emphasized in the U.S. Department of Education's COVID-19 handbook.
[READ: "Responsive paths for learners: Dr. Shari L. Camhi and Anthony Mignella"]
2. Tailor approaches to targeted subjects
As we've mentioned, learning acceleration strategies should be used to ensure students make sustained progress in a wide range of subjects. Here, we'll focus on strategies that support a couple of core subjects.
Accelerated learning in ELA
State-level guidance on literacy and accelerated learning from Oklahoma, and similar Colorado learning acceleration best practices for ELA, underscore the recursive nature of learning in this subject area. That is, instead of progressing in a linear fashion, students will revisit concepts again and again throughout their educational journeys. Over time, they grow to understand the content in increasingly sophisticated ways.
In such a discipline, formative assessments are vital for discerning which targeted skills students will have to revisit so they can progress toward benchmarks associated with their current grade level.
Accelerated learning in mathematics
According to professional development provider Math for All, just-in-time supports—which smoothly connect unfinished learning from the previous grade to the content standards currently being studied—are central to accelerated learning in math.
For example, when a new concept is introduced, educators can identify the prerequisite skills that are required to learn the new material. Using pre-assessments focused on these specific areas, teachers can group students for targeted skill reinforcement.
3. Prioritize equity when deploying accelerated learning programs
Student needs will vary from one individual to the next. Successful learning acceleration initiatives will take these unique considerations into account from the beginning. Here are a couple of important considerations to keep in mind.
Supporting the needs of English-language learners during accelerated learning
A California Department of Education guide on resources for assisting English learners during learning acceleration explores various funding strategies. Archived and forthcoming webinars on the page also discuss teaching strategies that can be leveraged to assist English-language learners in various subjects and instructional contexts. In addition, the guide underscores the importance of family engagement to help ensure student success.
Accelerated learning for students of all abilities
The National Center for Learning Disabilities released a report on accelerated learning practices for students with disabilities. This resource outlines several broadly applicable strategies while highlighting the importance of ensuring that schools and districts create environments that are inclusive for all learners. One key element of this approach is to ensure that students are supported as they develop skills associated with executive functioning. The authors also recommend securing guardrails at the state and federal levels to ensure that accelerated learning programs are created and maintained equitably.
4. Give teachers appropriate professional development—and time to implement learning acceleration
The large-scale rollout of accelerated learning programs can't succeed in isolation, and teachers need effective and ongoing support to pull it off. For example, reporting from Education Week about learning acceleration strategies in action discussed how teachers and administrators in Saugus, Massachusetts, worked with the state's Acceleration Roadmap to devise solutions for their students. Teachers also benefited from the help of instructional coaches who receive state-sponsored professional development.
Administrators may have to make thoughtful decisions about scheduling and staffing that diverge from the previous status quo. Some districts, for example, have initiated "looping"—where teachers support the same students across school years—or have updated their calendars to include intersession weeks when students in need of additional support can get help.
Crucially, administrators have to work collaboratively with teachers to develop workable long-term solutions, with an emphasis on maintaining trust and building goodwill. Keep in mind that educators are feeling the pressure. The more that administrators can do to help avoid teacher burnout, the better. Granting students access to unlimited 24/7 tutoring through Paper can help learners get the one-on-one support they need while also giving teachers back their time.
Interested in learning more? Check out our K-12 guide to learning acceleration for additional insights about how to help students make the grade.