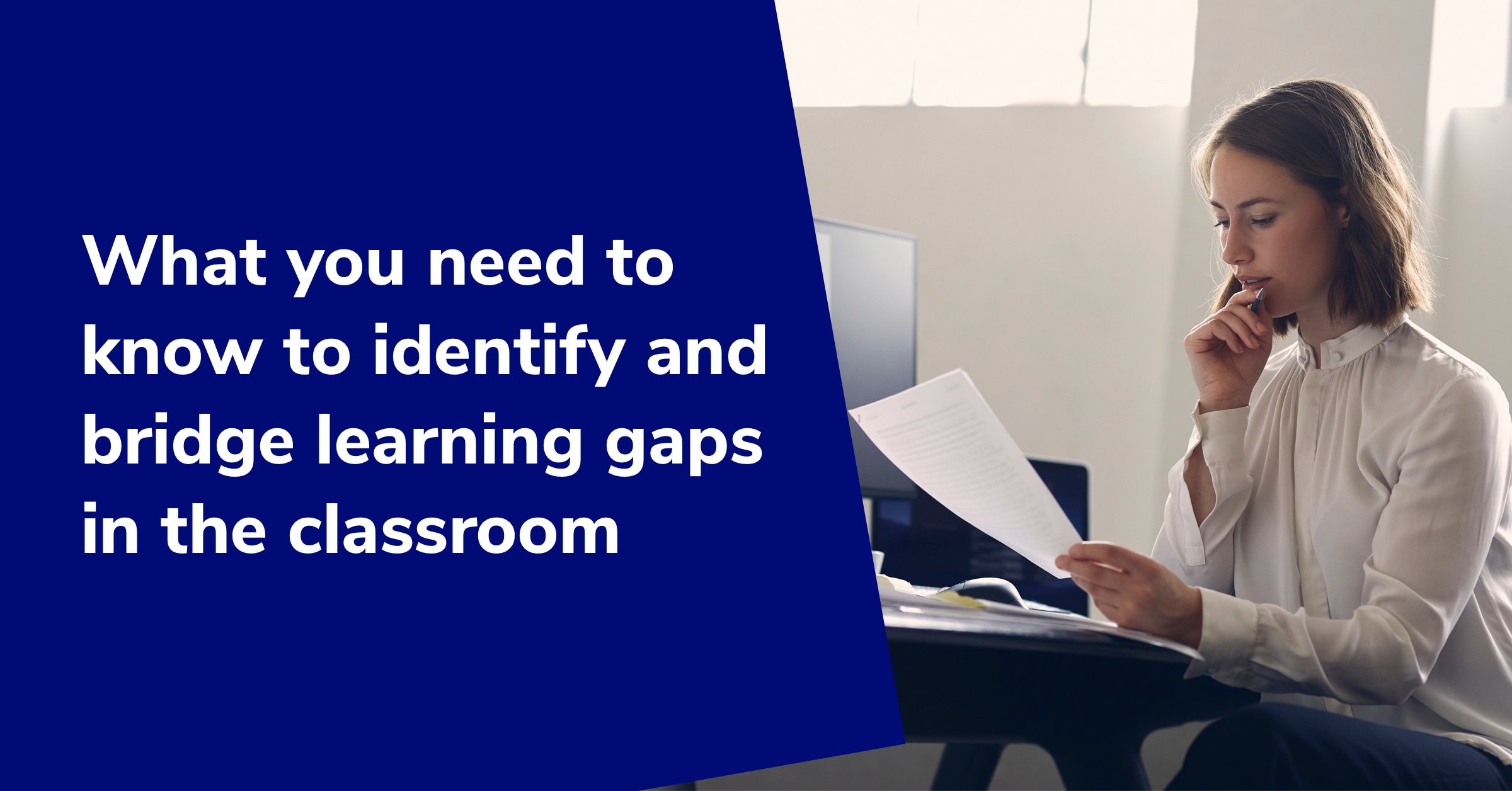 How to identify and bridge learning gaps in the classroom
August 3, 2022
When new material doesn't quite click for a student, several factors might be contributing to the disconnect. In particular, learning gaps are a common culprit.
Given the pervasive challenges posed by unfinished learning, many students have gaps in their knowledge that could make further progression difficult if these issues aren't addressed.
To help teachers identify and bridge learning gaps in the classroom, we'll explore what these discrepancies are, how to pinpoint them, and what can be done to build understanding and accelerate learning.
What are learning gaps?
Learning gaps are wide or narrow expanses that stand between an individual learner's current understanding and the established targets or expectations for their grade level. According to a definition of learning gaps from a widely used glossary of education terms, such shortfalls can become larger and more difficult to remedy if they're not bridged early on.
As students proceed through a new school year, their teachers often work diligently to assess learning gaps and provide the support needed to close them. Targeted, just-in-time assistance is a crucial component of learning acceleration programs—efforts in which teachers strive to address learning gaps while maintaining students' established grade-level trajectories.
Crucially, wide-ranging remediation is not a strategy for closing learning gaps that's consistent with acceleration. In an article on the relationship between learning acceleration and learning gaps, Dr. David Steiner, the executive director of the Johns Hopkins Institute for Education Policy, said that remediation strategies could actually exacerbate learning gaps.
Instead, acceleration implores teachers to zero in on the specific skills that are vital for students to proceed in their learning.
How to identify learning gaps
Likening the process of preparing for learning acceleration to triage, the Northwest Evaluation Association (NWEA) outlined a three-step process for identifying and bridging learning gaps in the classroom:
Analyze universal screeners.
Whether assessments, such as standardized tests, are distributed universally to a single class or a larger population of students, such instruments allow educators to gather rich insights about what specific skills may require additional reinforcement.
Visit classrooms in person.
Formal assessments may not capture everything. Teachers and administrators who take the time to observe learning in action will be better able to gauge student engagement and other important factors. They'll also be able to see for themselves where students might need more help.
Create groups to provide targeted support.
Differentiated small-group instruction, where students can receive the specific targeted support they need, can help close learning gaps discovered during the information-gathering stages. These student groups should be fluid, not static, and realigned as the class moves forward to new learning targets.
In addition to the comprehensive multistep process outlined here by NWEA, individual teachers can continue to work toward closing learning gaps in the classroom by conducting regular assessments during daily exercises at the top of the class—activities that are sometimes known as "bell ringers."
Additional insights for literacy learning gaps
Foundational reading skills are vital for later success in learning. Unfortunately, according to NWEA reporting on reading assessments and literacy gaps, pandemic-related unfinished learning has likely had a big impact on student performance in this area. Drawing on research covering the science of reading, the organization recommends focusing on phonological awareness and related concepts while providing "systematic, explicit instruction" with ongoing assessment to measure growth in reading skills.
Key insights about learning gaps in math
An article from Education Week on the struggles of incoming algebra students emphasized that success in high school algebra can often be a deciding factor in whether students pursue advanced STEM concepts. Disruptions caused by the pandemic have led to learning gaps in number sense, leaving students less prepared for this pivotal course. Experts interviewed by Education Week suggested more frequent checks for understanding related to the necessary prerequisite skills for each lesson. Again, explicit instruction is key, as are continuous opportunities for practice and support for rebuilding social skills in the classroom.
How to bridge learning gaps
Understanding where students may need additional support is essential, but the process of closing learning gaps doesn't stop there. And because learning acceleration programs are cyclical in nature, student progress is not a fixed target. From one unit to the next, continuous reassessment and ongoing targeted support are key components of success.
Teachers can employ a variety of whole-class and small-group instructional strategies to help bridge specific gaps in understanding. Here are a couple of additional insights that can help support your efforts to close learning gaps in the classroom.
Learn from your peers
Every teacher has their own techniques for accelerating learning. Sharing your ideas—and being receptive to trying out new strategies from others—can help expand your toolkit. Some teachers may have the opportunity to plan with peers in their building or to work with dedicated instructional coaches.
There's also a variety of sources available online. For instance, check out this tutorial for closing learning gaps in one- and two-step equations from The IgnitED Teacher:
Tap into tutoring support
Online tutoring platforms like Paper™ offer several pathways to help teachers close learning gaps:
With the Paper Method's inquiry-based support, students can take ownership of their learning and ask questions about prerequisite skills with the comfort of relative privacy in a safe, judgment-free environment.
Teachers can review students' tutoring sessions to identify key misunderstandings and learning gaps, allowing them to address these concerns directly in class.
Paper tutors can serve as virtual teaching assistants, backing up classroom instructors in their efforts to provide targeted small-group support in class.
For example, Ashley Bebow knows how important tailored assistance can be for helping students build their confidence. The Hemlock Middle School math teacher benefits from the support of Paper tutors, which allows her to work more effectively with small groups.
[WATCH: "How 24/7 tutors help one teacher infuse positivity and perseverance into math"]
As Bebow's class was working on percentages, several students grasped the material early and were eager to jump ahead. By uploading screenshots of their math problems, those students could independently log in to Paper and work through new concepts with a tutor while Bebow assisted students who were working through the percentage unit.
"They go through and chat with the tutor, and that frees me up to continue working with students on the current topic," said Bebow. "It's allowing my students who already got it to be able to move on and advance their learning."
Looking for more information about how to close learning gaps and accelerate learning at your school? Check out our K-12 guide to learning acceleration.