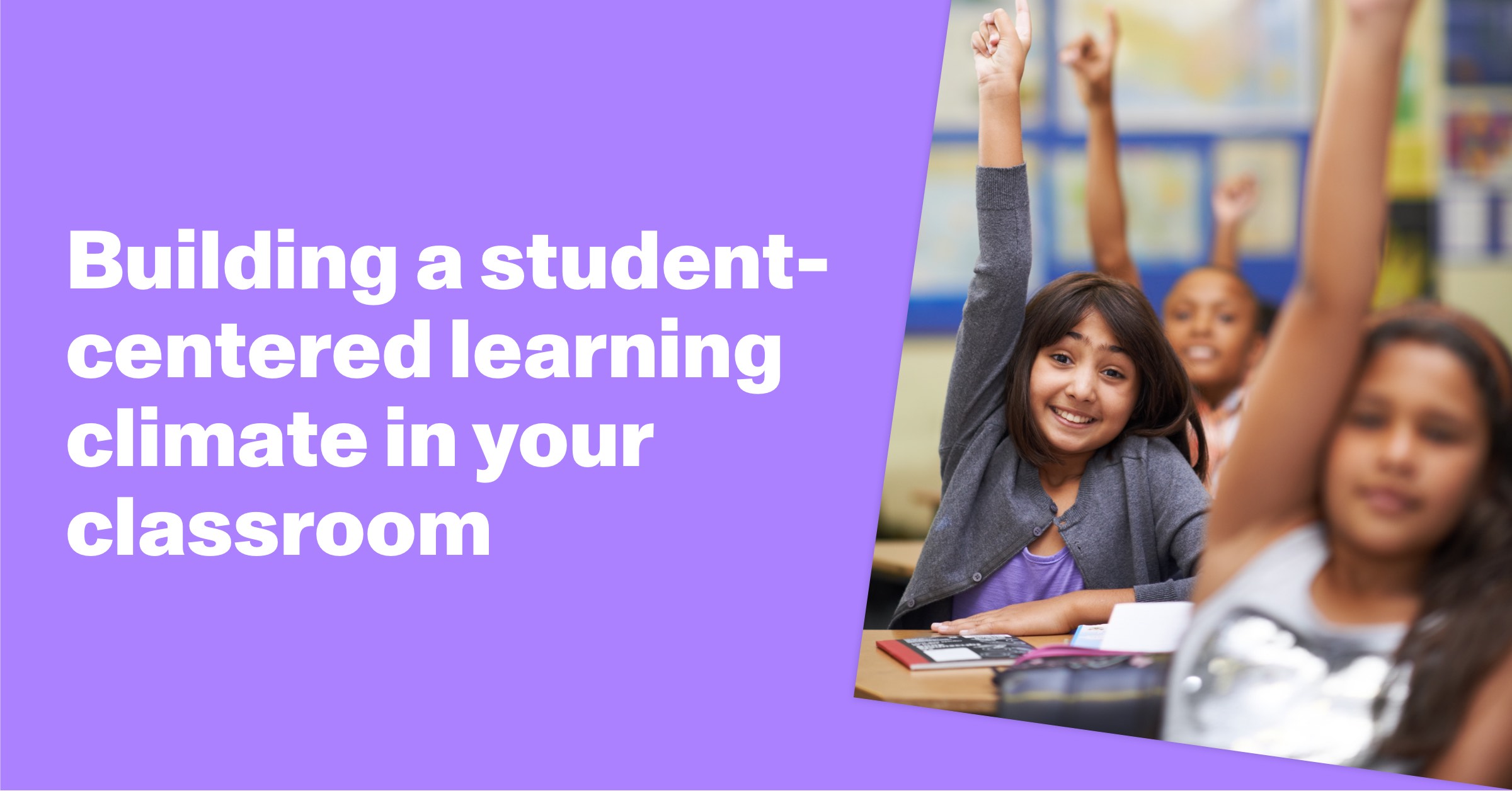 Creating a student-centered learning climate in your classroom
August 15, 2022
Many teachers seeking instructional approaches that help boost students' progress and engagement have turned toward student-centered learning, and for good reason. Not only has student-centered learning demonstrated promise, but it could also help bolster student engagement and achievement—not to mention confidence.
In this post, we explore a few ways educators can work toward creating a student-centered learning climate in the classroom.
Student-centered learning in the spotlight
Why the focus on student-centered learning? Recently, this approach has been singled out by savvy district leaders who have seen it at work in learning spaces. The philosophy appears to be a powerful way to address challenges that still linger more than two years after the COVID-19 pandemic flipped education on its head.
This is particularly true when it comes to boosting student outcomes. After all, existing research on student-centered learning indicates that approaches emphasizing students' needs, aptitudes, and interests can be particularly effective for getting students more involved with school. With this in mind, such strategies could rightfully play a significant role in schools' 2022-23 plans.
[DOWNLOAD: "K-12 leadership guide: 8 priorities for 2023"]
But first, what exactly does creating a student-centered learning climate entail?
The characteristics of student-centered learning
Student-centered learning is an educational approach and philosophy in which learning-related methods and goals arise from students' own experiences, curiosities, and interests. In short, students define both what they learn and how they learn it.
To achieve this outcome, teachers work to immerse students in project-based and personalized learning journeys. Student-centered learning can also involve other techniques that help develop learners' critical thinking skills and address their pressing needs.
Drs. Christopher Harrington and Kristen DeBruler encapsulate this approach neatly in their article defining student-centered learning. "In a truly student-centered learning environment, teachers and students work collaboratively to co-create a learning plan or pathway that best suits the needs of each individual learner," the authors write. "The teacher serves as an architect of each student's learning experience."
The benefits
How much does student-centered learning benefit learners, though? Existing studies on the efficacy of student-centered learning show significant promise.
In total, student-centered learning affords the opportunity to bolster declining student engagement, notes a report on student-centered learning practices by the Nellie Mae Education Foundation (NME) and the University of Massachusetts Donahue Institute. This makes sense given that learners will naturally be more focused on topics and approaches that are relevant to their lived experiences.
At the same time, other research on student-centered learning indicates that these benefits are more than simply anecdotal. Schools that emphasize learner-centered approaches tend to perform better than their counterparts when it comes to relevant metrics—think graduation rates, interest in pursuing post-high school education, and better marks on assessments, notes early research on student-centered learning by the Stanford Center for Opportunity Policy in Education.
How to create a student-centered learning environment
Clearly, creating a student-centered learning climate in the classroom is a promising way for teachers to drum up meaningful student involvement and connect learning modules back to real-world contexts. To make the most of your efforts, be sure to carefully lay the groundwork to support these learner-centered experiences.
Next, we share a few pointers that will help you create the foundations of a learner-centered classroom.
1. Create community standards—and let students set the tone
Of course, setting solid guidelines at the beginning of the school year or semester is critical for letting students know what to expect and putting everyone at ease—but it's also crucial for laying the foundations of a student-centered learning environment for the rest of the year. Whether or not you're used to outlining expectations surrounding participation, mindset, collaboration, and similar classroom attributes, consider how setting the tone with each new class could become more of a student-focused task.
In an article about creating learner-focused environments, Education Corner suggests starting by encouraging students to come up with their own classroom parameters: Consider giving students 15 minutes to brainstorm among themselves about how they'd like the classroom to "sound, feel, and function." They can also come up with other overarching guidelines that can help ensure their learning experiences line up with prior expectations.
After this group brainstorm, you might invite students to jot down their ideas on the whiteboard—no matter how silly or sensitive. Common themes will soon appear, and you can guide students to home in on the ones that are most important to them to create a more concrete set of community standards. Of course, this process can be repeated at certain intervals throughout the year to ensure the current guidelines are still relevant or to assess whether students want different guidelines in the mix. Another version of this might involve having students collaboratively draft a classroom code of conduct or a mission statement that guides students' learning.
Exercises like these do more than simply help students communicate effectively and with confidence. They also demonstrate how much you care about what they have to say—and more importantly, that you trust your young scholars to define their own learning experiences.
[READ: ​​"3 ways teachers can help develop lifelong learning skills for students"]
2. Let students take the lead on how and what they'd like to learn, from lessons to assessments
Of course, creating a student-centered learning climate doesn't stop at letting students define initial classroom parameters. It's also about ensuring they hold the reins throughout the year and that decisions sparked by student-centered learning pervade the classroom.
Remember: According to this philosophy, students should be able to determine much of what they learn and how they learn it—from the lessons themselves all the way through to knowledge assessments. However, adopting student-centered learning tactics doesn't have to be an "all-in" endeavor. Educators who want to test the waters can simply adopt the components of student-centered learning that would benefit their classrooms most.
In a report on incorporating student-centered learning, Suchinta Arif suggests a few tactics educators can use to embrace a more learner-focused environment. Although these pointers are from her experience of using student-centered learning techniques to instruct an undergraduate ecosystems course, many are still applicable to K-12 environments:
Lectures: Arif notes that learners could potentially select a lecture topic, choose a guest speaker, present their own lecture to the class for part of a module, or even conduct open-ended conversations where students can ask or answer one another's questions.
Labs: In more hands-on labs, student-centered learning might look like letting students select topics and methodologies for their labs, asking students what they want to get out of their lab exercises, creating more open-ended lab assignments that emphasize critical thinking, and ensuring lab exercises are genuinely interesting to students. In one example, Arif suggests letting students create a tiny pipette "cake" when learning how to use a micropipette.
Assessments: When it comes to assessments, Arif suggests letting students choose report topics as well as assessment types, giving students a choice on which test questions to answer, or letting students grade their own exams by providing them with a rubric.
In addition to these suggestions, consider honoring student-centered learning's key tenets by adjusting your overall approach to communication and taking moments to check in with students at different points in the learning journey. Rather than being a focal point in the classroom, for instance, imagine becoming a facilitator who eases up the flow of students' ideas and interjects mainly to direct the conversation. This should further the sense of community and confidence your students helped create in the previous step.
3. Mindfully integrate technology into your classroom
Technology can be an immensely powerful tool when it comes to deepening lessons, getting students engaged, and even ensuring learners are career-ready—but it's most effective when it aligns well with the tenets of student-centered learning. All in all, remember that integrating technology with student-centered learning should revolve around helping students become engaged participants in their learning journeys.
Luckily, if you're interested in mindfully integrating technology to create a student-centered learning environment—but aren't sure where to start—expert pointers already exist to direct your efforts. The International Society for Technology in Education (ISTE) outlined two questions educators should ask themselves before implementing tech-driven tools in a student-centered classroom:
What's appropriate for the task at hand?
How can activities be designed to develop higher-order thinking skills?
Additionally, ISTE's formalized set of education standards is worth paying attention to here—especially those that relate back to diversity and inclusion. ISTE's standard 2.2.b encourages educators to "advocate for equitable access to educational technology, digital content, and learning opportunities to meet the diverse needs of all students."
Without paying special attention to the varying needs of students in your classroom—and the ways in which certain tech solutions could help them or hinder their academic experience—otherwise willing participants might find themselves left out during tech-driven modules and activities.
Depending on your students' needs, one particularly promising example of tech use in the classroom that fosters student-centered learning could be virtual reality. Google's Dan Lindquist expanded on a visit to a classroom that was using virtual and augmented reality to spur students' curiosity.
The classroom was completing a module on archaeology and ancient civilizations. To explore Mesoamerican populations and history more thoroughly, the students went through a virtual reality tour of Chichen Itza that allowed them to walk through the site themselves. They also were able to "examine" ancient artifacts using augmented reality. In this way, students were able to take charge of their learning and focus specifically on what interested them.
4. Consider implementing an on-demand 'teaching assistant' into classroom activities
Given that student-centered learning emphasizes learners' independence, you might find it helpful to have a dedicated instructional partner in the classroom. Teaching assistants can help you not only with facilitating class conversations, but also with differentiating instruction so individual students can pursue alternate pathways or educational approaches that pique their curiosity.
Here at Paper™, our expert tutors do just this for classroom instructors. Below are just a few examples of how on-demand, always-available tutors could help you achieve a learner-centered approach to instruction:
Small-group assistance: When you split a classroom into small groups for discussion, different Paper tutors can help answer individual groups' inquiries whenever you're busy assisting others.
[READ: "Texas school district to extend learning with Paper™"]
Independent study: During in-class assignments, students can reach out to online tutors with any questions they might have.

Ashley Bebow, a middle school math teacher

at Michigan's Hemlock Middle School, likes to integrate Paper into in-class worksheet exercises. "I had them use it during class—during an assignment—so that they could get comfortable with the interface," Bebow said in her interview with Paper. "I was there to help as they were trying to figure out where to attach an assignment or how to find the whiteboard function." Once they're familiar with the platform, Bebow encourages students to work through problems with online tutors.
Picking up the pace: For students who get the hang of things more quickly, Paper can help teachers introduce new materials that others in the class might not be ready for. "[Students who want to move on to new modules can] go through and chat with the tutor, and that frees me up to continue working with students on the current topic," said Bebow. "It's allowing my students who already got it to be able to move on and advance their learning."
Brainstorm assignment ideas: Paper's tutors are trained to use

the inquiry-based Paper Method

, meaning their interactions with students are always learner-centered. With this in mind, encourage students to brainstorm assignment topics, essay ideas, and other open-ended items with an expert tutor.

Tutors will help guide learners

toward what they're curious about rather than simply giving suggestions. As long as you provide a general prompt or guardrails for students that relate back to the unit they're learning about, their conversations with tutors should stay on track.
Ready for your classroom to reap the intellectual and personal benefits of learner-focused instruction? Take a peek at our ultimate guide to student-centered learning!