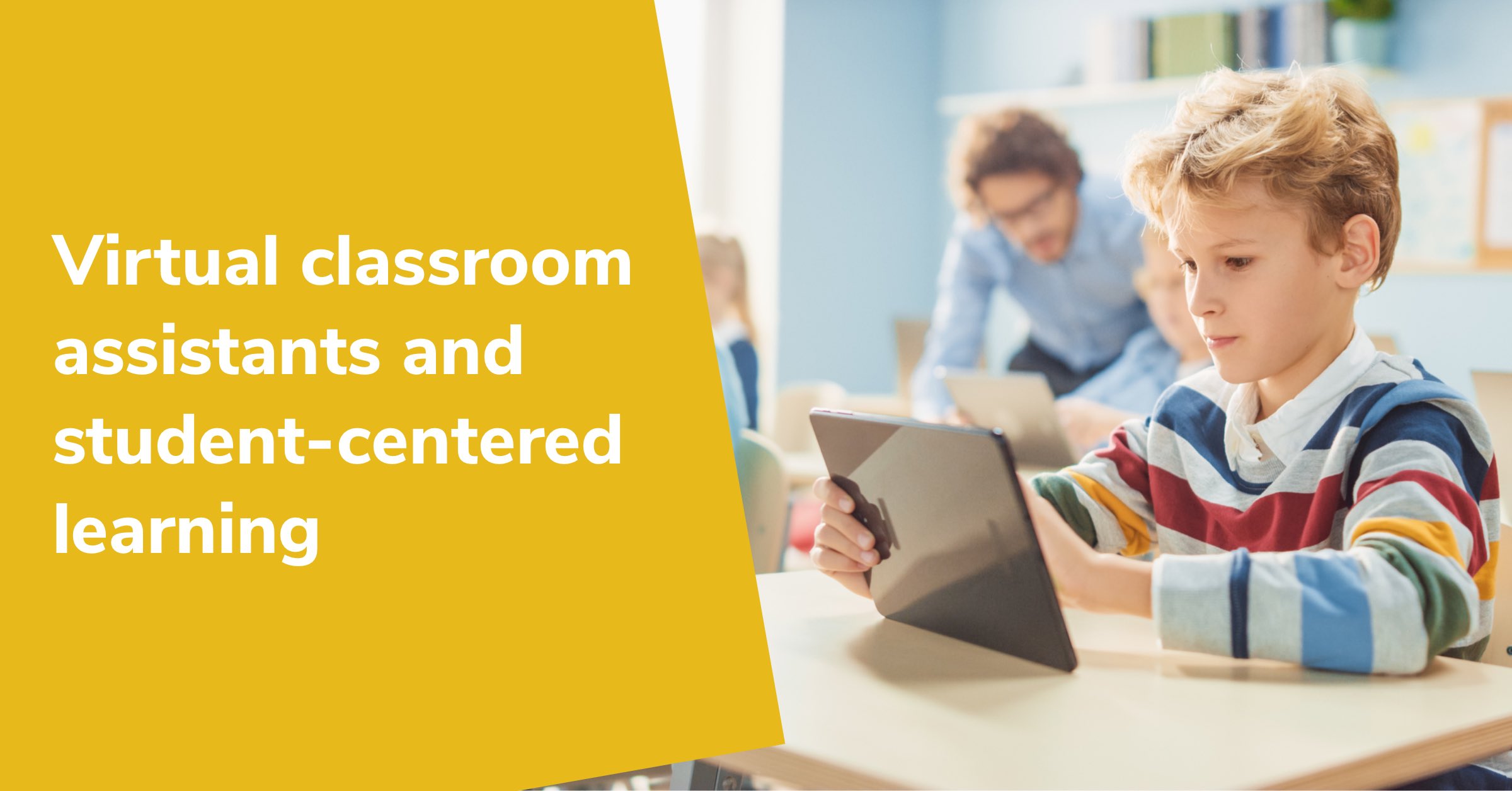 5 ways to support student-centered learning projects with Paper™
September 29, 2022
When you ensure students are at the center of their learning, Educational Support Systems like Paper™ are there with you—backing learners up with coaching and vital assistance.
Looking to integrate more student-centered learning opportunities into your classroom environment? Keep reading to learn more about what student-centered learning looks like in practice. We'll also cover five ways Paper tutors can help you make sure your students have all the support they need as they follow their interests and passions.
What does student-centered learning look like?
Student-centered learning can manifest in many different ways. As we've described before, student-centered strategies—such as encouraging learners to make their own decisions about what, how, and when they learn—can be an effective way to promote lifelong learning skills for students. Frequently in student-centered instruction, teachers connect learners to relevant real-world problems. Students then take the initiative, working independently or collaboratively, to find solutions.
In addition to fostering confidence and driving engagement among students, teachers have a lot to gain from student-centered learning too. Instead of having to focus exclusively on managing behavior, motivating students, and delivering content, student-centered learning empowers educators to act as thoughtful facilitators and collaborators as they engage deeply with students who are driven by their own interests.
Integrating student-centered learning into classroom activities with help from Paper tutors
Creating a student-centered learning climate can require substantial effort, but Paper tutors are here to help lighten the load. In particular, our skilled professionals provide on-demand assistance during school hours to support:
Students working independently or in small groups: As students work on

self-directed learning

projects or devise their learning contracts, teachers are of course there to help. But they can't provide targeted, scaffolded support to every student at once. Instead, learners can ask for help from a Paper tutor whenever questions arise.
Learners who are ready to move ahead or who need to review foundational concepts: Student-centered learning may entail personalized or individual learning pathways. Naturally, this means students will move at different paces. Those who are ready to jump ahead—or who want a refresher on a previous lesson—can seek support from a Paper tutor.
5 student-centered exercises designed with Paper in mind
There's no shortage of resources teachers can leverage in conjunction with the Paper platform to keep students engaged with learning. Virtually all of the exercises we create for educators can be deployed in a student-centered context. Here are just a few activities to help inspire further student-centered planning.
1. Building confidence to set the stage for self-directed success
Confidence is the backbone of student-centered learning. Students need to feel secure in their ability to take charge of their own learning and to support their peers' growth. By helping students cultivate confidence, you can pave the way for additional student-centered work.
The following activities allow students to identify what they believe their strengths are or to reflect on how they've overcome challenges in the past. As a result, these exercises can be used to generate conversation about how each student can contribute to the classroom community by drawing on their strengths, abilities, and previous experiences.
[DOWNLOAD: "Celebrate yourself" (elementary school)]
[DOWNLOAD: "Celebrate yourself" (middle school)]
[DOWNLOAD: "Growth mindset" (high school)]
2. Asking a question—but letting students decide how to answer it
This activity allows students to explore one of several resources curated by their teacher as they decide how to answer a question posed to the class. By talking through the exercise with Paper tutors, learners cultivate critical thinking skills and reflect on the learning process. Students also practice solving problems, gathering evidence, and selecting their own pathways for building knowledge in new subject areas. In turn, Paper tutors support their efforts to collect strong evidence and help them connect their findings to the question at hand.
[DOWNLOAD: "Choice board"]
3. Providing structure for collaborative projects
In this exercise, students receive support for working in groups and choosing roles. Of course, student-centered work can be completed independently, cooperatively, or through a blend of both approaches. But for those projects where it may prove beneficial or exciting to work in groups, this activity offers some extra assistance.
The activity starts when students break into small groups to examine a specific topic. Then, they'll collaborate in drafting a presentation and sharing their findings with the class, all with encouragement and assistance from Paper's Live Help and Review Center tutors. Each group member will have a role in the presentation and will also be responsible for drafting one section of a written report. After receiving their roles, students collaborate both among themselves and with tutors on the Paper platform to draft their submissions.
[DOWNLOAD: "Group work presentation"]
4. Giving students a say in what they learn
This science-centered activity is flexible, and for good reason: Its open-ended nature means teachers can use it as a template for just about any lab report or science project. At the same time, the individual learners completing the project can choose their own problem to investigate. In this way, the exercise emphasizes elements of choice and curiosity, which are critical in student-centered classrooms.
Students are also encouraged to reach out to friendly Paper tutors who help them walk through the steps of creating their lab report. Then, with the Review Center, students can secure feedback on the work they've completed.
DOWNLOAD: "Science lab report with Paper tutors"]
5. Learning more about themselves—as readers and people
In this activity, not only do students get to choose for themselves what to read, but they also have the opportunity to explore their own identities and share what they discover with their classmates.
Learners select a book to read independently and present to the class. Also known as "book commercials," these short talks give students a platform where they can tell their peers why they loved a certain book, and they can encourage others to pick it up. In total, learners develop an understanding of who they are as readers and gain greater insight into what they appreciate in a book. Students' interests are truly at the forefront here.
[Download: "Book talk" (elementary school)]
[Download: "Book talk" (middle school)]
Want to learn more about student-centered learning and its benefits? Find out how you can support student-centered learning in your classroom today.