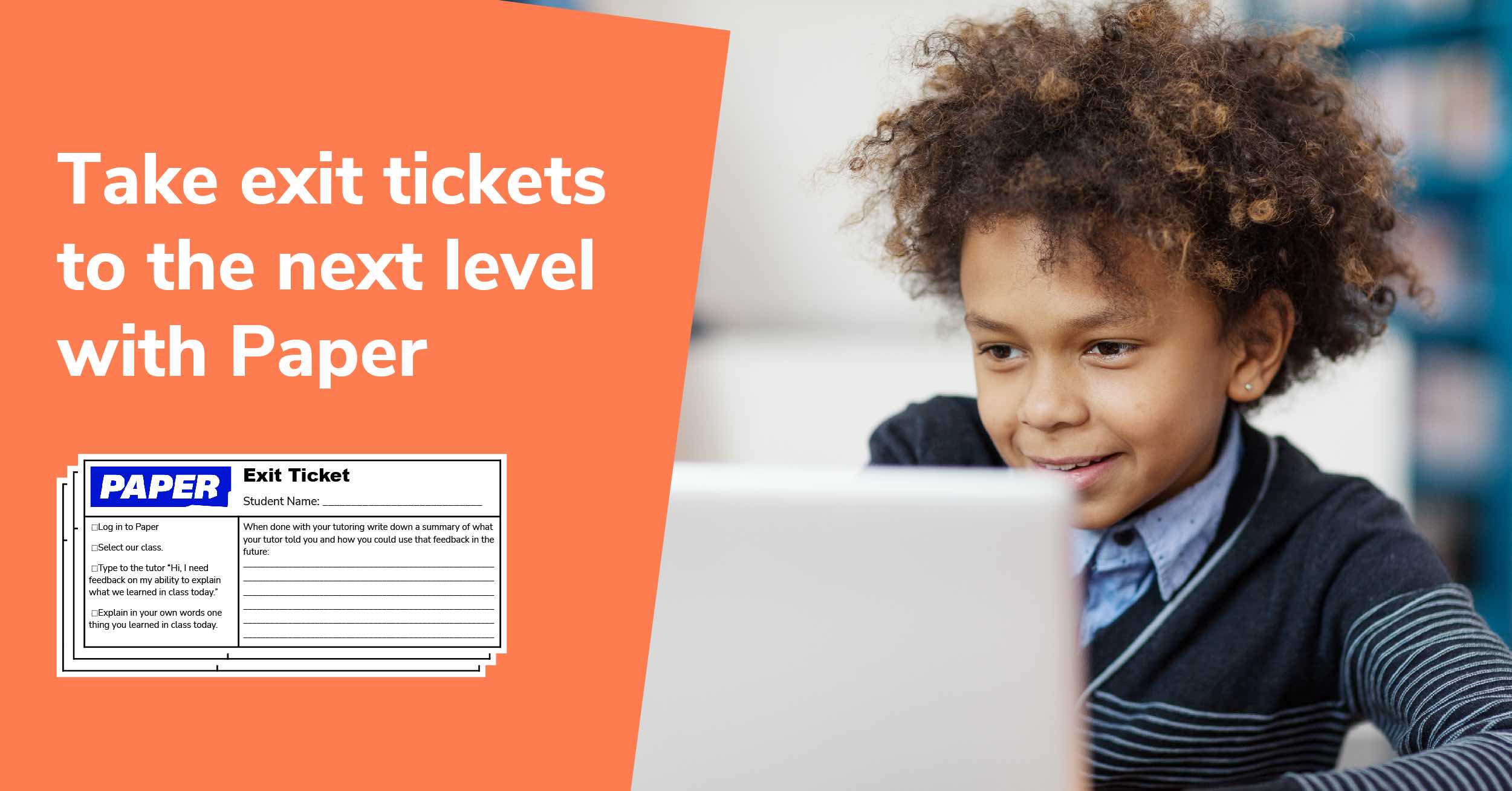 How to incorporate exit tickets—and Paper™—into your classroom routine
November 15, 2022
Looking for a way to take a temperature check on student progress so you can provide rapid feedback? Assigning your students a daily exit ticket—which can be reviewed with a Paper™ tutor—can help you find out how your learners are doing right away.
What is an exit ticket?
They go by many names: exit slips, tickets to leave, and exit questions, for example. No matter what you call them, exit tickets give students the opportunity to reflect on what they learned during a lesson by answering a quick question or writing about their experiences. Typically, exit tickets are ungraded, providing teachers with the opportunity to gather quick data points that can influence future instruction without stressing out students.
Think of them as the final bookend on a lesson that starts with an engaging warmup activity.
[READ: "Resource roundup: Daily warmup activities to try with Paper"]
How do you make a good exit ticket?
An Edutopia article about how to use exit tickets recommends that teachers follow a few simple guidelines while creating these exercises:
Students should be able to finish them in just a few minutes.
The questions should review concepts from the current lesson or preview new material.
Learners should have the opportunity to show what they've discovered or provide meaningful feedback.
Working exit tickets into your daily classroom routine
Looking for new ideas to help students demonstrate their skills in an exit ticket or reflect on what and how they learned during the course of a lesson? Here are a few ideas for how teachers across a wide variety of subject areas can integrate exit tickets into their work.
Gathering feedback in English and language arts
Reading Rockets, a resource from the public broadcasting service WETA, describes how exit tickets can be used in a literacy context. The article draws on prior research to describe multiple categories of exit tickets that could be deployed in an ELA classroom. Students could be prompted to share:
What they learned.
How the class went.
Whether they thought the methods used in the lesson were effective.
The Reading Rockets article also suggests that exit tickets could be used to help learners share what new curiosities they have after their reading.
[READ: "Creating a student-centered learning climate in your classroom"]
Building math confidence and checking for understanding
In a recent article, education publisher Houghton Mifflin Harcourt shares a few examples of math exit tickets across various grade levels. These include:
Drawing a model.
Solving an equation.
Writing a few sentences about the lesson.
These daily check-ins can help students develop confidence in the subject—especially if their initial relationship with mathematics is a bit shaky.
With these examples in mind, you can practice creating exit tickets that are quick to answer and simple to assess.
Helping students experience—and reflect on—historical moments
DocsTeach is a free educational resource from the National Archives. It gives students the chance to work directly with primary sources by reviewing historical documents online. Teachers can create their own lessons using these resources or draw from interactive activities for different historical eras. These activities often feature a concluding section titled "When You're Done." There, you'll find questions that can serve as instructive inspiration for creating exit tickets.
Analyzing real data for insights on science exit tickets
True to form, the National Science Teaching Association ran a brief experiment to gain a deeper understanding of what works best for exit tickets in science classes. Prompts for exit tickets may be focused on:
Key concepts and important practices.
Students' relevant knowledge from outside school.
Self-reported participation in class or preparedness for assessment.
Feedback on the teacher or the lesson.
After analyzing how different types of exit tickets performed, teachers shared a few thoughts about how they could create more effective exercises in the future. Some of their takeaways were:
Keep the instructions clear, simple, and uncluttered.
Focus on crafting open-ended prompts.
Think creatively about when to administer exit tickets—for instance, opting to deploy them in the middle of a lesson rather than at the end.
Paper is ready to support your exit ticket implementation
Whether you're keen to gain a greater understanding of how your learners are doing on a day-to-day basis or you want clearer feedback from your students about how you can improve their learning experience, exit tickets can help you achieve your goals, and Paper tutors can help.
Make a copy of our customizable exit ticket exercise in Google Docs, or download it today. With step-by-step instructions, your students can use this slip to log in to Paper, connect with a tutor in your subject area, and get feedback on their responses in real time.
Take your daily exit tickets to the next level with Paper
When students connect one-on-one with a tutor, they get immediate feedback on their exit ticket. Tutors can clear up misconceptions on the fly or reinforce the student's understanding, providing instantaneous differentiation. They can also ask productive questions to help students dig deeper as they reflect on what they've learned.
As a teacher, you can review learning moments completed on Paper, providing you with even more information about how students are processing the course material than you might get from an exit ticket alone. This data can then inform how you set up groups or centers the next day as well as influence your reteaching strategy.
Try it out today!