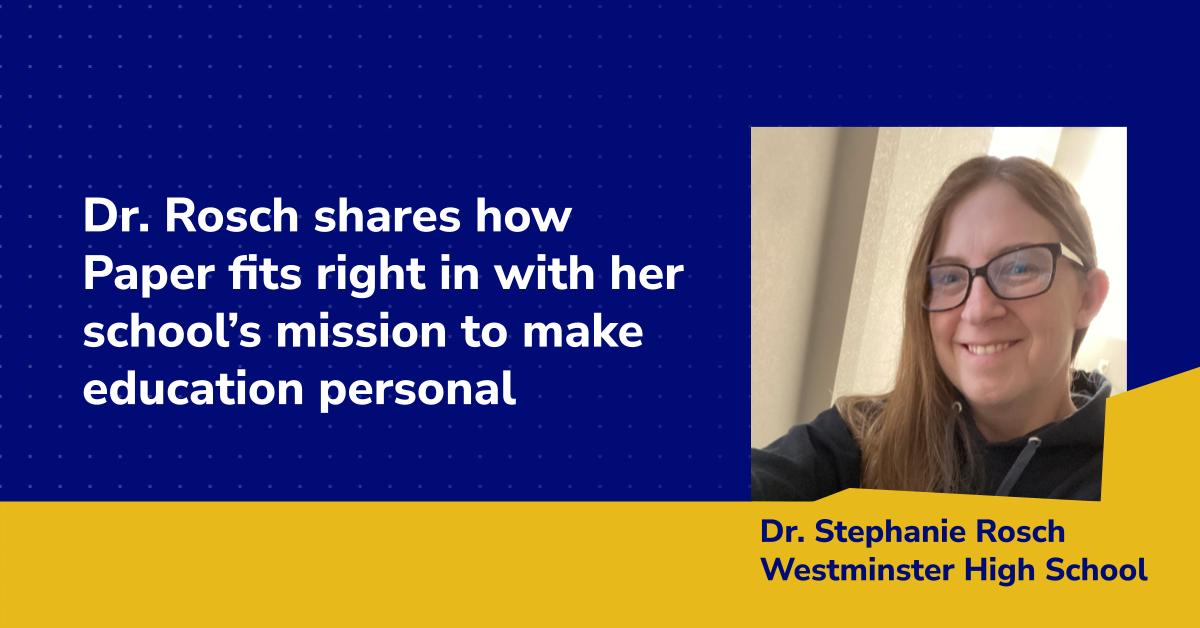 Implementing tutoring in the classroom: 3 tips from a teacher
March 29, 2022
Looking for practical tips about how to integrate Paper into your classroom activities? Dr. Stephanie Rosch, a specialist in culturally and linguistically diverse education (CLDE), shares insights from Westminster High School.
Top techniques for getting started with Paper
Recently, our high school started using Paper to help students accelerate their learning, providing them with access to 24/7 assistance whenever they need it. Our district tagline is "where education is personal," and Paper fits right in. Here's how we implemented this terrific tool.
1. Provide structured guidance for getting students acquainted with Paper
Our high school truly believes in developing connections with students. We have a dedicated time for mentoring, and we make room for all the random things that can pop up in education. This time is called Academic Enrichment.
We have about two hours every week in which students meet with a teacher who helps them craft a plan for their future—with guidance from our counseling team and Future Center. Students work on SAT prep, and they can get help with other issues too.
This allotted support time provided us with a natural pathway for introducing Paper to our student body over the course of one week. With the goal of helping students familiarize themselves with the application so they could use it independently, we made it as easy as possible for teachers to get students logged in ASAP. They were quickly able to see all Paper had to offer them.
2. Tap Paper tutors for extra support with the resources students already use
A major focus of our Academic Enrichment time is preparing students for the SAT. Specifically, they use Khan Academy resources. It seemed a natural link to have students log in to both Paper and Khan Academy so they could see the connection between the two resources. Students can use Paper tutors to help review the SAT prep exercises found in Khan Academy.
Many of our students have said Khan Academy SAT practice is hard, so they sometimes need additional help. Admittedly, it's been a long time since I've done high school math. Paper is a fresh way for this teacher, who may not be super knowledgeable in math, to get students doing meaningful SAT practice.
When students are stuck in math, or in any other subject, Paper gives them a helping hand so they can work toward the correct answer, even if they are not 100% confident at the beginning. This process increases both their accuracy and their confidence—making them prepared for either the SAT or the next assignment in class.
3. Collaborate with colleagues, and put yourself in your students' shoes
When we were putting together the slideshow that introduced Paper to our students during Academic Enrichment, we wanted to be sure we were making it as easy as possible to help teachers get their students logged in and using Paper right away.
We tried to make sure we anticipated every question that might come up. We used the student view in Paper to better understand what students would see and how to help teachers navigate the implementation of Paper with their students.
Our planning team's goal was to do as much of the prep work for our colleagues as we could. That way, they wouldn't think of Paper as yet another addition to their already full plates. Anything we can do to help teachers and students be successful is our mission, and Paper has helped us give time back to our teachers in the process.

Dr. Stephanie Rosch
Paper supports students and educators in school districts by providing unlimited 24/7 multilingual live help and essay review.
Learn more about our partners.