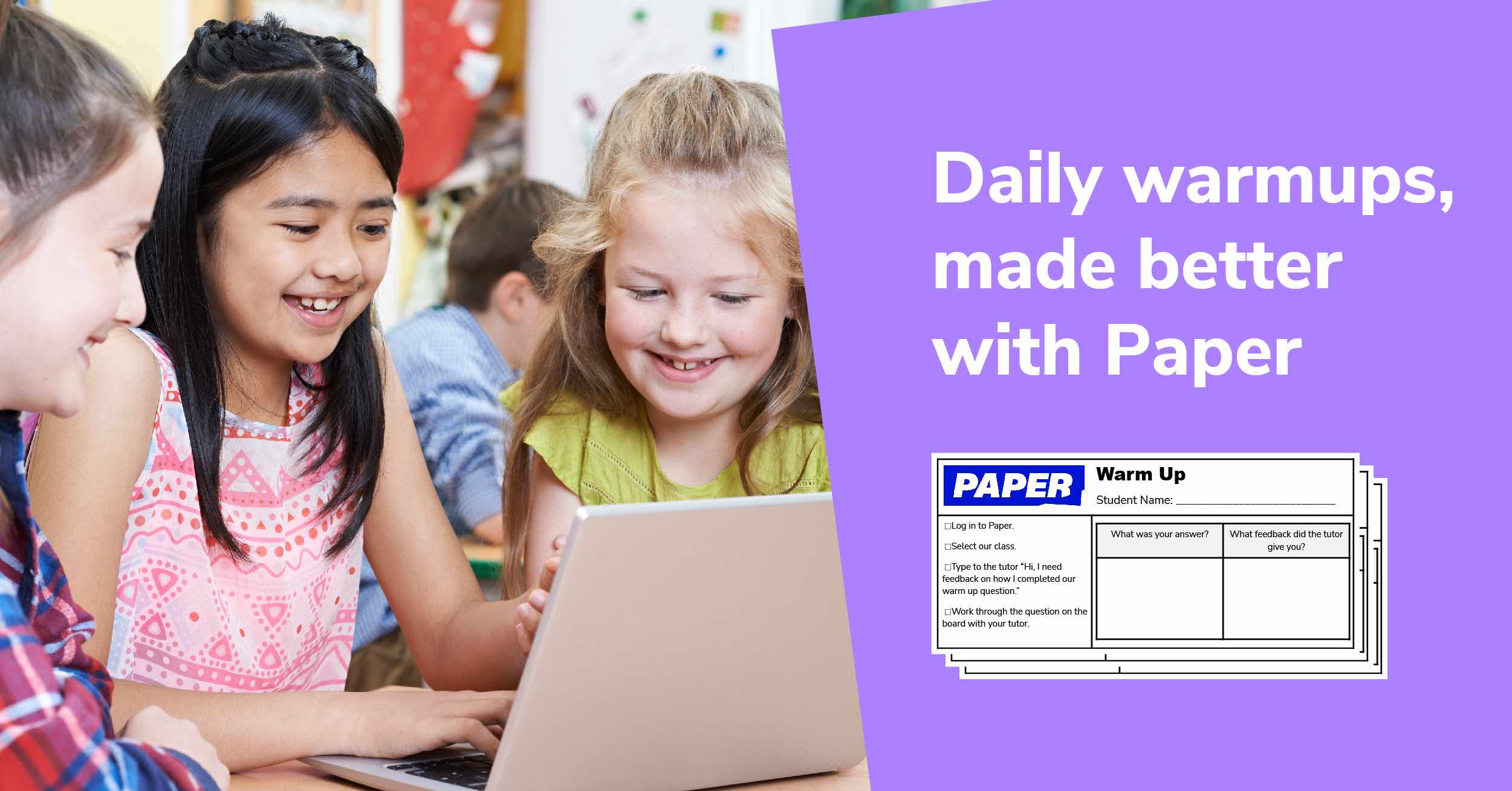 Resource roundup: Daily warmup activities to try with Paper™
November 10, 2022
Helping students jog their memory isn't always easy. Fortunately, daily warmup activities—supported by Paper™ tutors—can help get your learners up and moving.
What is a daily classroom warmup?
Warmups aren't just for physical education. Many teachers find that it's helpful for their students to stretch their thinking before getting into the zone with an engaging, interactive lesson.
Warmups can fill several functions, such as:
Helping students smoothly transition into a new subject after recess, lunch, or a different class.
Supporting students as they recall material from previous classes that will be useful for the current lesson.
Encouraging learners to reflect on their experiences and helping them generate interest in the topic at hand.
[READ: "How to incorporate exit tickets—and Paper™—into your classroom routine"]
What makes for a successful daily classroom warmup?
Some of the key ingredients for a successful classroom warmup are immediacy, relevancy, and interest. If a student participating in the exercise can quickly shift into the frame of mind required for the lesson—and, ideally, have fun in the process—you're probably on the right track!
Specific strategies for how to craft a compelling warmup activity vary widely. For example, teachers might use thought starters to help students draw personal connections to the upcoming course material, or they could provide opportunities for learners to participate in a structured debate.
Do now: Implement warmup activities in your classroom today
Daily warmup activities can go by various names, such as "do nows" or "bell ringers," and they can be implemented across grade levels and subject areas, from ELA to math, social studies, science, and more. Here are some resources to inspire you as you consider warmup exercises for your lessons.
Set the stage for active reading
The Learning Network—a free teacher-focused education hub hosted by The New York Times—outlined 18 types of warmup activities that can be used to help set the stage before students read assigned nonfiction texts. As a bonus, the organization frequently offers detailed lesson plans, each of which includes a suggested warmup activity.
Make social studies lessons come alive with C-SPAN Bell Ringers
Free educational resources from C-SPAN Classroom include short civics-related video clips arranged by topic and paired with short-answer or discussion questions alongside further reading and other materials. These activities help students engage with the world around them.
Review prior scientific knowledge and prime students for what's ahead
Free science lesson plans from the National Science Teaching Association always seem to incorporate some kind of warmup activity. Often, they're as simple as asking students to recall what they worked on in the previous class and to think up questions that are relevant to the topic of the day. Other times, learners interact with prompts designed to stimulate thinking for the next lesson.
Why live tutoring from Paper makes all the difference for daily warmups
Working with a live tutor can magnify the impact of warmup activities for your students. Here's how:
Tutors can uncover and

address learning gaps

in real time, clearing up misconceptions unearthed during the warmup.
Tutors can get students to delve deeper into thoughts and reflections spurred by open-ended prompts and thought starters, giving each student one-on-one feedback, guidance, and attention.
Tutors can provide the friendly, positive reinforcement that students need to stay focused on—and excited about—the material at hand.
Ready to try it out for yourself? We've developed a customizable warmup sheet, hosted in Google Docs, to provide students with the support they need to access tutoring, share their answers to your warmup question, and reflect on the feedback they received from their tutors.