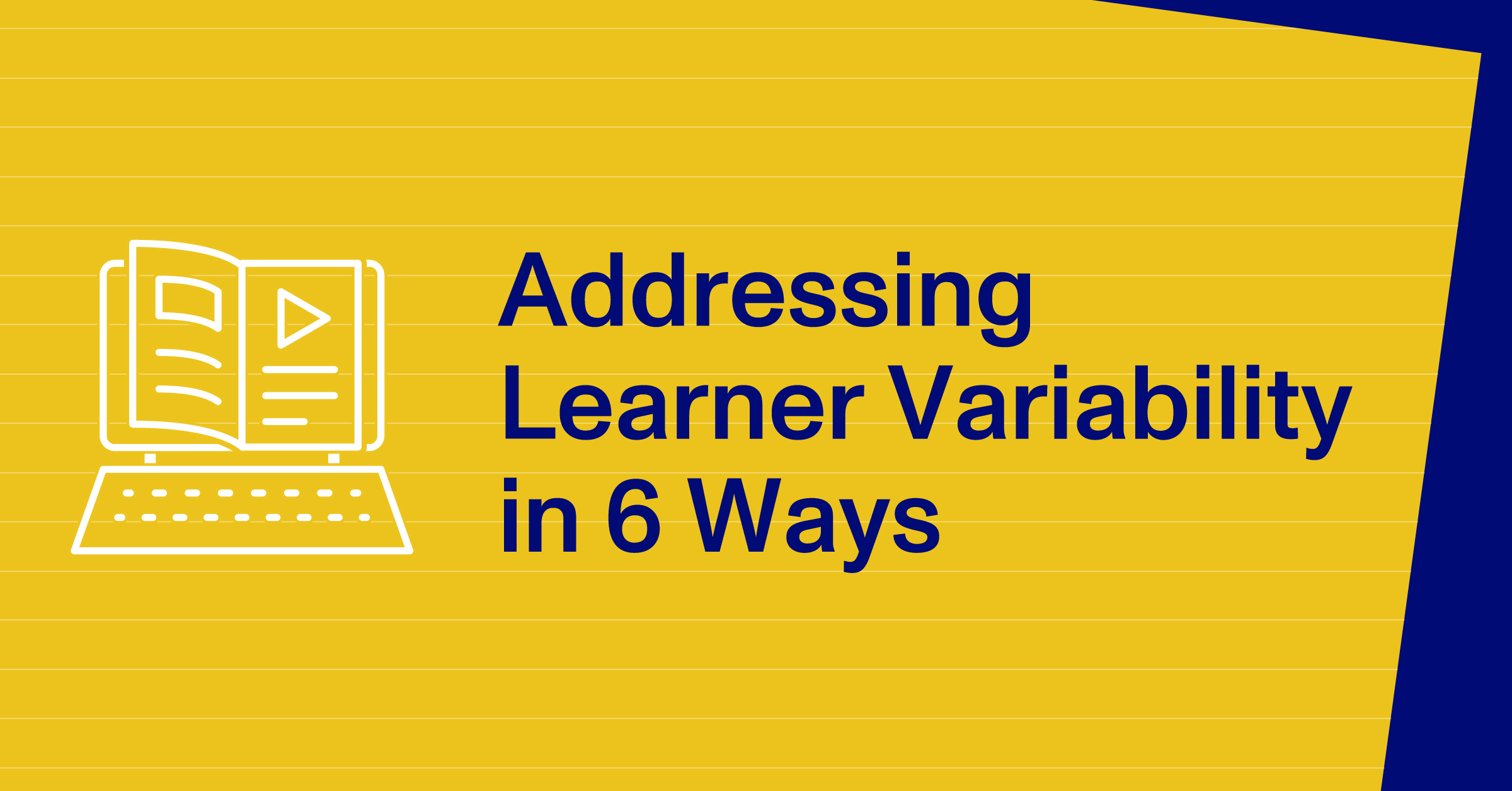 Six Ways to Address Learner Variability—For "Roomies" and "Zoomies" Alike
April 12, 2021
Amid asynchronous learning, it's never been more critical—or more challenging—to identify and address the different ways students learn. To share their thoughts, we welcomed a stellar panel of educators on April 9 for Tech Tools and Strategies to Address Learner Variability, the third and final installment of our latest webinar series. We've culled our top takeaways for reaching a breadth of learners—whether they're "roomies" or "zoomies"—from panelists Alfonso Mendoza (Edinburg, TX), Gordon Van Owen (New York, NY), Dr. Janet Ilko (San Diego, CA), Natalie Conway (Prineville, OR) and moderator Dr. Matt Rhoads (San Diego, CA).
For more tips on addressing learner variability, watch the full recording below.
Create on-demand videos
Record your lessons so students can watch at any time.

Create short screencasts that show students how to do classroom routines. These videos can include routines as simple as finding speech-to-text, accessing

Paper

, or replying to a Flipgrid response.

Upload videos that explain content and related skills. Students can then watch at their desired playback speed.

Ensure videos have captions and/or a transcript when possible.

Rely on tools like Playposit, which facilitate interaction and note-taking
Use adaptive and personalized learning tools
Choice boards and

asynchronous playlists

are two great ways to tailor instruction.

Tools like iReady, Prodigy, and MobyMax help students build and practice related skills after they've completed the initial task at hand.
Always differentiate across four key areas
There are

four main aspects

of a classroom that can be differentiated: content, process, products, and environment.

Content:

Keep things consistent—even in a hybrid environment, it's about supplementing, not supplanting.

Process:

Focus on the ways students acquire information. For leveled reading, find articles on Empower, StudySync, and iCivics.

Products:

Let students with different learning styles demonstrate their understanding in a way that works for them. Use tools like Jamboard, Google Draw, Screencastify, and Loom.

Environment:

Where, when, and with whom students learn all have an impact on learning. Maximize platforms like Zoom and Google Meet; there's so much opportunity to create digital environments that are optimal for learning.
Language skill building for different learning styles
Rely on books with embedded visuals and sight words with tools like Raz-Kids and Epic.

Have kids make anchor charts and vocab resources for one another that pair highly visual cues with text.

Show your students how to utilize text-to-speech and speech-to-text.
Create digital spaces so students can communicate the old fashioned-way – verbally
Organize a

readers' theatre

.

Encourage students to chat on a shared digital space to prep before an oral discussion.

Have students record and rehearse for presentations using tools like Screencastify.

Use discussion boards where students can respond to each other verbally.

Create personal infographics using tools like Picktochart and Canva and have students narrate these using Loom.

Have students create podcasts or short videos on apps like TikTok.

Have your seniors complete mock interviews and record one-minute elevator pitches for themselves.
Incorporate student choice and agency
Make your content and lessons more relevant to students and their personal experiences. In AP courses at Gordon's all-girls school, for example, students read only books by female authors.

Teaching math? Have students choose the ed tech tool that they like most. Maybe that's edPuzzle to hear the teacher's voice, or Delta Math, for a less hands-on approach.



Tech Tools and Strategies to Address Learner Variability concludes our series for teachers, by teachers. 12 passionate, tech-savvy K-12 educators shared a myriad of tools and tactics on how to take charge of increasingly tech-infused classrooms. If you missed any of these conversations, remember to check out the video recordings and recaps!