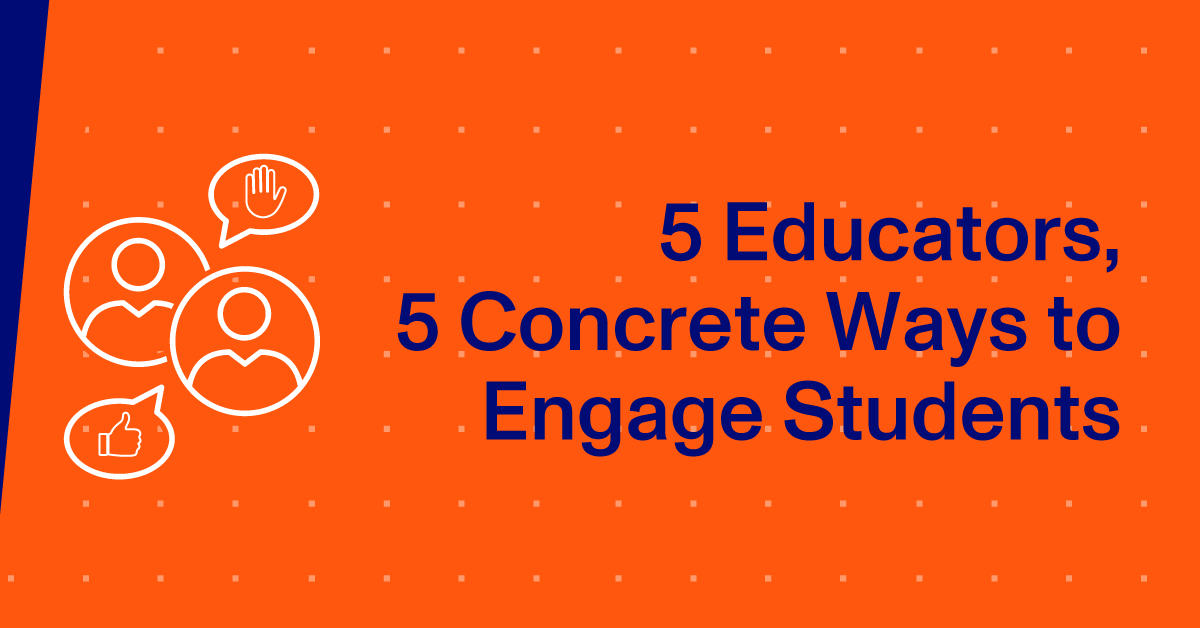 5 Educators, 5 Concrete Ways to Engage Students
March 10, 2021
Our new discussion series—designed for teachers, by teachers—kicked off March 4th with Enhancing Instructional Strategies with Ed Tech, a panel moderated by Dr. Matthew Rhoads (San Diego, CA). We welcomed a diverse line-up of educators including Kristin Brownell (Huntington Beach, CA), Dr. Jennifer Ingold (Long Island, NY), Shannon Moore (Visalia, CA), and Mark Ureel (Northville, MI).
Our speakers covered a breadth of topics from virtual collaboration to tracking IEPs and everything in between. But the concept of active engagement—especially in these days of blended learning—was notably prominent throughout the roundtable. We culled a top tip from each of the panelists here.
To learn about other ways to enhance instructional strategies, watch the full recording below.

Competition sparks interest
Right now, there's a lot of passive learning to combat, so I look for elements that really do capture their interest. One piece I'm using is Blooket. It's like a Kahoot or Quizizz; it adds a competitive element that's a lot of fun, and it's versatile across different grade levels. — Shannon
Better talking, better listening
Both presentation and listening skills were lacking in the past year. I've been using Padlet for students to record themselves giving a presentation, and then have them use Loom to show their slides while they speak. I also have them go back and watch at least two of their classmates' videos and give constructive criticism, comment on their slides, or say one thing they liked. — Kristin
Hands up for cognitive engagement
Usually, when you ask the class a question, you only get a few hands. One amazing tool that allows students to be active in their learning is PearDeck. What I love about it is the cognitive engagement. I look at the responses, choose some good ones, and ask 'Who wrote this?' Suddenly you have your students participating. — Mark
A new way to get acquainted
In a virtual setting, since I don't see students in person everyday, it's harder to get to know and build relationships with them. I use the PearDeck app smashed with Flipgrid. On PearDeck, we have an SEL mood chart and students circle or do a draggable on the word that describes how they're feeling. Then, there's a direct link to Flipgrid, where students get to articulate their thoughts and feelings. — Matt
Remote logistics
One of the biggest things I hear from teachers is that they can't get their students to turn their cameras on. They can't get their students to talk. On my Weebly website, I have two books I created using Flipsnack for parents to help their kids at home, and for kids with all the tools necessary for them to participate in class discussions. — Jennifer
Our series continues on March 11th and April 8th. Make sure to tune in!
Panelist-approved tools and resources:
Panelist-made resources:
Enhancing instructional strategies with ed tech is part of our series for teachers, by teachers. 12 passionate, tech-savvy K-12 educators shared a myriad of tools and tactics on how to take charge of increasingly tech-infused classrooms. If you missed any of these conversations, remember to check out the video recordings and recaps!