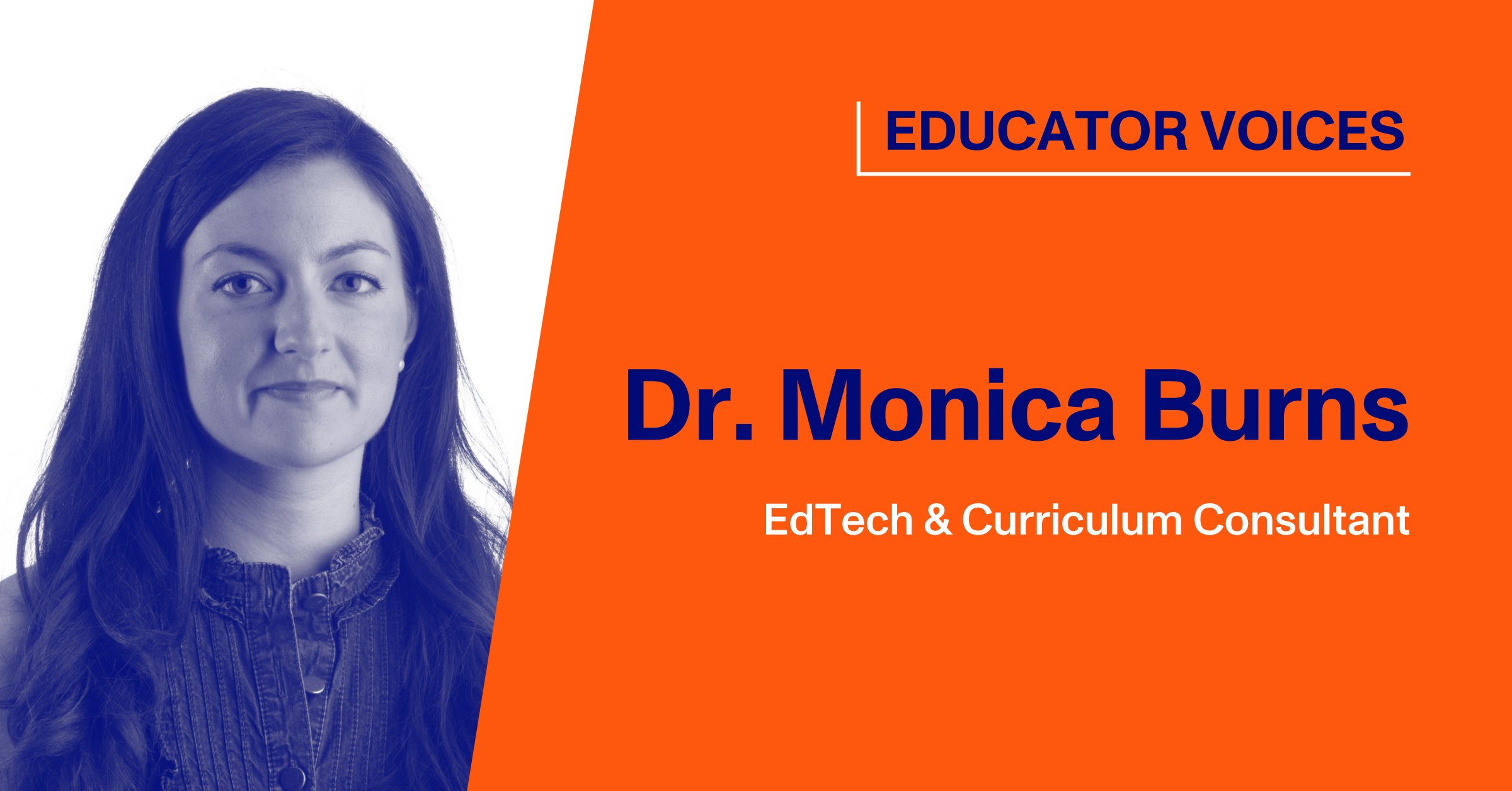 Dr. Monica Burns: 5 Questions to Ask Ourselves About Distance Learning
April 15, 2020
Dr. Monica Burns is an EdTech and Curriculum consultant, author, and former New York City public school teacher. She visits schools across the country to support PreK-20 teachers to make technology integration meaningful and sustainable. Monica's website, ClassTechTips.com, helps educators place "tasks before apps" by promoting deeper learning with technology.
The Paper team had the great pleasure of speaking with Dr. Monica Burns to learn about her thoughts on the recent school closures. We discussed some of the biggest challenges imposed on educators and students, the areas where teachers need the most support, and what lessons are to be learned post-COVID-19. Her insights on current challenges draw attention to the much-needed support for teachers, as well as the importance of careful and thoughtful implementation of new tools and systems.
Challenges in the face of school closures
While many schools have had their students learning outside of the classroom with organized, curated, and hand-picked digital tools for some time, Monica explained that:"There's plenty of schools that have not been doing any of this. And there's nothing wrong with that; they had a different model that hopefully was working for them, that was responsive. But it's tough to make such a quick shift when there are schools that take years to make a really thoughtful transition," she explained.
While some schools are suddenly handing devices over to students, Monica believes that they should not have idealistic expectations. She argues that schools "wouldn't do that if everything was normal." In reference to the need for designing tech integrations thoughtfully, she said, "you wouldn't just hand this to kids and expect it to work if we had done this six months ago. So we can't really expect it to be something that we hand to them and expect it to work in the midst of all of these other things."
Still, it is worth noting that distance learning is effectively working in many schools, and Monica noticed that this is especially true in schools that had already laid out the foundation for remote teaching and are now building upon it. She highlighted that schools that are having the most success are the ones "where there have already been hard conversations on equity, and there have already been hard conversations on accessibility for students."
On the other hand, Monica noted that properly implementing distance learning can be a problem for schools that have not had those hard conversations yet. She explained that while this isn't to say that anyone is doing anything wrong, there is a timeline that's conducive to thoughtfully and properly implementing something.
One thing that she finds herself reiterating is that we have to give people, especially teachers, some grace and space with all of this. As a former classroom teacher herself, Monica understands the kind of struggles teachers face daily:"I know what that feels like, to be doing something the best that you can, and not feel like it's not enough. I would hate to think that people are comparing themselves to other people they see on Instagram when it's working really well for them for reasons they don't know. Teachers are often in situations where they're doing things almost out of guilt sometimes, at the detriment of themselves."
Areas where teachers need support
Since many teachers have not had training or practice navigating different digital spaces, Monica stressed the importance of tech support for teachers who will be facing roadblocks when using specific platforms for the first time, especially from a software standpoint. While teachers are less likely to need help with their hardware, Monica explained that they might need individual support for more nuanced purposes, such as figuring out different functions within one application.
Over the last few weeks, Monica has been working alongside schools to help get assistance for teachers that may need one-on-one support. "You can have a 90-minute webinar on a topic, and that's great for the whole school, but there's going to be some people that need a little bit more side-by-side support," she explained.
Among all the chaos and turmoil, Monica pointed out that many families are struggling to find a place to hunker down or simply do not have living situations that are ideal for a family member sitting down at a computer. Monica said that this unfortunate situation makes it difficult for communication between teachers and families. On top of that, some schools are having trouble determining the location of some students: "You have kids that have now gone home to their families, and their families have gone somewhere else." We mustn't forget to consider that there are families who are in temporary housing or a shelter environment. Monica points out that "that family isn't going to be as concerned about what the wifi password is as they are trying to make sure everyone has what they need to be safe."
Our discussion with Monica gave us insight on some current challenges many are facing during the COVID-19 pandemic. She made it clear that for schools to have success with distance learning, teachers need one-on-one support, schools need to have serious conversations around equity, and new technology needs to be carefully and thoughtfully implemented.
Dr Monica Burns' tips
When in-person schooling resumes, Monica hopes that educators and decision-makers will reflect on these questions:
1) What worked and what didn't?
2) What value did we find when we had to use technology?
3) What are we going to do about some of these gaps that we've noticed?
4) How do we facilitate the transition when students come back who haven't had online instruction or any sense of community for months?
5) How do we plan and prepare for something like this and the anticipated issues in the future?