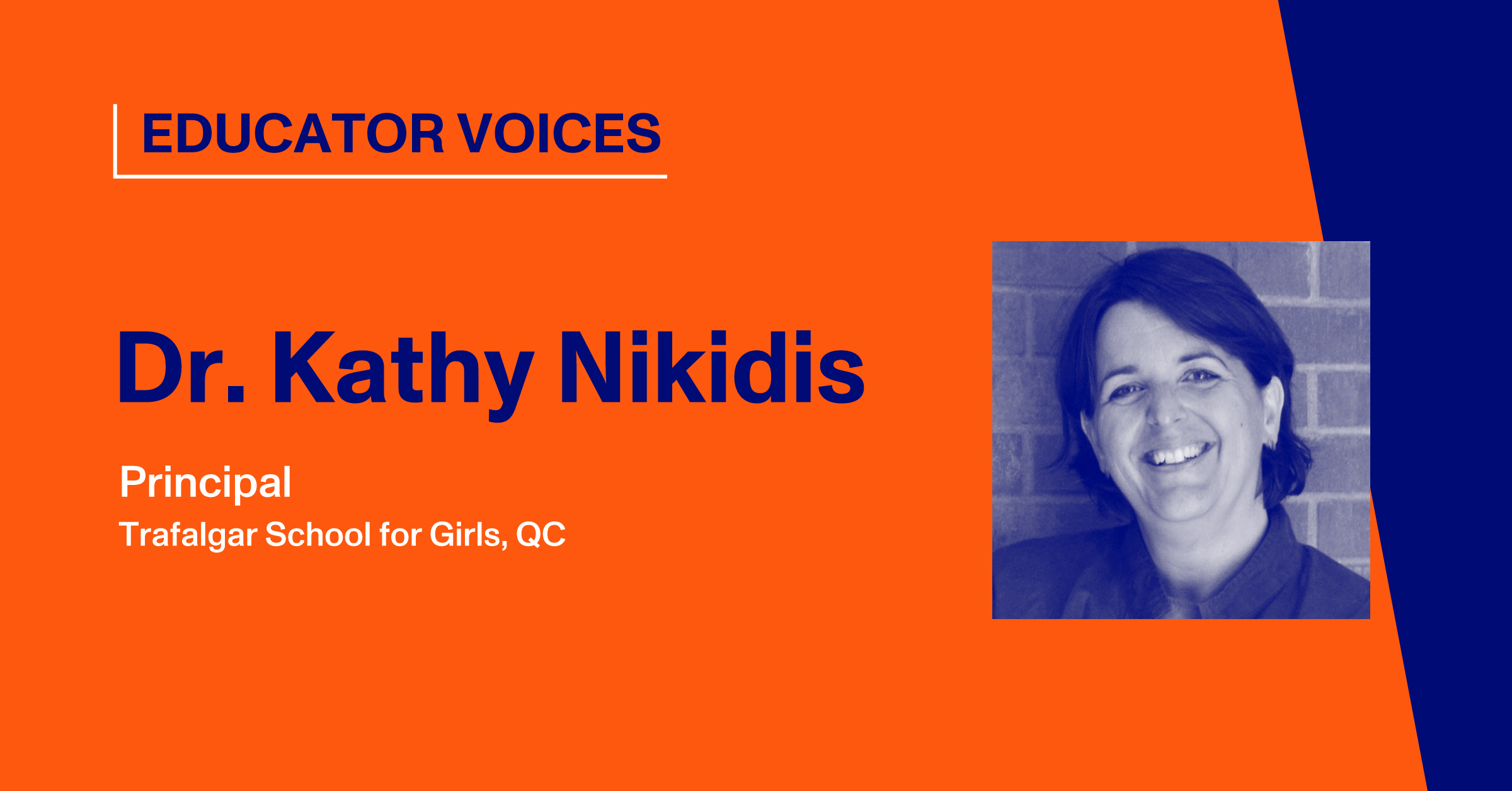 Montreal's Oldest All-Girls School Focuses on Building Community
April 24, 2020
Dr. Katherine Nikidis, Head of Trafalgar School for Girls, is one of the top educational leaders in Montreal. Katherine currently sits on the McGill Faculty of Education Advisory Board, of which she was chair for five years. In this interview, edited for length and clarity, Katherine talks about how her students and staff are striking the balance between efficiency and resilience, seizing the opportunity to learn about themselves and their own practices, and giving back to the broader Montreal community.
What's Trafalgar doing with distance learning?
The girls have classes for two hours and ten minutes every day of synchronous learning. So that means they're on with their teachers, and they have twenty-minute classes with passing time between each class, and a short recess period as well. Two times a week, I run a full-school assembly online, where we discuss our values—CORE4—what we are learning from the experience, and share the multitude of school online spirit activities that are going on during the day.
After assemblies, all students attend small advisory groups, of six to eight students, and check in with each other for 20-30 minutes. In the afternoon, is where the asynchronous learning takes place. The girls are producing work independently and then submitting it for teacher feedback. The feedback can come in the form of a grade with comments; however, most often, it comes in the form of written, or one on one, feedback. We were very intentional when we decided to not focus on grading, because we didn't want to add any extra stress during this time. In the afternoon, the teachers have office hours, in addition to tutorials and some extra-class time for those who want, or require, it.
We also have school-wide challenges! We currently have an athletics challenge, an art challenge, weekly prefect challenges, and wellness opportunities. There is a great deal going on in terms of school life—our connection remains strong, and as a community, that has been our primary focus! We also continue to plan: This week, all the students participated in option block sessions to plan for next year. They were able to have a session with teachers who offer the classes to have a deeper understanding of the courses offered, as well as the expectations and pre-requisites for those courses.
Our primary goal is always to keep everyone in our community connected and mentally and physically healthy through all of this, while simultaneously offering some authentic learning opportunities. Our teachers and staff have been absolutely incredible. They have embraced the situation and really elevated our online experience. I am deeply proud of the entire team.
There are so many amazing initiatives at your school. It seems like things are as "business as usual" as can be given the circumstances.
It is a totally unique learning curve for us, and it's amazing to see the teachers learning so many new things. We could have implemented a five-year professional development plan for technology integration and online learning, and it wouldn't have likely accomplished as much as what we have accomplished in the past weeks! Sometimes you have to look at the upside of a situation and embrace the good, all the while supporting our teachers and staff to allow them to try exciting ways of delivering curriculum and maintaining our intimate connection with our learners.
Obviously, it's been a challenge. We have teachers who have been teaching for three years, and teachers who have been teaching for thirty-three years. And so how do we get them on board and learning as quickly as they can, when they all have different starting points? We have an outstanding EdTech committee that has always had a central role in the school, but now has taken a significant academic leadership role to ensure we provide outstanding quality with the resources we have available. We do this with the girls every day, differentiate and meet them where they are- that is our expertise as educators, and I feel we are trying to do the same for the faculty and staff.
The quality of experience is what remains most important for us. It isn't about the quantity of material we can disperse. It's not about keeping the students busy. It's about offering them quality experiences so that they can look back at this period of time as, yes, a challenging time, but also as a time when there were unique opportunities for authentic learning experiences.
It's great to see that educators are doing their best to adapt and doing some great things. It seems like your tech infrastructure is more able to handle some of these initiatives.
We're quite fortunate not to have a great gap in terms of access to technology. Once we had our current students up and running, the next thing we did was launch a learning program for our incoming grade sevens. This program is for grade six students who are not yet at our school, as so many of them are in public schools and, as such, have a limited educational experience at this time.

Twice a week, they'll be part of Traf, and they're having courses taught to them. We also picked a book that I will begin reading aloud with them- which gives them an opportunity to get to know their next year's Head of School, as well as getting to know some of their teachers who will be reading with me. The read-along is just one small part of the program, as we have science teachers working on a design project, and the prefects are presenting a very fun introduction to school life. The art teacher and the English teacher are collaborating on a fantastic project to connect the girls to the grade about them through writing and artwork.

And then, in two weeks, we're opening up a free platform to teach grades four, five, and six girls and potentially a separate program for seven and eight girls who are in public school and perhaps not getting a great deal of synchronous learning. They're obviously getting a lot of asynchronous learning from the ministry who are doing a laudable job in terms of trying to get information out to parents and teachers and for the asynchronous learning material, but students need the strong connection.

Girls in particular need to feel connected and discuss material. They need to feel like they're part of something, especially as they enter adolescence. We're really excited about launching those programs to support the learners who may not have access to that connection.
What an amazing initiative. How do you think the education landscape will change after all this?
It's interesting to see where this is going to take us. I think we would be naïve to think things will not change. It would be unfortunate, as educators, if we don't take this opportunity to learn about ourselves and our practices. If we stretch this rubber band of educational practice and then just let it go back…I would be disappointed. We have an opportunity to grow from this challenge. I think this has forced people to become much closer and improve their skills and capacities quickly. It has compelled us, as educators, to push things forward—that is a gift.
I believe that there's going to be much more blended learning as we move forward. I also think, and perhaps hope, that there will be a greater value put on education and schools—aside from their inherent value in learning and human development, the world has begun to see that they are an integral part of the economic engine of our world. I think sometimes we forget that, right? We don't always treat education as a central part of the whole societal and economic infrastructure of the world, and thus it is often devalued.
I think understanding the importance of humanism in the context of remoteness is critical. The empathy and understanding that everyone experiences, both in receiving and giving, is divergent while everyone is doing their best in an intense period of time. I think, or at least I hope, that our empathy is going to grow exponentially.
Can you talk a bit about the unique position that your graduating class is in?
Being in Quebec, we have the advantage of CEGEP. Our whole graduating class has already been accepted to CEGEP next year, and so they're all settled. I think that's actually good for them as it gives them some sense of future security. Learning has also become much more self-directed in the past weeks, which poses a challenge, particularly for our more junior students. Our seniors, particularly our graduating class, have embraced this opportunity to be more self-directed at a young age. That will undoubtedly serve them well and be a huge advantage for them.
Obviously, celebrating the graduating class's accomplishments at a ceremony is a major focus for us all. We have been working closely with the grade elevens to determine the timing and the kind of celebration that would be most relevant and important. Undoubtedly, we will find special ways of celebrating them in the coming months. More to come on that in the future!
That's great. Is there anything else you'd like to share?
I try to be a glass-half-full person. The future will look bright again. I think learning is a key component of the world getting better. If we, as educators, can't adapt and learn and change, then I don't understand how our society will follow suit. Someone has to take a lead role, and I'm hoping that schools and educators will do just that. Hopefully, because of how we address today's challenges, our students will go out there in the world and ensure that we have a society that can meet challenges by learning and effectively adapting quickly. I am hopeful.