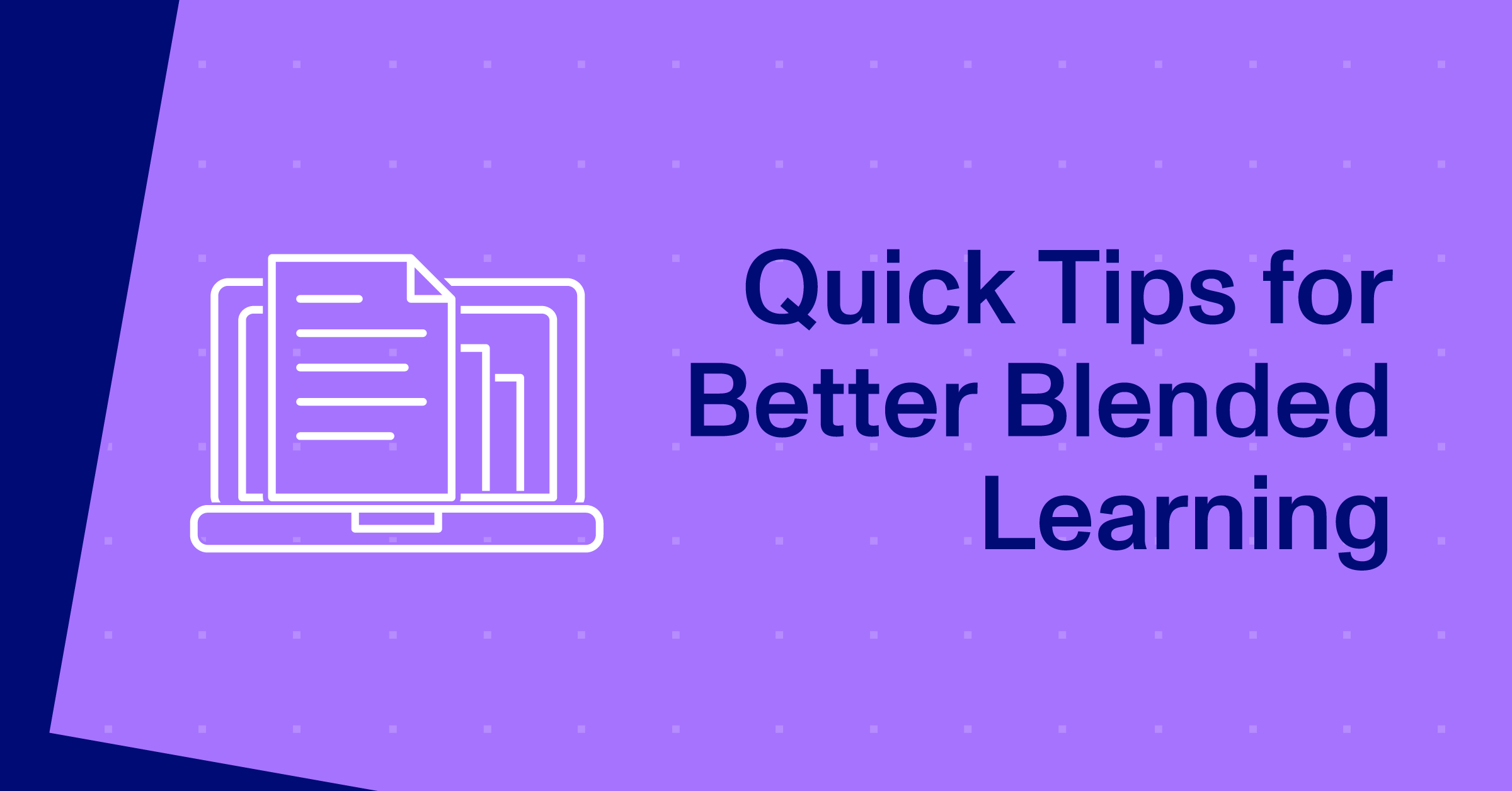 Better Blended Learning: Quick Tips for Teaching Students
March 15, 2021
Flipped. Blended. Hybrid. Concurrent. There's no shortage of terms describing the current teaching landscape. But what do they actually look like? How do we ensure engagement when we're not all in one place? How do we maintain connections? We welcomed a stellar panel of educators on March 11 for Modern Instructional Strategies for the Toggled Term, the second in our latest webinar series. Here, we've culled our top four takeaways from panelists Becky Colling (Santa Clarita, CA), Dr. Hugo Sierra (Fontana, CA), Stephanie Rothstein (Los Gatos, CA) and moderator Dr. Matt Rhoads (San Diego, CA).
To learn about other ways to navigate the "toggled" term, watch the full recording below.

Get students involved

Put the idea of "

student jobs

" into action—or ask for volunteers—and have kids manage chats while you focus on teaching,
Set up a tech squad of students willing to teach each other—and you!—about the inner workings of different tools.
Prompt students to do the bulk of the talking during synchronous time. Encourage collaboration, discussion, and feedback.
Create collaborative opportunities that connect in-person and online students: pair them up with one another or group them into breakout rooms.
Use collaborative slides and have students add to the deck as part of the lesson.
Invite students to sign in to a Google Meet with you, so they can share their on-screen work with the whole class. It's a great way to boost confidence and build agency.
Bring Scrum boards

into education! They're a good way for students to indicate where they need help.
Strike a balance between routine and novelty
Establish a clear agenda and protocols. How should your students at home chime in? How can you find a way for them to interact with their on-site classmates? How much time do you want to spend introducing a lesson?
Don't be afraid to mix things up. Try new tools and ideas—not everything works the first time, but there are always lessons to be learned along the way.
Less is more
Keep your instruction to five-minute bursts in concurrent or virtual settings.
Avoid introducing too many new concepts or tools at once.
Avoid spending too much time researching and exploring potential new tools; it eats up time you could be spending on learning objectives.
Show students fewer tools but ensure they know how to get the most they can out of them.
Practice self-care
Most teaching strategies can be adapted for hybrid learning with a little creativity - don't put pressure on yourself to come up with entirely separate plans.
Amid the craziness, teachers fall prey to Zoom fatigue too. Give yourself a break at the end of the day and log off for a little while when the "last bell" rings.
Resources shared by panelists:
Modern instructional strategies for the "toggled" term is part of our series for teachers, by teachers. 12 passionate, tech-savvy K-12 educators shared a myriad of tools and tactics on how to take charge of increasingly tech-infused classrooms. If you missed any of these conversations, remember to check out the video recordings and recaps!