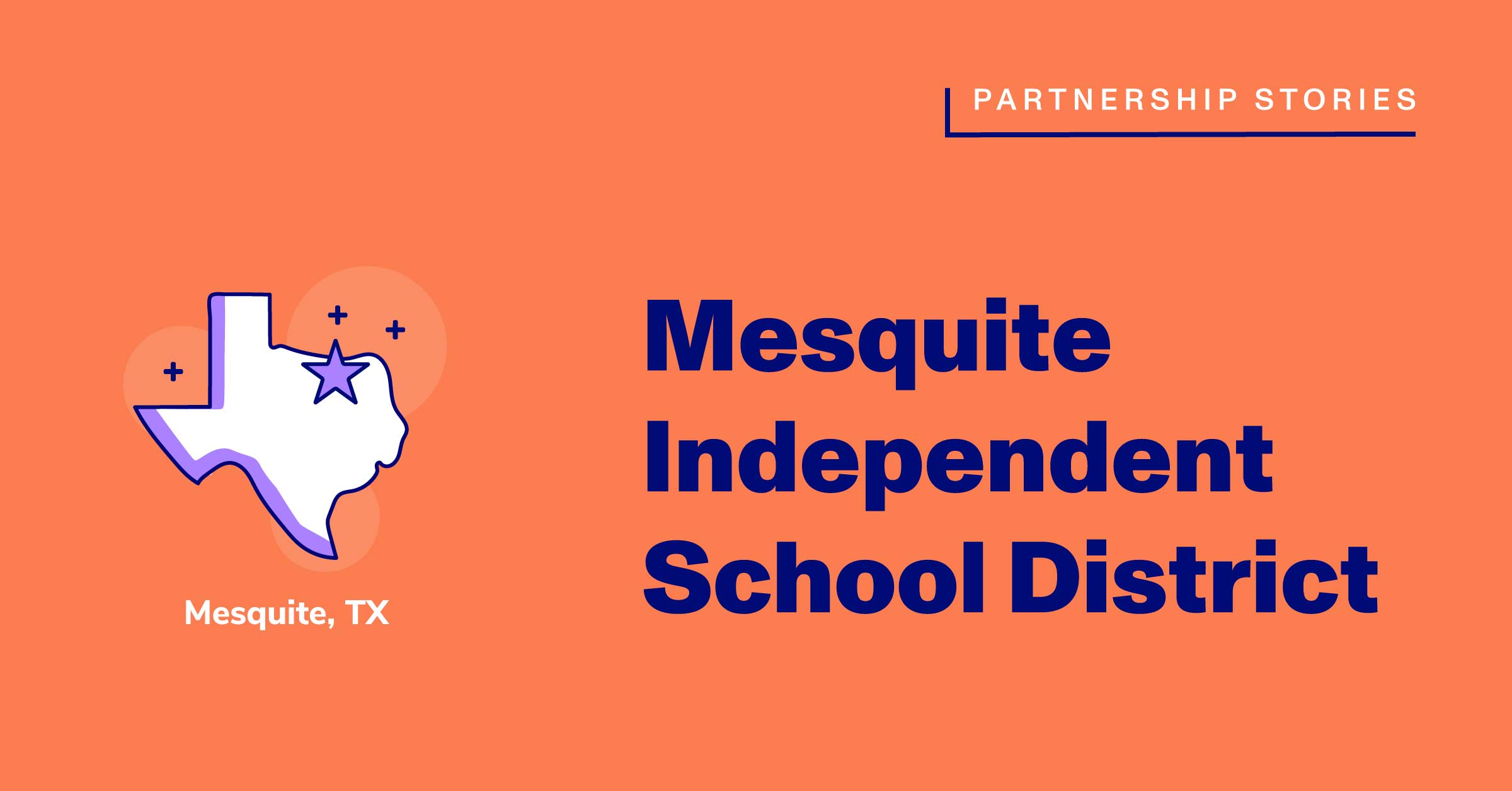 Texas school district to extend learning with Paper™
August 11, 2022
Paper™ is proud to announce that 22,000 Mesquite Independent School District (ISD) students in grades six through 12 will now have access to 24/7 tutoring in the Lone Star State.
The three-year partnership will ensure that students in the district, which is located in the Dallas-Fort Worth metroplex, will have extra support to expand learning beyond classroom walls while also giving teachers a leg up.
Addressing unfinished learning and giving teachers a boost
Gerald Sarpy II, executive director of leadership development, noted that Mesquite ISD students were contending with unfinished learning due to the COVID-19 pandemic. Leaders in the district could tell their students would benefit from another helping hand.
"We wanted to find innovative ways to extend the classroom in an authentic way so the learning that happened in the classroom could be supported outside the classroom," said Sarpy. "The 24-hour access that Paper offers gives our students an opportunity to connect with trained professionals who can further support the learning inside the classroom."
Mesquite ISD officials also believe that Paper has a place inside the school building. Dr. Leslie Feinglas, assistant superintendent of leadership development and strategic initiatives, expressed enthusiasm about the potential this kind of academic help offers.
"All of our kids are going to get the same access," said Feinglas. "When we were telling our teachers about this, they were so excited."
At a moment's notice, classroom teachers can tap into the instructional assistance Paper's tutors provide.
"I can picture teachers teaching a lesson and then saying, 'You six, I want you to come with me. You six, I want you doing this. And you six, I want you to get on Paper.' I can just see there are so many ways they can use this."

— Dr. Leslie Feinglas, Assistant Superintendent of Leadership Development and Strategic Initiatives, Mesquite Independent School District, Texas
Putting power in students' hands: Identifying gaps, building perseverance, and boosting confidence
District leaders see Paper as playing a supporting role in helping students raise their confidence levels and draw on their inner resources and abilities to persevere through problem-solving.

"What excites me the most about Paper is thinking about all of our students who—whether they're sitting in the classroom or at home—just need that one little [bit of encouragement] to keep going," said Feinglas. "They're going to keep going, and they're going to push further."

Selena Knight, an instructional technology coach for the district, agrees.

"A lot of times, our students just need someone to help them figure out how to get to the answer, to help them pull from themselves—what they already know, what they're lacking—to identify their own gaps in their learning and fill those," said Knight.
Why Paper made the grade
When asked why Paper stood out to Mesquite ISD, Sarpy highlighted the inquiry-based approach that our tutors use, which is part of a holistic instructional framework we call the Paper Method.
"I liked the idea that the professionals at Paper would pose questions to bring students along," said Sarpy. "There wasn't a fear of students just receiving an answer."
High marks for the Paper Method: Providing every student with the support they deserve
Not every student has the same level of academic support at home. Thankfully, Paper helps ensure that all learners will have somewhere to turn when they need assistance. In particular, Knight pointed out how universal access could prove beneficial to students whose parents don't speak English as their native language.
"This is a resource that can help 24/7 without relying on our parents to be that at-home support," said Knight. "Students can take ownership of their learning—understanding how to ask questions, learning how to figure out what they don't know, and getting that support."
Paper also offers multilingual assistance, meaning students can ask for help in a variety of languages.
Getting going: The onboarding experience
As the story begins to unfold in Mesquite, Cara Jackson, chief technology officer of this Texas district, is optimistic about how things are starting out.
"When I think about the onboarding process with Paper, I think about support as the first word that comes to mind."

— Cara Jackson, Chief Technology Officer, Mesquite Independent School District, Texas
Jackson remarked on Paper's eagerness to schedule meetings that fit with Mesquite ISD's time frames, work with their technical support needs, and collaborate with a wide variety of important local stakeholders, such as instructional specialists and instructional technology coaches. With that level of deep commitment, Jackson feels these district professionals are ready to assist the hundreds of Mesquite ISD teachers who will soon benefit from Paper.
Want to find out how Paper can support your district's efforts to address unfinished learning, close learning gaps, and provide universal access to tutoring? Reach out to us today.