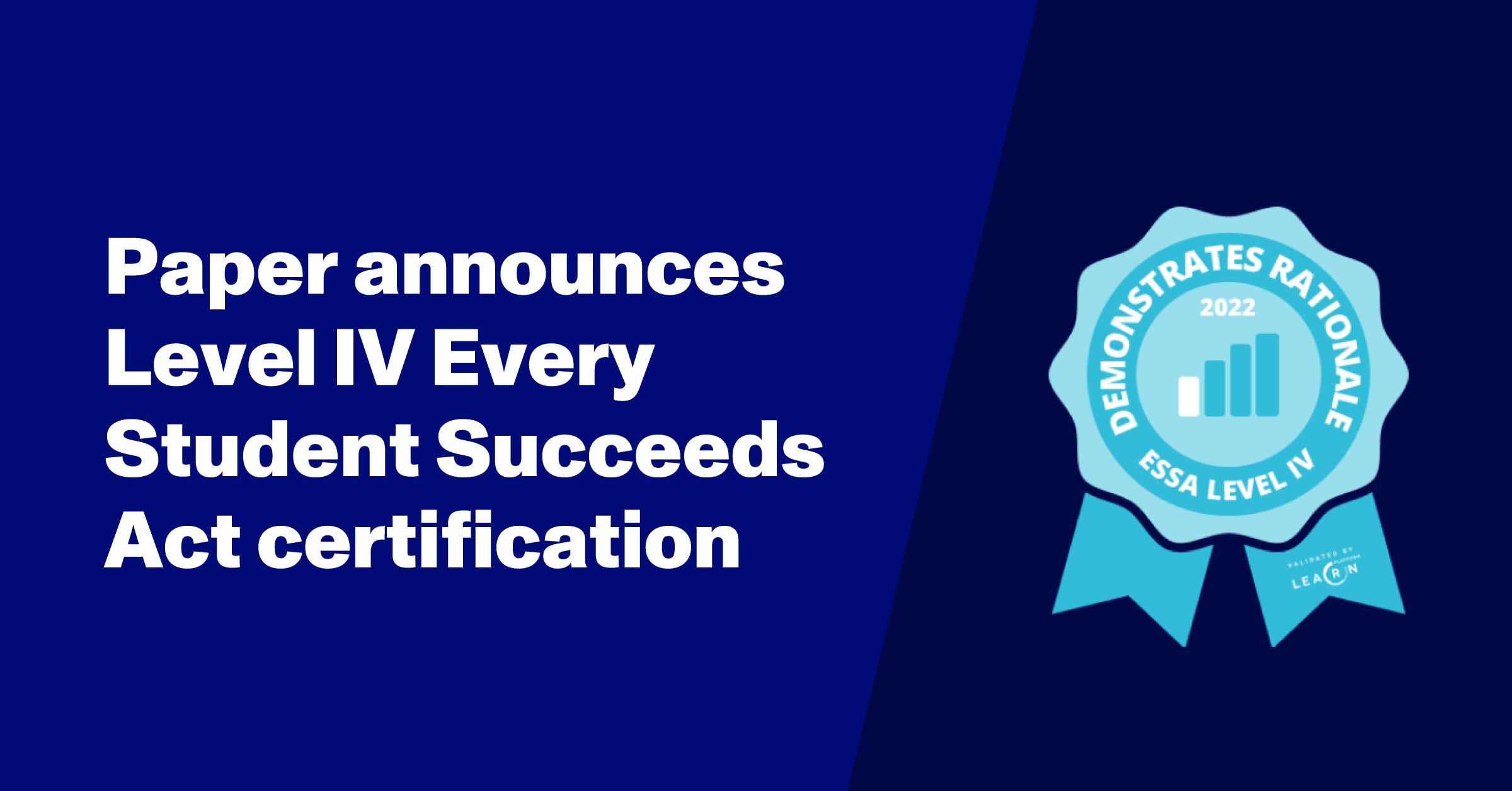 Paper earns Every Student Succeeds Act Level IV certification
July 6, 2022
Through third-party partner LearnPlatform, Paper has earned Level IV certification for its alignment with standards outlined by the Every Student Succeeds Act (ESSA). This achievement represents a major step forward in verifying the effectiveness of the free, unlimited, and 24/7 academic support provided by Paper tutors.
Paper's co-founder and CEO, Philip Cutler, described how the announcement validates Paper's thoughtfully constructed tutoring model.
"Level IV certification means that we've been able to successfully demonstrate the rationale for our innovative method," said Cutler. "We know that the work we're doing is transformational, and having the evidence to back that up is vital to our mission."
What are the ESSA tiers of evidence?
ESSA's tiers of evidence help districts ensure the interventions deployed in their schools are backed by robust research. There are four tiers in total. The fourth tier indicates that the intervention has a "well-defined logic model based on rigorous research" and that further study is in the works to verify the approach's efficacy. Each subsequent tier achieved assures districts that the tutoring intervention has attained stronger evidence to support its effectiveness.
Securing Level IV certification—and beyond
Paper worked with LearnPlatform to document our service's logic model. Ongoing research with the vendor, based on real partner data, is anticipated to fuel Level III status later this year.
Achieving Level IV certification indicates our deep commitment to additional research and to measuring our impact on students. It's an ongoing process—and we're dedicated to gathering evidence about the positive effects of our tutoring model and the inquiry-based Paper Method.
Interested in learning more about Paper's Level IV certification journey? Check out our report on the Paper logic model, developed in partnership with LearnPlatform.