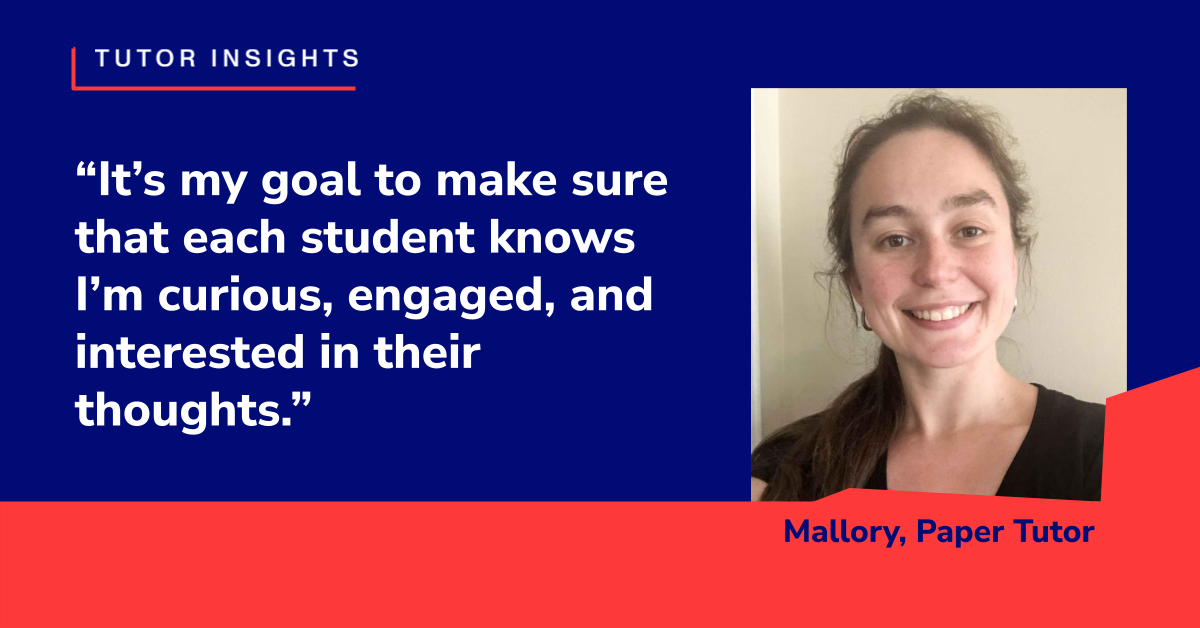 Confidence, creativity, and curiosity: 3 skills to practice on Paper™
August 5, 2022
Discover how tutors cultivate confidence, creativity, and curiosity with Dr. Mallory, a Paper™ tutor.
---
As an undergraduate humanities instructor, I noticed that my first-year college students often struggled with confidence, creativity, and curiosity in my classes. For example, they might feel stuck if I asked them to present original arguments or develop their own essay topics.
Because it provides a unique safe space where students can more privately build curiosity and experiment with their thinking, the Paper platform is uniquely suited to help students develop these three soft skills that are crucial to their academic success.
Besides this, Paper still complements the learning done in students' physical classrooms. Engaging with peers and teachers inside a classroom space has invaluable benefits, but the closed, positive container of the Paper tutoring session offers the safety necessary for students to experiment freely without social pressure.
Below are just a few examples of how Paper helps students cultivate these powerful traits.
Confidence
I recently worked with a student in a Paper Live Help session who was struggling with a multiple-choice reading comprehension assignment. It was very clear that this student had paid attention in class and thoroughly read their course text, but they were lacking the confidence to select the "best" answer to the question.
Multiple choice questions are a great way to motivate students to read thoroughly, and they teach learners the very helpful skill of summarizing complex information. However, for students like this one, the stress of receiving a binary "right" or "wrong" response to an answer causes them to lose confidence in their grasp of the material.
In the student's mind, there were some gray areas within the answer choices. So during this session, we were able to have a conversation where the student fully explained their thinking. Overall, I was extremely impressed with this student's nuanced understanding of their course material. I gave them feedback that their arguments for why more than one of the multiple-choice answers would fit were all sound and that their thinking was moving in a great direction. We discussed multiple-choice strategies so that they could find the correct answer to the question, but I was sure to remind them that they had an excellent understanding of the material and that they should continue to critically analyze what they read—even when their assignments don't call for it.
This student left our session with a good grade on their assignment and validation that their critical analysis was not "wrong." Imagine if this student hadn't been able to log on to Paper, though: After getting incorrect answers on their assignment, they may have concluded that they didn't understand the material and that they were being penalized for their nuanced thinking, negatively impacting their future success in the classroom. Instead, because of our session, they were able to both develop strategies for completing their assignments and gain confidence in their abilities.
Creativity
It can be difficult for certain students to cultivate creativity in a traditional classroom setting because it requires a great deal of vulnerability. The safe space of the Paper platform—fostered by positivity and anonymity—encourages students to take risks with their thinking. Their creative risks are rewarded when they receive encouragement and guidance from our tutors.
I often see students approach Live Help sessions feeling stuck on concluding essay paragraphs; they know the format they should follow, but they're struggling to make the writing their own. I always encourage these students to take a step back and reflect on what they actually learned through the process of writing their essays. I'm almost always surprised by the answers they come up with! All students need to take their essay conclusions from formulaic to compelling is a little encouragement to inject their essay with their own creativity and insights.
Learning how to approach a structured assignment with creativity is a valuable skill that will help students shine on their college application essays, prepare them to succeed in any undergraduate setting, and become better problem solvers. Paper provides the safe space that many students need to practice applying their creative thinking.
Curiosity
As educators, we always hope that our lessons light the spark of curiosity in our students—but there can be many internal and external blocks students face that keep them from engaging in this way.
Let's face it: Indulging in curiosity takes time! And as a teacher in the classroom, you don't always have all the time you need to dive into every student's questions. Paper tutors have the luxury of spending as much time with a student as they need, which is perfect for working with those super curious students.
For example, one student logged on to Paper and wanted to practice vocabulary words for a history exam with me. I was expecting the session to be pretty cut-and-dried, but the student actually had a lot of great questions about the etymologies of words and the origins of related concepts. We achieved the student's goal of memorizing vocabulary words, but I also had the chance to share research skills with this student so they could follow their natural curiosity!
Not all of our students have the confidence in themselves to ask questions—it takes a lot of courage for them to log on to Paper and ask for help in the first place. Many students also feel immense time-related pressure and worry that asking questions will divert them from finishing their assignments. Paper's tutoring is great for these students as well. Through our inquiry-based Paper Method, tutors model the benefits of asking engaged questions and encourage students to begin opening their minds to the idea that a question might have many "correct" answers.
When students first experience this inquiry-based approach to tutoring, they can feel anxious or frustrated. Some students think that we're asking them questions to test them somehow, and it takes some time to build their trust and prove to them that we really do want to know what they think! It's my goal to make sure that each student knows I'm curious, engaged, and interested in their thoughts—and I offer positivity and encouragement along the way.
The unique qualities of Paper's unlimited-access tutoring and our inquiry-based instructional method make our platform the perfect classroom complement for bolstering students' curiosity!
A parting note
Any growth we achieve starts with having the confidence, creativity, and curiosity to ask "why?" Paper's tutoring helps students practice and develop these three core soft skills that will empower them to be more engaged learners in your classroom!

Mallory, Paper Tutor
Paper supports students and educators in school districts by providing unlimited 24/7 multilingual live help and essay review.
Who are our tutors?