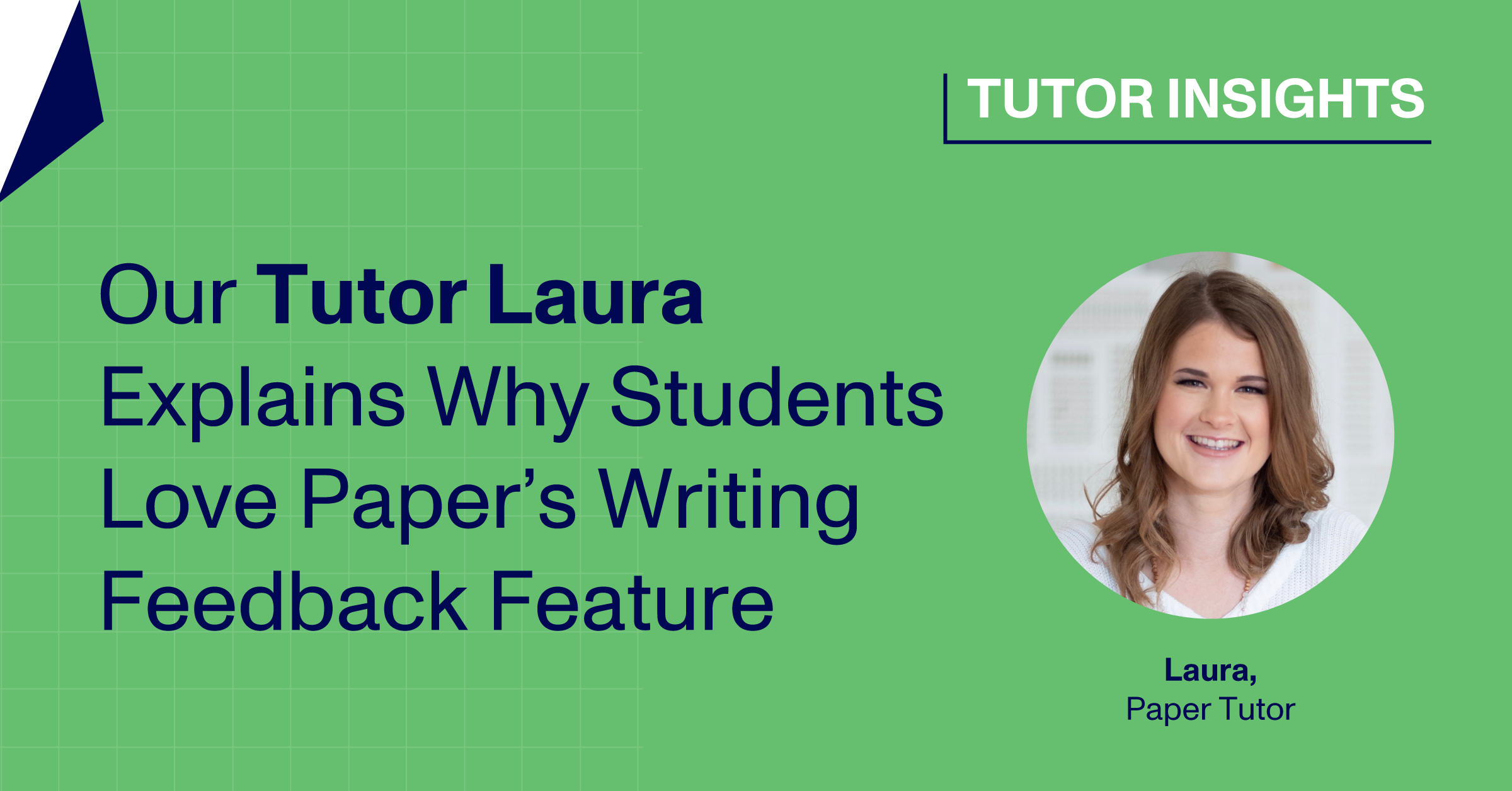 How Paper Tutors Help Students Become Strong and Confident Writers
March 22, 2021
Writing doesn't come naturally to all of us, and even when it does, the stress and busyness of everyday life can make looking back at our writing challenging. We tend not to see the errors in our own work, as we have a clear idea of what we wanted to say instead of what we actually said.
→ Read how students get more As with Paper
Paper offers a space where students can feel supported in their writing process without feeling like their voices are being diminished. Errors are no longer red slashes across a page but bright yellow questions and the occasional emoji. No one writes a perfect paper on the first try, so our tutors teach students that the second or third try is just as important.
When we think back to the expansion of technology, it is clear that we have all come to rely on systems like spell check, online dictionaries, and thesauruses. In split seconds, we have access to what many of the previous generations attempted to memorize. Not only does this raise the overall quality of our writing, but it also raises the expectations around our writing. What excuse is there now for misspelled words and repeated adjectives? The programs we write in quite literally draw our attention to these errors with bright red lines located underneath. Thus, the expectation from teachers nowadays is that students have taken the time to edit and review their papers, and it is quite obvious when they don't.
However, as great as these automated systems are, finding and located spelling errors is the bare minimum of what it actually means to review and provide feedback on writing.
Most teachers can attest to this as there is always the odd paper that is written without any spelling or grammar errors but still somehow manages to say… well, nothing. Therefore, reviewing a paper means taking the time to read sentence by sentence and word by word to notice repeated errors, missing punctuation, incomplete sentence structure, and other grammar issues. It also means looking at it at the paragraph level and the paper as a whole. How is the paper formatted? What is arguing? Is the thesis clear? What kinds of evidence does the student use?
Paper's online essay review platform is the kind of support that modern-day students are looking for.
It isn't about being the people who underline your misspelled words in red. It's about asking deeper, more meaningful questions. Does your conclusion connect back to your thesis, bringing your whole paper full circle? Have you tried using a range of sentence starters, and how might using these change how your paper flows? How can we zoom in on the quote to really show the reader what the author's purpose is in this moment?
Paper tutors encourage students to ask themselves questions about their argument and learn long-term writing strategies to make them more confident writers. Underlining a mistake isn't enough. It's about talking to these students one on one and pulling apart how they approach writing until they can look at what they have written and feel good about it. When you take this review process, delete all the red scribbles and replace them with questions and prompts, all of a sudden, the student sees opportunity instead of failure.
Paper isn't an online dictionary or an automated system but a group of qualified tutors working to improve the confidence and quality of student writing.
Ours is a long-term process that focuses on encouraging student engagement, writing skills, and self-confidence. Technology has more than that to offer than looking for spelling errors. With services like Paper, the future of young writers looks more promising. It also looks like a generation of critical thinkers and strong writers who understand that to question their own thoughts, writing, and patterns is to grow into a stronger communicator than they were the day before.

Laura, Paper Tutor
Paper supports students and educators in school districts by providing unlimited 24/7 multilingual live help and essay review. Who are our tutors?