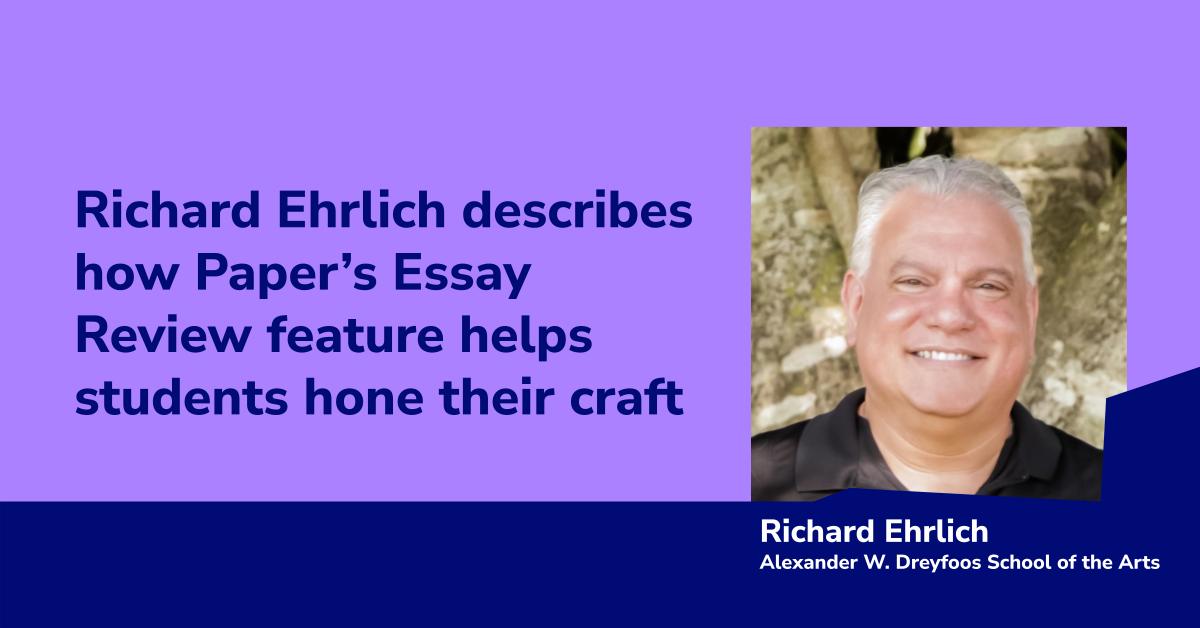 Key classroom extension: How one ELA teacher uses Paper's Essay Review
May 10, 2022
In this guest blog post, Richard Ehrlich, a Paper Pro and English teacher at Alexander W. Dreyfoos School of the Arts, located in Florida's School District of Palm Beach County, shares how he uses Paper to continuously level up students' essay drafts.
Read on to learn more about the benefits you could get from implementing Paper's supportive Essay Review feature in your own classroom.
Writing and revising with teachers and peers
Students are constantly writing and revising essays and other papers as part of our writing process, which naturally makes Paper's Essay Review feature an essential extension of my English classroom.
For years, the students would write, and I would then provide feedback and corrections. In other cases, students themselves would provide feedback and corrections on one another's drafts. As you can imagine, this often took up a lot of our time together.
How Paper fits into my English classroom
Now, Paper provides my students with a supportive extension of our writing process.
ELA teachers know writing is rarely a one-step endeavor. In my classroom, we begin with prewriting and peer learning activities to come up with essay ideas that could work with provided prompts. My students work within editable Google Docs that we can share again and again as we develop robust drafts. And, as students individually craft their drafts, their peers continue to provide feedback to make their work stronger and more cohesive.
This is where Paper's Essay Review comes into the equation. After students come up with their drafts, they're free to upload them to Paper at any point to get additional outside feedback. Students love the chance to improve their drafts—and their grades.
Students can also submit essays to Paper as often as they need to get an extra layer of feedback. This makes my job as a teacher easier. I can concentrate more on improving students' expression of ideas rather than, say, syntax and diction issues.
Paper is a truly wonderful solution. Its essay reviewers provide individual and concrete feedback on students' rough drafts, usually in less than 24 hours. In turn, students who submit their written work to Paper can see their strengths and find opportunities for improvement in their writing before submitting a composition for a final grade.
Essay Review extends beyond classroom walls
Through Paper, my students are also taking their writing outside of the classroom. After all, they get to receive useful feedback and comments from other trained professionals.
I get to see this exact feedback as well by toggling to Paper's Teacher Activity Page. This page gives me an important perspective when it comes to what students are writing and the kinds of things they're receiving feedback upon. Specifically, I can also see what Paper's essay reviewers tell students to examine more closely in their drafts, and, then, I can build upon that feedback. All in all, it's a great tool for double-checking and further refining instruction.
Besides, I love that students can use this direct feedback as an editing tool—they simply edit and revise the areas in their essays that need the most attention. In the end, students can turn in a finely tuned product for a better grade.
Paper partner teachers say students who use the Essay Review feature tend to receive better grades. Download our Essay Review case study to learn more about how districts and students benefit from expert writing feedback.

Richard Ehrlich
Paper supports students and educators in school districts by providing unlimited 24/7 multilingual live help and essay review.
Learn more about our partners.