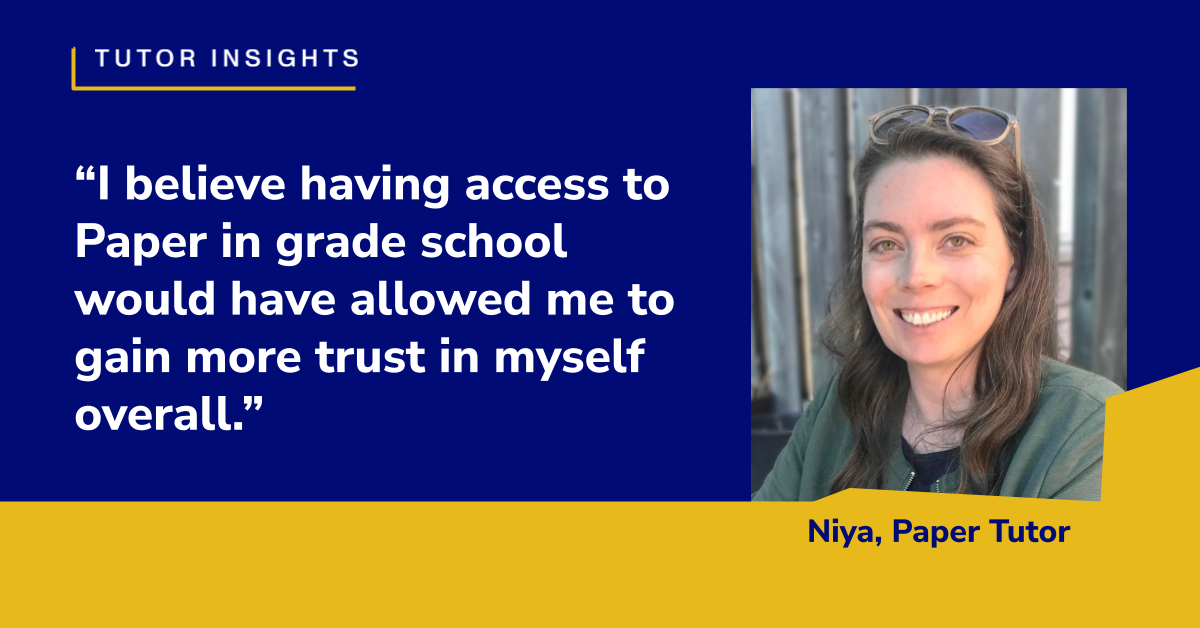 From student to Paper™ tutor: How Paper would have helped me succeed
October 27, 2022
Our tutors believe that all students could benefit from having Paper™ in their lives. Some tutors, like Niya, even include themselves in that group.

Keep reading to find out how Niya thinks her educational journey would have been different if she had the support of Paper when she was younger.
---
As a young student from a household where my parents didn't finish college, I was left to my own devices when it came to succeeding in school. Although I certainly came from a loving home, my parents simply didn't have the tools or the time to help me understand or complete schoolwork. On top of that, I was also a shy and timid child who lacked the confidence to ask teachers for support.
Being left to my own devices to succeed in school—coupled with my lack of confidence to ask for help—ultimately led me to disengage from subjects I found difficult, such as math and science. Ten years later, I can still remember sitting in grade 12 biology and coming to the conclusion that I had to drop the course because I knew I couldn't understand the material on my own.
I'm confident that if I had access to Paper at that time in my life, many more doors would have been open to me.
What I lost out on
Having different career opportunities
Although I managed to gain confidence in university and excel in academia, I ended up not being able to pursue my initial dream careers. When I was in high school, I was keen on becoming either a PE teacher or a zoologist, both of which were unattainable careers for me without taking science courses such as kinesiology or biology.
Knowing now how the Paper Method works, I believe I would've excelled in these courses if I had been able to access the Paper platform for help.
What's the Paper Method? 🤔 It's a holistic, theory-based framework designed to help students get the most from every tutoring session.

See how the Paper Method aims to foster critical thinking skills, strengthen subject knowledge, and more 📚 #EdTech pic.twitter.com/ewMuu4CVXt

— Paper (@paperlearning) July 6, 2022
Gaining confidence earlier
Besides not being able to pursue my initial dream careers, I think I feel the most grief about the loss of opportunity to gain confidence that could have translated to the classroom.
I've had many sessions where students, before signing off, have shared how much more confident they are with the particular subject matter after working with a tutor. As a shy and timid student, I rarely raised my hand in class out of fear of saying the wrong answer. This inevitably led me to not ask questions or learn from my mistakes.
At Paper, however, tutors make students feel welcomed and included—even if they get the answers wrong. We use a positive attitude when working with students to ensure they feel good about their homework and about themselves as learners.
Although I did ultimately gain this confidence in university, I believe having access to Paper in grade school would have allowed me to gain more trust in myself overall and speed up not only my confidence in the classroom, but also my confidence as a young person navigating the world.
My experience as a Paper tutor
As a Paper tutor, I get to see every day how students come into the virtual classroom and increase their knowledge, expand their learning strategies, and gain confidence within just one session.
Having access to Paper likely would've given me the opportunity to gain the confidence I was lacking in the classroom while also giving me the tools I needed to succeed in math and science courses. Although I'm now a successful graduate student and humanities tutor, I grieve the opportunities I lost because I didn't have a resource like Paper available to me.
Not only do I get to see the difference Paper makes, but it also makes me feel amazing to see today's students have the opportunities I didn't have. It fills me with a sense of joy I can't explain to be thanked by a student at the end of a session for helping them work through a problem they were struggling with.
Students have endless possibilities open to them; access to Paper means they can log in to the platform to ask for help with problems or subjects they might otherwise shy away from or get frustrated trying to work out on their own. It makes me happy to know that Paper continues to grow and that more and more students are getting access to a service that I know would've changed my life.
A parting note
Overall, I had wonderful parents and teachers throughout grade school, but Paper recognizes that for some students, this is not enough. I had amazing teachers, but as one of 30 students in a class, I wasn't brave enough to seek out their help. I had loving parents, but they weren't equipped to help me succeed in math and science topics.
Paper isn't a substitute for those things. But I am confident that with access to Paper, I would've thrived in the math and science courses I ultimately shied away from that blocked certain pathways I could have taken in life.

Niya, Paper Tutor
Paper supports students and educators in school districts by providing unlimited, 24/7, and multilingual Live Help and Review Center support.
Who are our tutors?