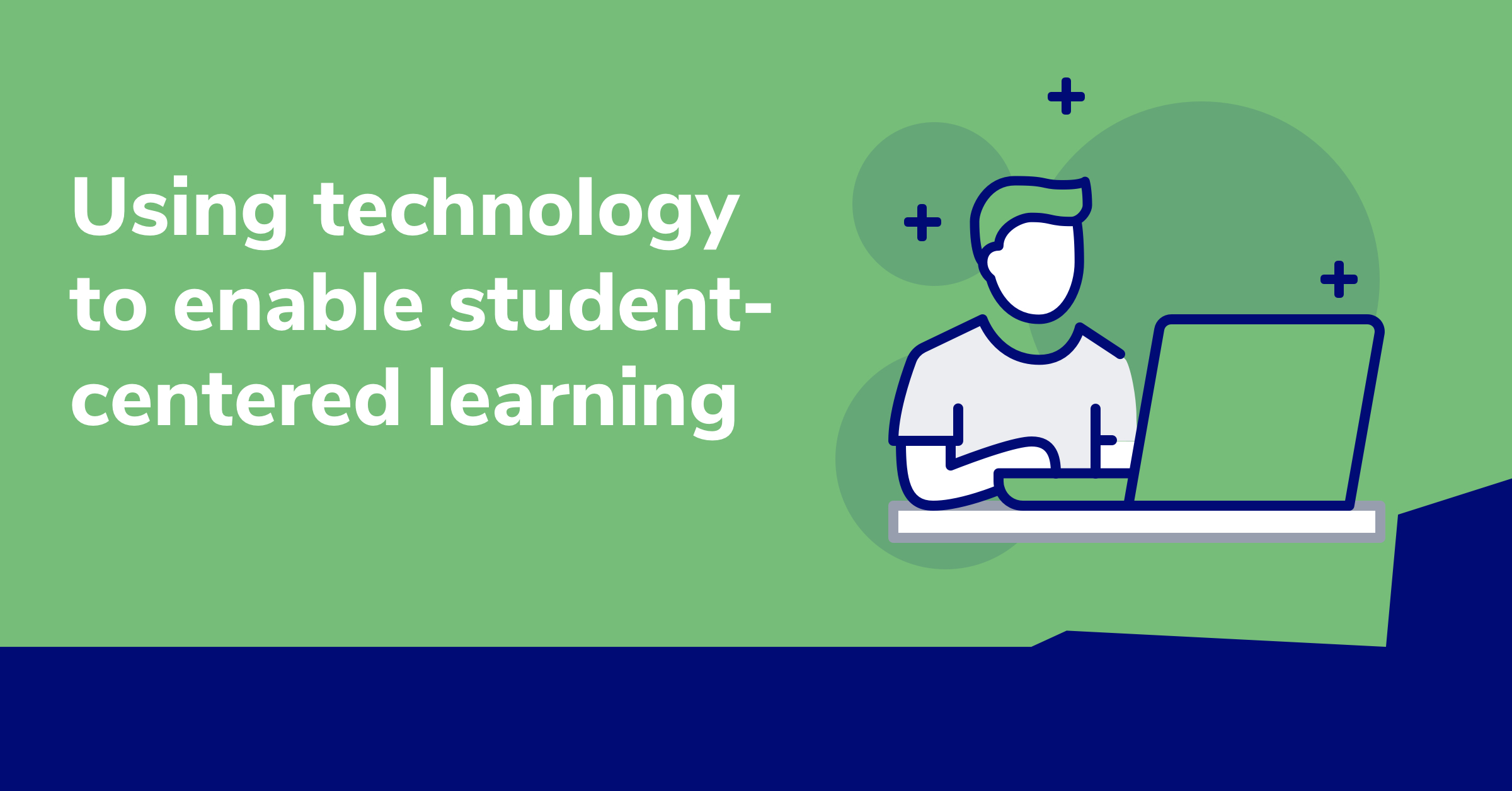 How to use technology to support student-centered learning
August 9, 2022
When we think about technology's role in student-centered learning, we have to remember that facilitation is its central responsibility.
As more and more districts, schools, and educators look to integrate student-centered approaches into their classrooms, new hardware, software, and platforms can help improve the learning environment.
We'll explore how careful selection of edtech tools—and effective implementation—can help students connect more deeply with the learning process.
What is student-centered learning?
Student-centered learning is an approach to education in which learning pathways and goals emerge from individual learners' experiences, curiosities, and interests. Teachers work to empower students through project-based learning and other techniques that place a primary emphasis on critical thinking skills and student needs.
Personalized learning is an important component of student-centered strategies. Research on student-centered learning has also identified the ability to learn from anywhere and at any time as an important element of the framework. However, this level of accessibility is sometimes difficult for schools to execute.
In discussing the relationship between technology and student-centered learning, the International Society for Technology in Education noted that there are two key questions guiding classroom integrations:
What's appropriate for the task at hand?
How can activities be designed to develop higher-order thinking skills?
Vitally, this is not technology for technology's sake, nor is it a glossy new package for passive learning. Instead, it's the thoughtful application of new tools to the classroom environment—it's tailored to what students need and designed to help them become critical thinkers and active participants in their own learning.
Edtech's place in student-centered learning environments
With its ability to help differentiate instruction and support learners as they pursue their own unique paths of discovery and exploration, edtech can play an important role in student-centered learning initiatives.
In particular, new solutions can support approaches to learning in which students' voices are at the center, and where learners are encouraged to make their own decisions about what and how they learn.
In a blog post from McGraw Hill about how technology can contribute to student-centered learning environments, the authors emphasize technology's ability to help:
Personalize instruction through scaffolded support and gamified activities.
Diversify the pool of available learning modalities, allowing students to make their own choices.
Facilitate collaborative, project-based learning experiences with real-world relevancy.
In these ways, technology can help promote active learning and elevate student engagement.
Key concerns when integrating student-centered learning and technology
In 2011, the Nellie Mae Education Foundation (NME) released its "Integrating Technology With Student-Centered Learning" report. This document explores the significant potential that technology holds to help drive meaningful student outcomes.
However, the research also identified several potential barriers to technology integration, such as:
A disconnect between the district's priorities and how technology is applied.
Having sufficient support in place for teachers to use technology in a way that promotes student-centered learning.
[READ: "Strengthening schools: Supporting teachers and implementing edtech"]
In the time since the NME report was released, many districts have adopted a more technology-forward approach to learning. However, creating student-centered classrooms—and supporting teachers' use of relevant technological tools—may still pose challenges.
Using the four P's to support technology integration in learner-centered classrooms
According to an article from Teaching Channel, one technique that might help educators confidently approach the task of teaching with technology in a student-centered way is to consider the Four P's model. This technique was identified by Christopher Bronke, an Illinois English teacher.
The four P's are:
Proficiency: Technology can be a gateway to student-centered outcomes, but only if learners know how to actually use the tools at their disposal in a meaningful way. To this end, teachers often carve out time in their lesson plans to promote proficiency in the technology being used.
Productivity: Educators have the opportunity to help students use technology to become more productive as they pursue project-based learning and other highly engaging experiences. This way, learners can focus on what drives their curiosity instead of getting bogged down in activities that are only a means to an end.
Progress: Here, "progress" is a verb, as in "progress learning." There are many ways that technology can help students grow their understanding by receiving more and better feedback. For instance, if educators want to make sure their students can receive a wide variety of thoughtful commentary on their writing, the Paper™

Review Center

may be helpful.
Product: There may still be a place for the shoebox dioramas and trifold poster boards of yesteryear, but educators are increasingly expecting more sophisticated projects from today's students. Thinking critically about how students can use technology to develop the products that represent their learning—reports, presentations, and more—can help connect the classroom to lived experiences.
[READ: "10 tactics for success as edtech evolves"]
How Paper promotes student-centered learning experiences
In addition to helping students progress their learning through the thorough feedback provided by Paper tutors on the Review Center, there are several ways the Paper platform can be used to effectively integrate technology into a student-centered approach to learning.
With 24/7 availability, Paper is accessible anywhere students can connect to the internet and whenever they need it. During Live Help sessions, learners are empowered to come to the platform with whatever questions they wish to pursue. There, trained tutors employ the Paper Method—a holistic, theory-based instructional framework—and guide students down an individualized, self-directed path where learners set their own pace. Sessions can be as short or as long as they need to be, allowing for the individualized and personalized support that fuels student-centered learning.
As they interact with the platform, students hone important skills for the 21st century while exercising ownership and agency over their own learning.
Empower students with the best technological support
As an educational approach, student-centered learning can benefit greatly from the thoughtful application and integration of appropriate technological solutions. Although barriers to effective adoption and implementation do sometimes exist, they can be overcome with careful planning and a shift in mindset. By focusing on how the right tools can help serve students as they claim greater ownership over their education, districts can better prepare the next generation for lifelong learning.
Ready to learn more about how to use technology—and other techniques—to promote student-centered learning? Take a look at our K-12 guide to student-centered learning.