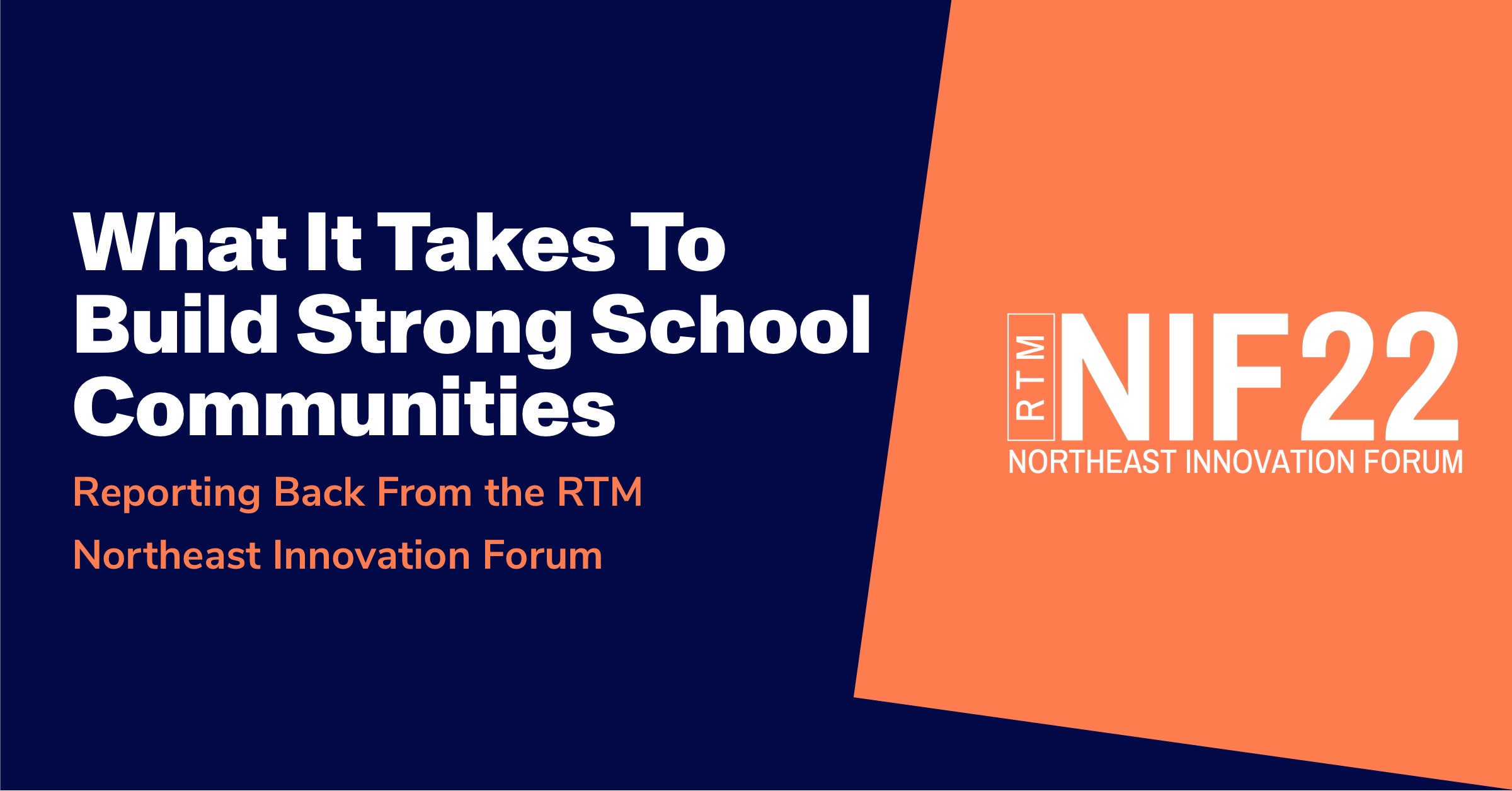 Strengthening Schools: Supporting Teachers and Implementing Edtech
March 24, 2022
It feels like we're at a convergence.
Today, longstanding challenges in education—like equity, access, and inclusion—have intersected with unique concerns that top district leaders have never seen before, from pandemic-related obstacles to an unprecedented political environment.
Our teachers sit right in the middle of these crisscrossing currents.


→ Download now: 5 reasons to empower your teachers with 24/7 tutors [free ebook]

Dr. Lindsa McIntyre, a high school superintendent in Boston Public Schools, cited recent research from the Rand Corporation to help describe the difficult situation in which we find ourselves.
"What we need to do as school leaders is provision for our teachers as we want them to provision for our students," said McIntyre.
In a fireside chat at the RTM Northeast Innovation Forum in Boston, the superintendent was joined by Lisa Spillane, a regional partnership manager for Paper who previously worked as an educator.
Boston Public Schools is a Paper partner. Dr. McIntyre noted during the panel how this edtech solution helps empower teachers and students alike.
"We have Paper in our district, and we love it," said the superintendent. "It allows our learners to independently access opportunities, 24 hours a day, across subjects, different languages, you name it."
Follow the links below to skip ahead.

What teachers need from district leaders right now
Strategies for cultivating psychological safety
Facilitating a connection between teachers and students
Differentiating our approaches: Implementing new technology
From the central office to the school building
What do edtech companies need to know?
Supporting students and teachers simultaneously
Helping teachers build community—and thrive in their roles
Mirroring and understanding the families in your community
Promoting retention and attracting talent
Managing the impact of politics
During the session, attendees joined these experts to discuss opportunities for improving school communities by elevating the voices of students, supporting teachers, and streamlining edtech implementation.
What teachers need from district leaders right now
Turning her attention to the high rates of depression and burnout that teachers are experiencing today, Dr. McIntyre underscored the importance of elevating support for educators to ensure they're able to truly provide for their students.
District leaders must create an atmosphere in which teachers feel comfortable sharing wholly who they are.
What does that look like?
"Offering them radical love and ferocious warmth as a way of allowing themselves to feel psychologically safe in the community," said McIntyre.
The opportunity to be fully present at school allows teachers to grow and serve their students better, she continued.
"In many school communities, people hide what they don't know for fear of judgment," said the superintendent. "But it's only when they're allowed to—even at lunch with their peers—talk about what they don't know or understand, or what they need to know . . . that the growth happens exponentially."
Strategies for cultivating psychological safety
Dr. McIntyre outlined three techniques districts can use to help every teacher feel valued and understood as a whole person:
Job-embedded supports: Coaching should take place locally—during the day and in the classroom.
Built-in modeling: Teachers have to be able to observe one another directly, and to develop relationships where they can approach administrators for help solving problems.
Replacing silos with connection: All educators need to know that there's an entire community backing them up, including partners, supporters, coaches, and peers.
In addition, members of the audience shared their own insights. One attendee mentioned the importance of working with health care providers to have counseling readily available on campus for staff members.
Another administrator from a virtual school discussed the unique issues faced by teachers at their remote-learning institution. While the school's educators were used to teaching online, they now had to contend with having their own children at home while also juggling an influx of new students. Further complicating matters, many of these learners—and their guardians—weren't used to the format.
The school chose to revisit some of its instructional policies in light of the circumstances, and leaders focused on tweaking organizational processes to better accommodate the changes their teachers were seeing.
Another important point of discussion centered on taking time off. Spillane and others reiterated the necessity of helping educators shake any sense of guilt they might feel about temporarily stepping away from the classroom to focus on themselves and their families.
Administrators also emphasized the importance of empathizing with teachers who are struggling to secure classroom resources or to manage other stressors.
"For our staff, it was so healthy to hear from the leadership team, 'It's OK if you don't hit a grand slam today,'" said one attendee. "As long as you're present with these kids, that's the number one thing."
Facilitating a connection between teachers and students
While it's vital that administrators build strong relationships with their teachers, the work doesn't end there. The student-teacher relationship is at least as important—for educators and their scholars.
Dr. McIntyre shared important takeaways from work that she's done around this topic.
"A lot of times, we take our students for granted," said McIntyre, explaining how learners are fully capable of offering useful opinions about how the school should look and feel.
She described working in an environment where the presence of the school-to-prison pipeline loomed large.
"They'd all been discarded for whatever miscommunications existed, and these were some of the most brilliant Black and brown boys I'd ever met," said McIntyre.
To help ensure that the school was responsive to their needs, Dr. McIntyre tapped her scholars directly for support. Students videotaped classrooms and discussed with her what was going well and what could be improved.
Outcomes rose. McIntyre attributed the sudden gains in this school to the empowerment of her students.
In another instance, Dr. McIntyre handed hiring decisions over to the scholars. They conducted interviews and provided her with feedback on the candidates. Educators who didn't make eye contact during the interview process, and who didn't address the students by their names, didn't fare very well.
Following her approval, a cohort of teachers was hired, and they built lasting relationships with the school community. The educators have deep roots in the school, and their scholars have gone on to pursue their full potential.
Dr. McIntyre carries this lesson with her in her work today, as she promotes diversity in hiring and continues to elevate student voices.
"We just have to include them. And that's an adult problem—inclusion. It's not a kid problem," said McIntyre. "They know how to include one another. It's adults that don't model it for them."
Differentiating our approaches: Implementing new technology
Listening and inclusion are so important for school communities because one-size-fits-all approaches don't work in education—at any level.
For example, students have different preferences when it comes to learning new technologies. Some require a great deal of direct assistance, Dr. McIntyre noted, while others want to explore on their own.
The superintendent thinks that administrators could learn a thing or two from the inclusivity students demonstrate while gaming in their free time.
"They're totally engaged. They're immersed. They're learning," said McIntyre. "But guess where they're doing it? At home in their bedrooms with their peers—and they're fully inclusive."
"So if we could begin to model those skills—that allow them in—our classrooms would look like that. Our technology use would look like that all the time," she continued.
That same inclusive approach needs to be applied to professional development too. Dr. McIntyre recommended that diverse approaches to learning need to be deployed when new technology is rolled out. On its own, a self-guided online portal may not be sufficient for encouraging widespread enthusiasm and adoption.
"Professional development is so important," said McIntyre. "Adults need to ask very pointed questions and get very pointed answers."
From the central office to the school building
While decisions around technology often take place at the central office, the rationale behind these initiatives can sometimes get lost in translation. By the time teachers are introduced to a new program or platform, skepticism can set in. Teachers may wonder, "Why am I really being asked to use this tool?"
"And that only happened because of the handoff," said Dr. McIntyre. "You have to have a warm, instructional, relational handoff from the central office to the school leader or the school community."
One way to build trust is to ensure that educators know the new technology is not tied to teacher evaluations or other performance-related criteria.
Echoing that sentiment, one audience member spoke about how his district was using a new professional development platform to help encourage student growth.
"We stress, 'growth, not gotcha,'" said the administrator.
That kind of mindset takes consistent reinforcement. One teacher, responding to a comment from an observer on the platform, began to apologize for what they perceived as a failure on their part. Multiple administrators stressed in their responses that there was no need for an apology, which the teacher found particularly reassuring.
Dr. McIntyre expressed how this story further exemplifies the role of edtech implementation in promoting the kind of psychological safety that's so crucial for educators today.
What do edtech companies need to know?
Moderator Lisa Spillane asked for additional insights from the audience about how edtech companies could better support teachers and district leaders.
There were several illuminating responses:
Focus on the user experience: Reduce the number of clicks, and make sure that all potential users—students, teachers, and administrators—can learn the tool quickly.
Help with the handoff: A bumpy transition from the central office to the school building could be an ideal area for vendors to provide additional support.
Extended trial periods: The standard window for executing a pilot, whether it's 30 or 60 days, could be too short—especially during times of significant learning disruption.
Make it easy to find help documents: Users should be able to find troubleshooting tips very easily.
Recognize that schools don't all fit into the same box:

From open-enrollment environments to innovative academic institutions, there's a world of variety in today's educational landscape. Tech leaders need to take note.
Supporting students and teachers simultaneously
Spillane noted that the role of technology in supporting teachers should also have a positive impact on students.
Dr. McIntyre reiterated the importance of emphasizing growth and achievement—for teachers and students alike—while offering a wide variety of methods for learning how to integrate new technology into the classroom.
She also added that technology can never replace the importance of student-teacher relationships in terms of promoting student engagement.
Helping teachers build community—and thrive in their roles
With all of the stress and strain that educators face, connecting to a community of peers can make all the difference in persisting in their careers.
Dr. McIntyre pointed out the importance of affinity groups in facilitating a shared sense of camaraderie among faculty, including for Asian and Latinx teachers, and for other educators of color.
"I think that's one way we encourage them to not be in a silo, but to be a part of a team or a group bigger than themselves," said McIntyre.
Mirroring and understanding the families in your community
The superintendent also emphasized the importance of promoting diversity, which benefits the entire school community.
"Who in your community represents the scholars that you teach, and is there enough representation?" asked McIntyre. "And is that representation presented to the scholars in a way that they can look up to that person and not look down?"
District leaders and educators need to be able to relate to the families they serve. Dr. McIntyre explained how the scramble to secure devices during the pandemic gave way to accompanying issues around internet access and technological savvy.
"So it was like a growing process," said McIntyre. "If we could create equitable opportunities to bring people together to problem-solve forward, then we could maybe uncover these things . . . and address them more efficaciously and in a timely manner."
Promoting retention and attracting talent
Even with strong administrative support and vibrant community-building efforts, teacher shortages are a fact of life today. How are innovative districts across the country using retention strategies and workforce pipelines to help mitigate these challenges?
One attendee spoke of his district's efforts to bolster support for teachers in the first three years of their career, particularly through a Novice Teacher Mentor program. Mentor teachers are hired with the full-time duty to guide and encourage colleagues who are still new to the field.
The results? Retention rates improved dramatically, and the mentorship program was seen as a valued perk for candidates thinking of launching a career in the district.
Other administrators spoke about the value of internship programs and community partnerships, as well as the benefit of offering opportunities to unwind.
"We just started this in February, but it's called 'You Matter Mondays,'" said one attendee. "It's about 10 to 15 minutes, and it's sort of like an affirmation—why you matter and what you're doing."
Another participant shared the win-win situation that resulted from encouraging new teachers to lead professional development sessions on how to use technology.
"That inclusivity really seemed to help us retain our teachers over the years," said the administrator.
Managing the impact of politics
Before the conversation came to a close, Dr. McIntyre turned the group's attention to the effect that the current political landscape can have on teachers.
"How I like to think about it is through my position with it," said McIntyre. "How do I bridge it? How do I buffer it? How do I mitigate it? How do I do what I need to do with it so that it doesn't hurt teachers and leaders?"
Participants in the discussion shared a similar perspective on the need for leaders to address these issues head-on.
"I love your terminology of being a buffer," said one attendee. "We have a responsibility as a leader to keep that off of our teachers."
"It's important for us in our positions of authority or influence . . . to hold that up and not let politics hurt the people that are in front of our children every day," McIntyre added.