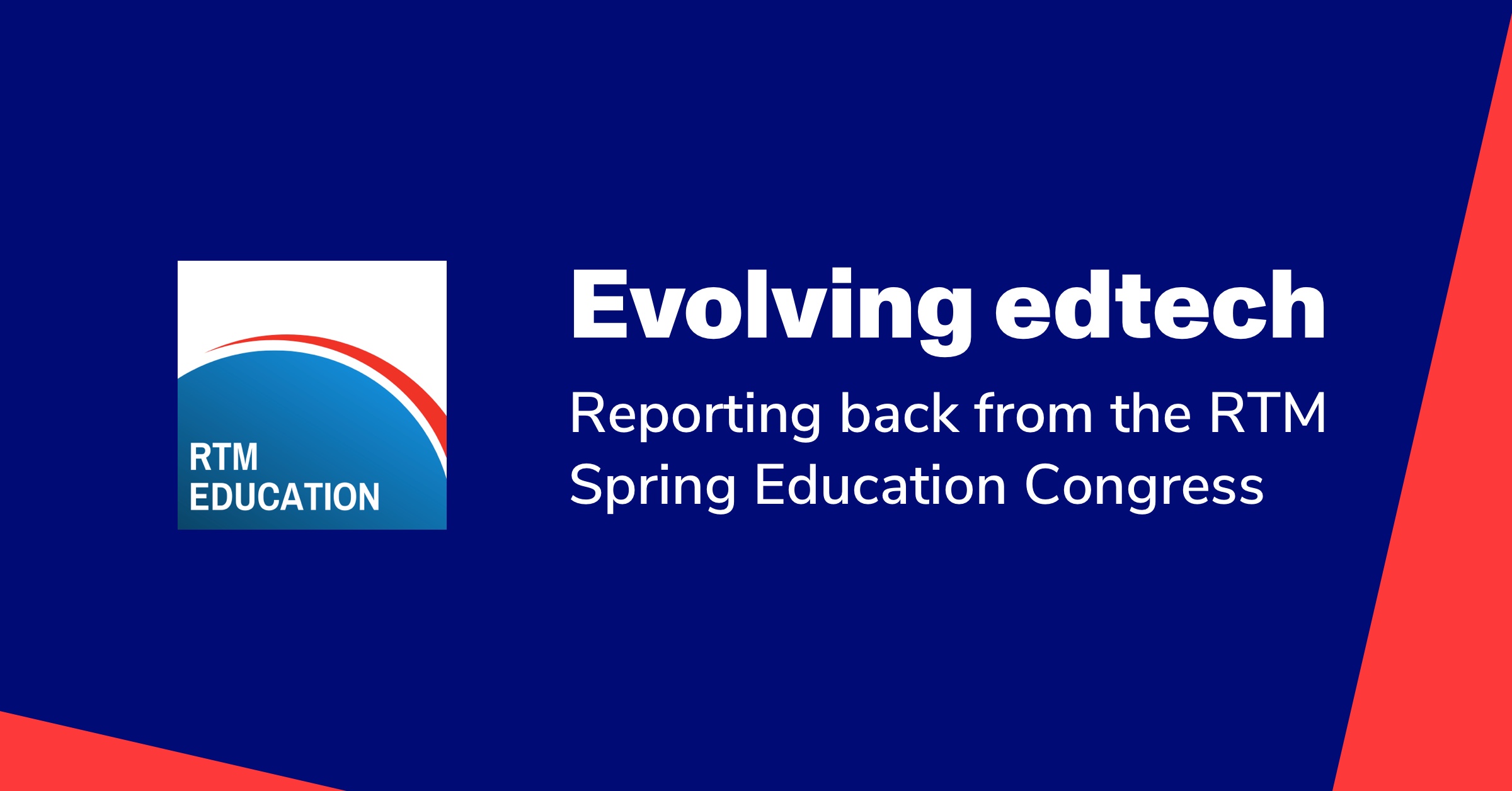 10 tactics for success as edtech evolves
April 20, 2022
Think back to the earliest kind of cellphone you can recall. While members of various generations will likely conjure up different images, this exercise highlights a fundamental truth about technology: It's constantly evolving.
That's what Michael R. McCormick, superintendent of Val Verde Unified School District, reminded us during a panel at the RTM Spring Education Congress in Los Angeles.
Likewise, Dr. Lindsa McIntyre, a high school superintendent with Boston Public Schools, shared how crucial strategic decisions can make edtech implementations thrive.
These two experts were joined by Paper's Devon Bratton, a lead partnership manager, for an insightful conversation about how to begin, execute, and maintain edtech initiatives within districts.
Want to roll out new technological tools in a way that drives long-term adoption to better support students and teachers alike? We'll take you through preliminary planning, the initial rollout, and ongoing maintenance, highlighting 10 crucial tips along the way.
Getting started: Foundations of success
Before an effective edtech rollout can take place, administrators need to be sure that they have the proper pieces in place for a seamless start. Focusing on relationships and learning which individuals can champion the tool will go a long way toward launching a new solution from a position of strength.
1. Build goodwill
This step is twofold. Teachers need to feel embraced and accepted by the administration if they're going to get behind a new initiative, and they also need to know that leaders in the district are working hard to build capacity and foster connections among educators and colleagues. With this in mind, set the stage for a school community that is accepting, empathetic, and collaborative.
"Don't leave them alone in the work," said McIntyre. "Build a support system for them in the context of their content, their grade level—whatever it is they do at that school—so that they're not alone."
2. Grant teachers ownership
New technological implementations may be initiated at the administrative level, but the teachers who are actually going to be using these tools day in and day out have an immense stake in the rollout too—they need to know that their voices are being heard, and they have to feel like they're able to influence how these tools support their overall plans and objectives.
"You actually want to liberate your teachers so that they can have ownership over this stuff," said one audience member.
3. Identify and incentivize internal edtech champions
"We have teachers that are given IT superpowers," McCormick said. "Right now, we have 61 of them across the district, and the idea here is that these teachers are available for their colleagues."
With the ability to quickly ping one of their peers in an informal setting, teachers who are new to the solution will avoid the burden of wading through the potentially time-consuming process of filing an IT request.
Additionally, these pathfinders—who may earn a stipend for their contributions—take care of some of the initial work required to smooth out adoption difficulties other teachers may face.
Rolling out the edtech solution and scaling up adoption
The middle phase of this process includes a great many challenges, from onboarding a new piece of technology to troubleshooting the initial implementation and encouraging widespread adoption.
Forging connections and developing an effective strategy for early and ongoing training opportunities can make all the difference.
4. Connect the central office to the ground level
There are two elements for success that need to be brought down from the administrative level to the place where teachers work: trust and training.
"We get the technology on a systems level," McIntyre said. "We train all the system leaders, but we don't train the end users, so we run into challenges in that area."
Administrators need to make sure they're providing adequate training and support, along with a clear and compelling rationale for usage, from the outset. Moreover, this knowledge has to make its way to the teachers.
5. Work with partners that provide effective professional development at launch
This one is largely a note for edtech vendors, but administrators seeking a new solution may want to include professional development in their list of criteria as they select the top provider for a particular solution. Without receiving effective professional development while onboarding the new edtech product, educators may simply view this new tool as just another check box on their compliance list.
Teachers need training to understand and appreciate the true potential new solutions hold for improving their classrooms. Individual educators may be skeptical at first, but with the right approach, they can be won over.
6. Solicit feedback
Initial training is important, but it's just the first step. Crucially, the introductory wave of PD should set the stage for a feedback loop that informs further support strategies.
Use teacher surveys to gather qualitative and quantitative data related to the progress of specific digital strategies. Sharing these results with the appropriate stakeholders can help inform action plans.
It can take time to gather all of the relevant information together—and to coordinate with each related professional group or leadership council—but it's absolutely vital that the reporting on this data makes its way back to the teachers.
7. Follow up, and find time for targeted retraining
We all know that gathering input is the easy part. It's much more difficult to take that information and turn it into something useful. Likewise, every district leader is aware that time is at a premium.
Well-executed edtech implementation plans can head off some of the more time-intensive retraining and professional development work, but some amount of additional troubleshooting may still be necessary.
There's no way to sugarcoat it: Carving out the minutes, hours, or days that this kind of support demands is difficult. Administrators have to get creative while balancing the needs of all of the different stakeholders at play. At times, it's a tightrope walk. But when student support is on the line, it's definitely worth it.
Driving engagement with a well-maintained edtech solution
Once innovative educators are up and running with a new edtech tool, the work still isn't quite done. In fact, these kinds of implementations require ongoing evaluation and stakeholder relationship-building in order to produce the greatest benefit for students, teachers, families, and others.
8. Prioritize solutions: Keep what's working
Strategic abandonment is key. Solutions must be continuously reevaluated in order to determine what's still beneficial and so administrators know which now-obsolete products to prune.
Effective prioritization is essential for making sure that top-line initiatives have the room required to take root within the organization.
When administrators carefully scrutinize and validate what's truly working for students, they can be certain there's a compelling reason to continue investing in the effort.
9. Work side-by-side with teachers
Superintendents and supervisors who walk the halls and take the time to talk shop with teachers have the opportunity to build rapport. There are numerous benefits to opening up these channels of communication, including the opportunity to foster a dialogue about equity within the arena of edtech.
In this way, administrators can join educators in the common goal of addressing systemic inequities to foster a shared sense of belonging and technology's place in it.
10. Build trusting, caring relationships
By now, it should become clear that relationships are instrumental to any successful edtech launch and implementation.
Keep two related but distinct concepts in mind: accountability and responsibility. While "accountability" may carry connotations of fault or blame, "responsibility" can be an empowering term—especially when it's applied in an encouraging manner.
"When we think about it in terms of building collective and personal responsibility for student success, that's a very different feeling," said McCormick.
Education professionals must address the needs of the whole student—that's a core responsibility of the job, and quite a fulfilling one too. A crucial step in any K-12 initiative is to make sure that administrators see and acknowledge the whole teacher as well.
For more information about top priorities facing education leaders today, take a look at our K-12 leadership guide.