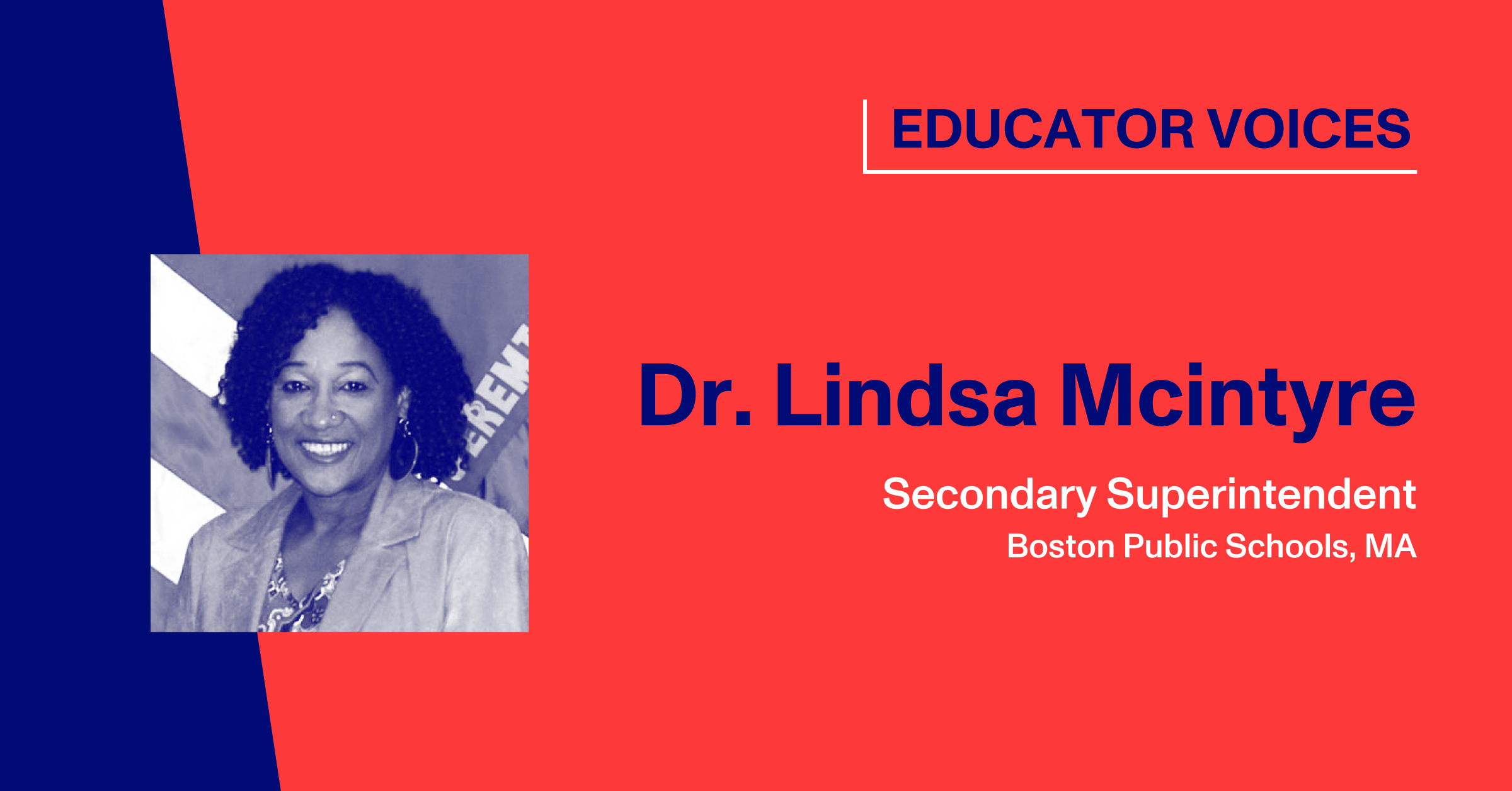 5 Questions With Dr. Lindsa Mcintyre
July 14, 2021
Dr. Lindsa Mcintyre, Secondary Superintendent at Boston Public Schools, is known for her exemplary instructional leadership and work strengthening community bonds.
She relies on two principles in her work: One, educating is about your socioemotional, socioeconomic, and sociocultural understandings just as much as your cognitive ones. Two, leadership is not a march. It's a dance. And you really have to feel the rhythm of your community.
What is your district doing to tackle the need for learning recovery and acceleration, especially for students transitioning from middle or high school?
We are engaging the work with a heart for socioemotional learning and understanding that there need to be multi-tiered systems of support. One size doesn't fit all, and we need to engage the whole child and the whole community to meaningfully close equity gaps. We know that our Black and brown students, our English language learners, have been disproportionately impacted by COVID. Many of them had to make what might seem to be a choice between learning and earning. We don't feel like that was a fair choice for them to have to make.
We also need to organize a structure that supports the idea that learning just doesn't take place between the walls of a school building and schedule but that learning is boundless. As a result, we are including internships, job shadowships, and early college programs as part of a student's learning profile.
Lastly, we need to amplify our partners' voices in all this. We're operating 'equity roundtables' to allow our community members to bring their experiences and knowledge into the dialogue about the challenges we're facing.
How are you prioritizing closing equity gaps in 2021?
We've committed to anti-racist leadership to ensure that every child in every classroom, every day has equal opportunities. And we understand that a diverse cadre of teachers and staff supports those goals.

So across all our schools, we're focusing on who we're hiring as teachers, not just from the perspective of them being certified, but from them having diverse backgrounds and language characteristics—so that our students can see themselves in the adults around them.

So now we have social workers, family liaisons, and school nurses in every single one of our buildings that model and mirror the demographics of the students and families they're serving. At the same time, we're building a pipeline of district leaders that is reflective of that same level of diversity.
How are you catering to your staff's wellbeing so that they can do their job better?
We all know the responsibilities of our staff are immense right now and that they need support to continue responding to the needs of the community. We believe that inspirational leadership gets you a larger return on your thought process than being authoritative. The brain recognizes 60% of what you feel and only 40% of what you know. So our model has been to generate goodwill in our staff by practicing radical love and ferocious warmth and creating the psychological safety necessary for them to come to us for help.

To shape our culture and build the capacity of our staff, we promote PLCs, common planning time, and other spaces where they can build community and learn from one another—whether that learning is social, emotional, or cognitive, there's space and time built into the calendar for us to honor that.
As we look to the new school year, how will your district be using unprecedented relief funds to propel your long-term goals?

The pandemic is that red flashlight that allowed everybody to zone in on the inequities that already existed. As part of our response, we moved towards 1:1 devices. We started putting food sites all over the city. We partnered with Citi, Becoming A Man, and the Boston Debate League to provide students with mentoring opportunities and a sense of belonging outside our building walls. So with this funding, these are things we have to pay attention to well beyond the pandemic.

We have been reconfiguring our schools to not just be nine through 12, but seven through 12, to give us a head start on preparing students for college pathways and career exploration. We're focusing on funding pre-AP so every child, seventh, eighth, ninth grade, has access to strategies for success. We're also funding opportunities like International Baccalaureate, building up our CTE programs through our corporate partnerships, and increasing the number of college partnerships for dual enrollment and college.
Can you share one takeaway from the crisis and how you're applying it to help better your community?
As much as this crisis presented a challenge, it also gave opportunities for us to course-correct, to be more relevant and responsive to who we serve as an academic institution, and to embrace 21st-century learning in our urban classrooms.
We can see how it's just not about content knowledge—it's vital for us to build relationships and effectively engage our students because otherwise, students will choose not to be present with us. We're identifying the structures that have been used to disproportionately segregate students of diverse backgrounds from the mainstream and looking at how we can productively remove those in the spirit of anti-racist leadership.
Those are the wonderful opportunities that the pandemic, with all of its challenges, has highlighted.
This interview, edited for clarity and length, is part of a series with educational leaders to highlight their perspectives on the changing realities of education.