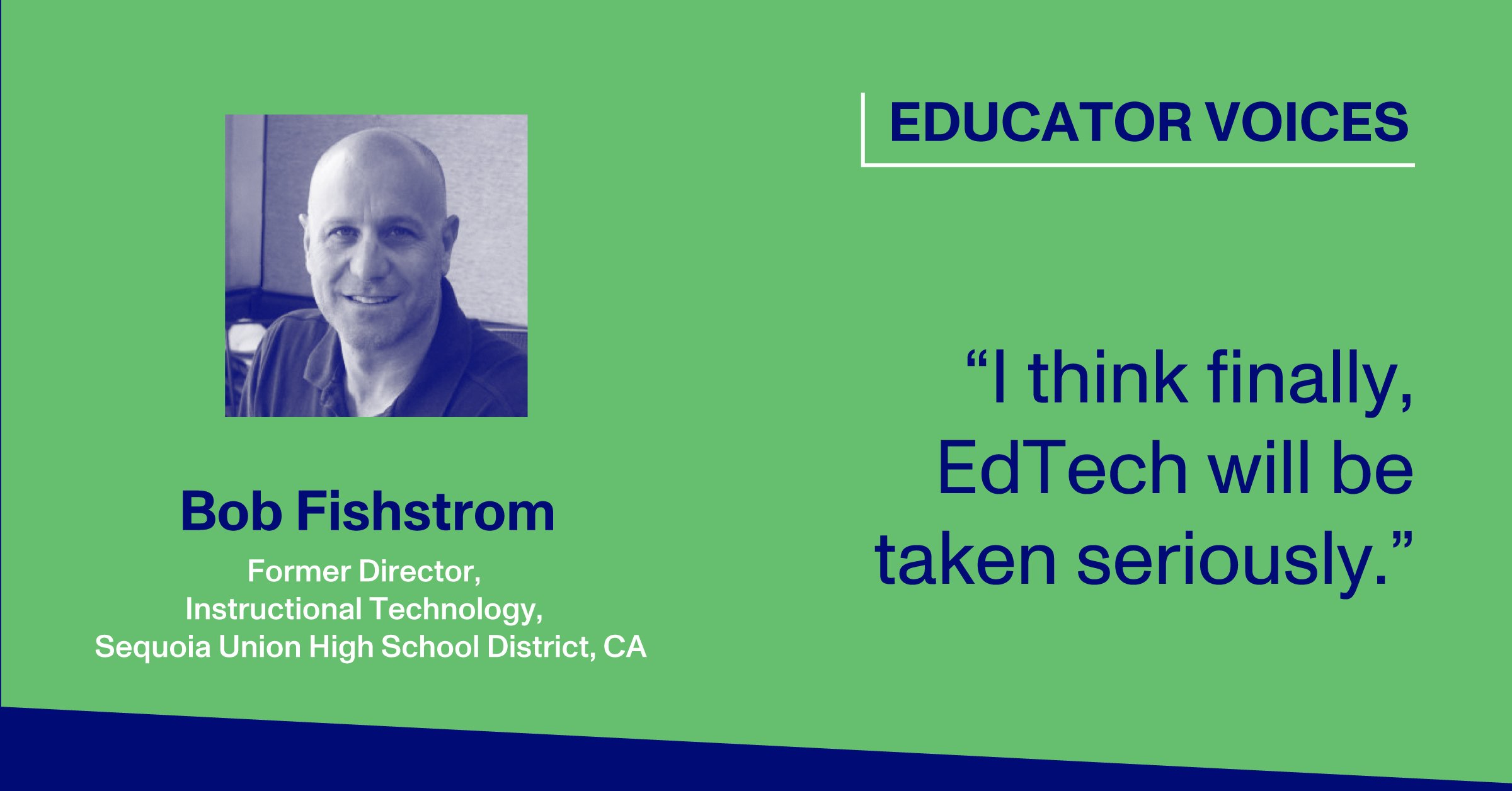 How This Director of Tech Prepared a California District for Closure
April 3, 2020
Bob Fishstrom, from Mountain View–Los Altos High School District, generously agreed to share his insights on the role of EdTech during this challenging time.
I think finally, EdTech will be taken seriously. That's my biggest takeaway from [school closures]. It's like, you know, so many people in this profession say: 'I don't have time to learn this. I don't do technology.' Well guess what? You don't have a choice now.
Bob Fishtrom is the former Director of Instructional Technology at Sequoia Union High School District, and the current Director of Information Services at Mountain View–Los Altos High School District.
While at Sequoia, he brought Canvas, Zoom, and Paper to the district—setting them up for remote and online instruction before it became the necessity it is today.
While attending the 2018 CETPA conference in Sacramento, California, Paper's founder and CEO Philip Cutler had the opportunity to meet Bob during one of his sessions. After having been introduced to Paper, then known as GradeSlam, Bob acknowledged how impressive the concept of the Educational Support System was: "The program was relatively new, but I immediately saw the impact it could have." After a few months of Bob reassuring teachers and district administrators that this was the right move, Sequoia Union High School District implemented Paper for the 2019 - 2020 academic year.
Although Bob left the district soon after the implementation of Paper, he was pleased to hear that the partnership was successful. "I was really happy to hear that and to hear how good the numbers are."
Phil reached out to me and talked about how well Paper was implemented. I wasn't surprised, because I know that Paper is really committed to getting its people out there to train students and teachers on using it.
Bob's former colleagues at Sequoia Union High School District are now commending his efforts in implementing tech initiatives that allowed the district to be prepared for remote learning: "It was a team effort," he said. "We had to have tools like Paper for the kids because we were not meeting every kid's needs."
How Paper is helping students
Bob described how Paper, offering personalized academic support, can help districts address equity gaps. "We're living in a really tough economy to afford enough tutors, and Paper helps with that," he explained. He commended Paper as a huge resource for the students who are struggling, describing one of the main features: students receive unlimited one-on-one help from a tutor, for any subject, who guides them in their learning. These sessions are also recorded and made readily available for teachers, completing the feedback loop.
Looking to the future of education
We asked Bob how he thinks the recent school closures and shifts to distance learning will change the education landscape around the world:
"I think finally, EdTech will be taken seriously. That's my biggest takeaway from this. It's like, you know, so many people in this profession say: 'I don't have time to learn this. I don't do technology.' Well guess what? You don't have a choice now," he responded.
One argument that Bob finds himself reiterating is the fact that we're educating a generation that grew up on technology, and how digital literacy will be a significant component for their post-secondary success.
Bob acknowledged however that introducing new technology in a district is a significant culture shift. This is why it's crucial to reassure teachers that tech is there to help them, and not add to their workload or even replace them. "Teachers are not going away. We will always need teachers, but these are supplemental tools that are going to enhance curriculum and opportunities for students, and create that differentiated environment where students have autonomy and choice."
However, he emphasized that in order for EdTech initiatives to reach their full potential, they need to be implemented thoughtfully. He outlined the role that district leadership plays in this: "EdTech is here to stay, but if leadership doesn't get up and model the technology appropriately, and take it seriously, it's never going to take off."
Similarly, he spoke on the fact that EdTech partners have an ongoing role to play. "It is my 25th year in public education. So I think I have a pretty good grasp on what's effective and what isn't. I'm also not afraid to admit when things don't go well, because not every implemented program goes perfectly," he said, alluding to the multi-tiered implementation and training strategy offered by Paper's Student Success Team.
It's why I really appreciate the Paper model. It's not one and done, and that's why a lot of programs aren't as effective.
He acknowledged the efforts that go behind this, stating that "there's passion behind what your team does."
We have been suddenly pushed into remote learning and schools may feel exposed during this time. The key to success, a belief held by both Bob and us here at Paper, is being as prepared, careful, and thoughtful with implementations as possible.
More importantly, it is meeting learners where they need to be met.