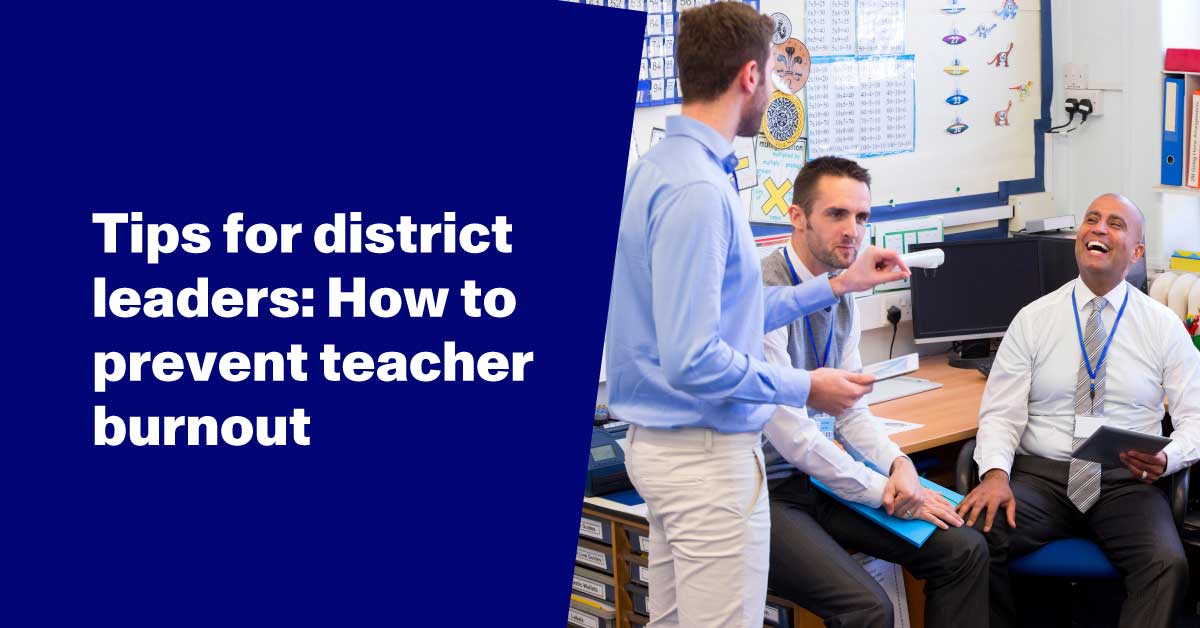 4 ways district leaders can help avoid teacher burnout
June 3, 2022
It has been just over two years since districts were upended virtually overnight by the rapid spread of COVID-19.
As we now know, what followed is a situation that a pandemic-related literature review in Higher Education for the Future called "the largest disruption of education systems in human history."
Among other shifts, districts moved swiftly to remote learning. Administrators worked quickly to implement new learning solutions, and students, teachers, and caregivers alike found themselves adjusting as best they could.

Issues of academic equity became even more apparent:
Some families grappled with frustrating connectivity issues or found themselves without effective learning devices.
Other students struggled without the usual one-on-one support from their teachers.
Student achievement levels lagged, according to a McKinsey article on learning loss—and this impact was magnified for students of color.
District leaders have endeavored to address these challenges, though some systemic issues linger. Still, much has improved since the early days of stopgap learning solutions and adjusting to the education sphere's new normal. However, one particular issue is more pressing than ever in the journey toward ensuring happier, healthier educators and more effective classrooms: teacher burnout.
What to do about teacher burnout: A persistent, yet timely concern
Teacher burnout has reached epidemic proportions.
In fact, National Education Association (NEA) survey results published in February paint a stark portrait of educator burnout in the United States. According to the report's findings, the vast majority of educators recognize burnout's gravity: A full 9 in 10 respondents note that burnout is a "serious problem." Likewise, 91% of the association's members mention that stress created by the pandemic's ripple effects—even two years in—is of serious concern.
In looking for ways to avoid teacher burnout, it's undoubtedly helpful to understand why the problem has reached this precipice. Recent reporting on teacher burnout by Business Insider cites the following factors as key contributors to teacher burnout:
Stressors that are endemic to the profession.
Clashing preferences surrounding management styles.
Political and caregiver pressure.
Ambitious laundry lists of day-to-day responsibilities—including ones that exist outside classroom walls.
Additional pressures brought on by

teacher shortages

, including a lack of substitutes.
Slowing talent pipelines.
In turn, a staggering number of teachers—55%—admit they're thinking about exiting the teaching profession earlier than they had anticipated, according to recent educator survey results from the NEA. This percentage is higher for Black and Hispanic teachers who are already underrepresented in their field, as noted by a Pew Research Center article on diversity among public school teachers.
[READ MORE: "Teacher burnout also impacts students. Here's how."]
Reframing teacher burnout solutions: Adopting a holistic approach
Of course, preventing teacher burnout among educators will require a mindful, dynamic, and empathetic approach.
Addressing teacher burnout requires more than encouraging teachers' resilience or telling them to pencil in time for self-care. Giving teachers this kind of advice alone could convey the idea that burnout is a personal problem—and that those who experience it simply aren't resilient enough to push onward and upward. However, we know this is rarely the case. Rather than tying teacher burnout back to the individuals experiencing it, leaders should reframe it as a wider systemic issue.
In addition, viewing burnout as a symptom to treat will only go so far. District leaders must address the root causes of burnout so teachers can truly thrive.
Pointers for district leaders on how to prevent teacher burnout
Advice abounds on how to avoid teacher burnout, both for educators themselves and the district administrators guiding them. However, there's no single solution for an issue that is systemic at its core—and a combination of tactics might be more likely to succeed.
A Brookings Institution article on teacher stress and burnout suggests a wider "two-pronged approach" that emphasizes both individual and organizational shifts. The following pointers incorporate elements of both types, and they could be a solid starting point for district leaders trying to understand how to recover from teacher burnout most effectively.
1. Open up opportunities for teachers to learn from their peers—or dedicated coaches
Providing educators dedicated time to learn from peers or coaches could be a particularly powerful way to shore up teachers' skills and keep burnout at bay.
According to a study on collaboration among U.S. educators by the RAND Corporation, teacher collaboration is a key component of keeping educators' skills sharp. The study's authors state that collaborative activities "can provide opportunities for teachers to engage in informal mentoring." Likewise, they can help teachers learn about instructional approaches they might not be familiar with already "and co-construct understandings of policies and practices."
In turn, teachers not only create lasting and rewarding peer relationships at work, but they can also shore up their own classroom approaches with the tips and tricks they acquire through such exchanges.
However, the RAND study also notes that teachers across schools—regardless of the community's general socioeconomic status—report little time to devote to collaboration with colleagues. In fact, only 31% of teachers say they have enough collaboration time. This means administrators must get creative about finding opportunities to foster collaboration—perhaps by giving teachers back time in their days to devote to interacting with colleagues.
Coaching programs are yet another way to encourage collaborative moments among teachers. Not all professional development initiatives are created equal, but a Brookings Institution article on instructional coaching notes that this model is a way to personalize such efforts—allowing teachers to get targeted support in the areas where they could use some backup.
2. Allow teachers to use their voices, and grant them additional autonomy
Research on teacher stress and health from Pennsylvania State University mentions that, compared to workers in other fields, teachers are the least likely group to feel that their voices and opinions are heard in the workplace. At the same time, the number of teachers reporting little job autonomy seems to be increasing by the year.
With this in mind, giving teachers a democratic forum where they can safely weigh in on school decisions—and confirm that expectations placed on them are doable—could be key to boosting morale among educators. This could also add to a greater sense of role-related control, which the Pennsylvania State University researchers say could quell teachers' stress-related health concerns.
To start, a WeAreTeachers article on giving educators a voice suggests the following:
Implementing regularly scheduled staff climate surveys.
Forming committees that directly involve teachers in decision-making processes. This should be possible not only for classroom decisions, but also school and district ones.
Ensuring that leadership follows through on implementing teachers' advice.
Flexibility is also of concern here. A RAND survey on stress among educators notes that teachers who switched to nonteaching roles in the education sphere credit flexibility as a key reason for their career shift. With this in mind, give teachers additional space to be flexible within their roles—as long as these opportunities free up time for them, rather than saddling them with extra duties. This might include offering chances to work from home, allowing parent conferences and staff meetings to be taken remotely, or onboarding tutors so that educators can relax and recharge after hours.
3. Crowdsource ways to ease up administrative burdens and overflow work
Teachers might feel overwhelmed when it comes to the many demands placed on them. Whether they're completing paperwork, planning lessons, grading essays, or strategizing about how to accommodate expanding classroom sizes, the scope of teachers' roles can quickly become taxing.
An NEA article on avoiding teacher burnout mentions that teachers will feel more supported by district leaders who directly recognize their efforts and work actively to free up their time. That might involve decreasing administrative tasks such as paperwork or allowing teachers to block off additional time to more adequately support their students. One interviewee in the article encourages leaders to open avenues of conversation with teachers to uncover their most time-consuming tasks or inquire about specific support systems they'd like to see. Tutors can help back up teachers in several ways.
4. Double down on wellness initiatives
Many district leaders and teachers are no stranger to common wellness-oriented sessions, tools, and perks: think Casual Fridays or complimentary massages. Although providing these options is a great starting point and a definite positive for teachers, holistically preventing teacher burnout requires administrators to position continuous mental health support as an integral element of teachers' daily lives, including in their benefit packages and schoolwide policies.
According to KFVS12 reporting on new school-related legislation in Illinois, the state would mandate that school districts allow full-time employees to use sick days for mental or behavioral health reasons. Some school districts have taken mental health-related benefits into their own hands; Illinois' Quincy Public Schools allows teachers to schedule a handful of free counseling sessions through its dedicated insurance plans, for instance.
The appetite for this kind of support might also be expanding. An article for Education Week by clinical psychologist Megan McCormick urges schools to directly sponsor therapy sessions for educators. A KQED article on mental health support for teachers also covers a district that took this one step further by hiring two dedicated counselors to support its teachers. Providing support for teacher well-being will look slightly different for every district, but the end result should be the same: robust, readily available mental health support offered throughout the school year.
Curbing the teacher burnout epidemic
No matter where your district is in the journey toward ending the teacher burnout epidemic, it's imperative to frame teacher burnout as a systemic issue rather than a personal problem. From there, enterprising district leaders can work to tackle the roots of this issue in pursuit of higher job satisfaction and better teacher retention.
Looking for a fresher way to support the dedicated educators in your district and avoid teacher burnout? A team of high-quality tutors, ready to assist students in various subjects, can benefit teachers during the school day and reduce the time spent helping students after hours. Learn how in Paper's ebook on empowering teachers with 24/7 tutoring.