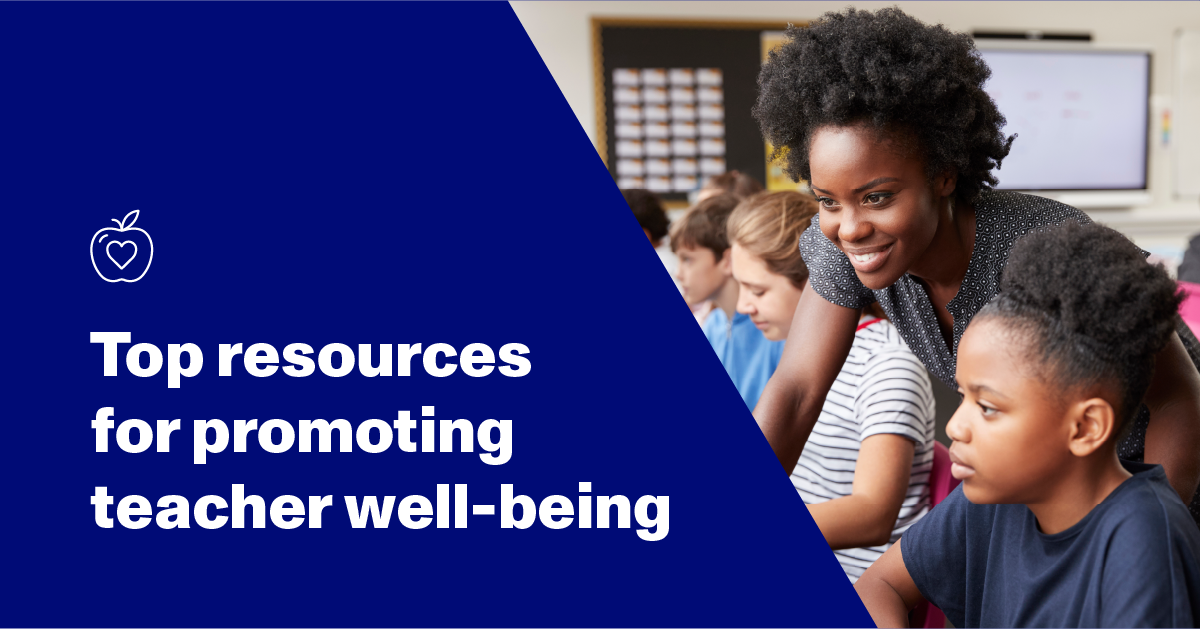 5 types of teacher well-being resources for your district
April 29, 2022
We all strive for well-being, but none of us are immune from the potential setbacks and adversities that could knock us off the wellness path.
Teachers, in particular, face steep challenges while having to shoulder an immensely important responsibility: the education of future generations.
Looking for ways to assist teachers in your district by connecting them with helpful resources for building well-being? Read on to get inspired.
Teacher well-being and mental health
A widely referenced Rand Corporation survey found that depressive symptoms may be more common among teachers than other adults. After all, teachers' key stressors can range from everyday occupational obligations—like instruction and classroom management—to navigating rapidly evolving global concerns. For example, no teacher has been left unaffected by the COVID-19 pandemic.
In addition, many educators may experience heightened stress as their ever-growing list of responsibilities seems to include more tasks that fall outside the core duties of their role.
In short, teaching has always been a challenging occupation, but longtime educators who remained in the field found the experience rewarding enough to put in the time and effort it takes to excel. Now, however, the additional stressors that today's teachers face may be tipping the scales for some.
Why is wellness important for teachers?
First and foremost, wellness is important for everybody—and that most certainly includes teachers. All people deserve the opportunity to pursue positive mental and physical well-being, no matter their occupation.
In addition to the high value placed on promoting teacher well-being, district leaders also have to be mindful of the potential consequences for the school community as a whole—and for students in particular—when teachers struggle with well-being. As educators experience burnout, districts may be left scrambling to fill teacher vacancies.
When all is said and done, teacher wellness is important for the whole school community, because students benefit from it too.
5 types of resources for teacher well-being and specific examples of each
Obviously, there's no single solution to the issues that weigh on our educators. Promoting well-being throughout school communities takes a deep, sustained commitment from administrators. Those who are truly able to assess the school climate and take proactive steps to improve the environment for teachers will place themselves in the best position to provide a positive environment for growth and learning.
Fortunately, there are many steps district leaders can take to help support teachers' well-being. Sharing helpful resources with your teachers can be one way to demonstrate that your district is committed to pursuing systemic support for teacher well-being. When selecting these resources, consider the unique needs of your educators.
1. Support for job satisfaction and professional development
Teachers want to feel fulfilled and supported in their careers while still having the opportunity to take a break and recharge. This means nurturing their growth and giving teachers time to regroup. Providing students with access to 24/7, on-demand tutoring support is one way tutors can help teachers unplug, allowing classroom instructors to take back their time instead of feeling the pressure to "always be on."
When they're on the clock, make sure the educators in your district feel that your approach to professional development is responsive to their needs and truly helps facilitate career growth and progress. Grant teachers access to professional development resources that help them focus on what they love about their jobs—all while finding creative ways to reduce their workload in other areas.
Recommendation: A recent Edutopia article from the Modern Classrooms Project highlighted relevant professional development options and what makes them unique. If you think this guidance sounds interesting, check out the group's free online professional development course.
2. Tools for promoting resilience in the face of trauma and crisis
The monumental responsibilities our teachers assume don't stop at delivering learning moments. When traumatic experiences are part of students' lives, educators bear an emotional cost too. At a broad level, our institutions have all had to reconcile with and adapt to the crises posed by the COVID-19 pandemic. Of course, this includes teachers.
How do we recognize the reality of these situations without minimizing them? In the face of hardship, how do we persist in offering hope and fostering resilience? It's no small task, and district leaders have to be thoughtful and intentional about how they address these types of concerns.
Recommendation: One place administrators might turn to is the "Trauma-Informed, Resilience-Oriented Schools Toolkit" created by the National Council for Mental Wellbeing in conjunction with the National Center for School Safety. In this toolkit, the section titled "Building a Culture of Faculty and Staff Compassion Resilience" may be particularly relevant.
3. Relationship-building resources
It's natural to want to connect with our peers and colleagues. When so much of a teacher's job is rooted in classroom instruction, however, it can be difficult to find the time to build bridges and forge meaningful relationships with like-minded educators.
Building these crucial connections can help teachers connect their experiences to broader trends and patterns in the world of education as well as combat isolation.
Recommendations: Leading education agencies have produced useful tips, tricks, and exercises for facilitating strong connections among staff members in K-12 schools. For instance, there's a helpful guide from the National Education Association about constructing positive relationships with other educators. Likewise, Greater Good in Education from the University of California, Berkeley, has a "Positive Staff Relationships" hub and offers several exercises for fostering trust among staffers.
4. Help with mindfulness and emotional wellness
No matter the circumstances, many people find it useful to return to the present moment and practice techniques for grounding themselves in the here and now. Mindfulness exercises can help individuals focus their attention on their immediate surroundings instead of letting their thoughts take flight in unhelpful directions.
In addition, tools for promoting positive emotional wellness can help educators cope not only with the everyday stressors of their jobs, but also with complicated challenges they may be facing in their personal lives.
Recommendations: These quick guides from Edutopia can be a great resource for finding simple stress busters and for advice on regulating emotions, including how to identify and label complex feelings. There's also a great roundup of free counseling resources created by WeAreTeachers, with entries ranging from support groups hosted by the United Federation of Teachers to peer-to-peer support applications.
5. Fun and energizing ways to get moving
Well-being doesn't end with mental and emotional self-care. Although not everybody can participate in the same kinds of exercise or physical activity, there's bound to be something out there that every teacher can do to prioritize their own physical health. Some programs offer fun and exciting activities that help participants get into the groove. Others scale things back for low-intensity workouts that provide a gentle way to move your body. Remember: Focusing on fitness can have big benefits for mental health too! According to the Mayo Clinic, exercise may alleviate anxiety and depression.
Recommendation: The New York Times' Wirecutter has you covered with a wide-ranging rundown of free home workouts. From relaxed YouTube tutorials to free app-based experiences, there should be no shortage of options for educators who are in search of a motivation boost while focusing on home fitness.
Looking for other ways to support the dedicated educators in your district? Check out our free ebook to learn how 24/7 tutors can help empower teachers.