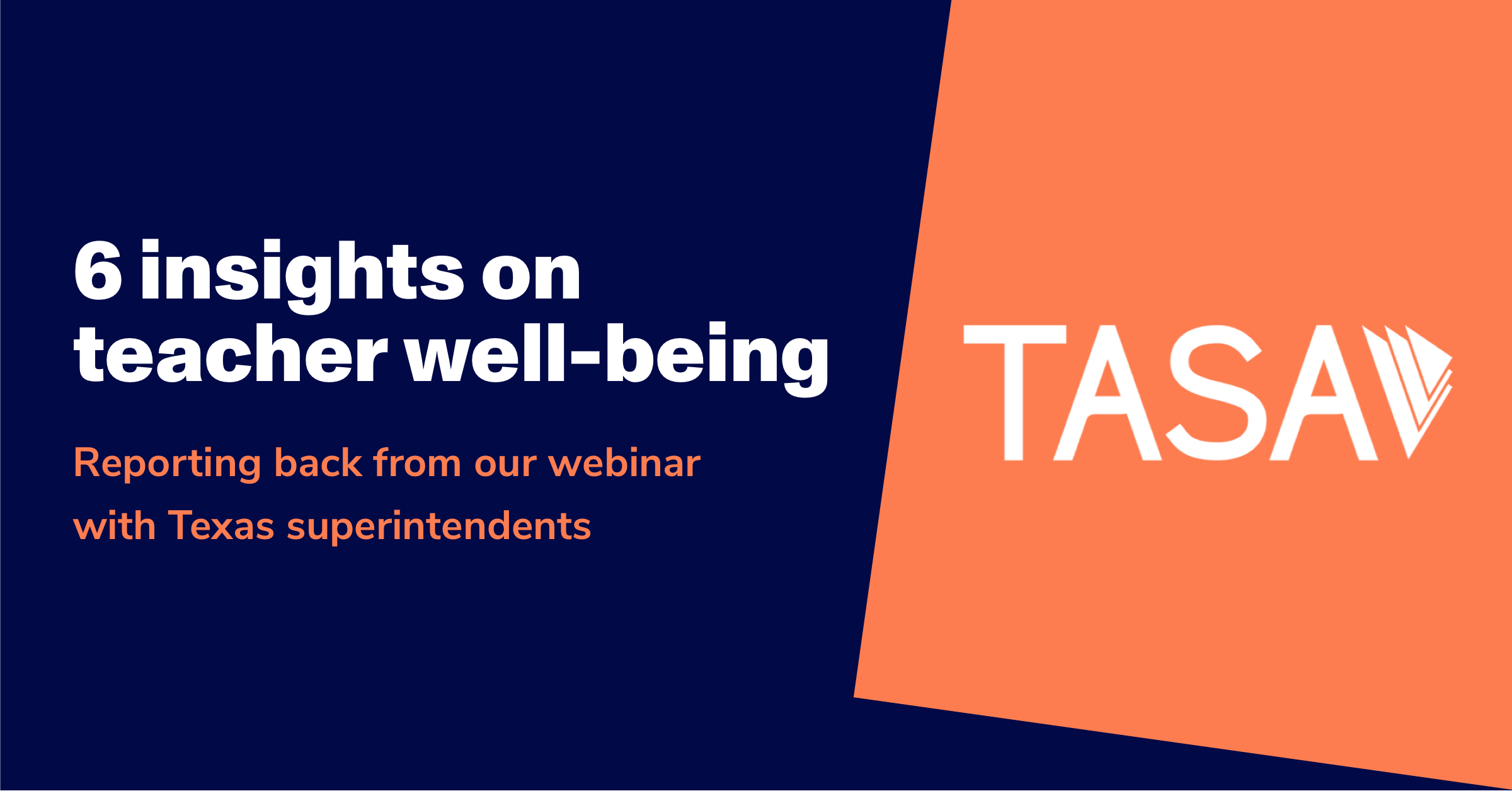 6 insights on teacher well-being from Texas superintendents
July 1, 2022
The trend is clear: Teacher well-being is in a fragile state today. So what can we learn from education leaders about how they're boosting efforts to keep teachers engaged on the job?
In partnership with the Texas Association of School Administrators, Kelly Merriman, a regional partnership manager at Paper, sat down with three superintendents from the Lone Star State to hear more about how they're supporting teacher wellness in their districts.
During a live webinar on June 8, we brought together:
Dr. Michael A. Cardona, superintendent of schools for San Marcos Consolidated Independent School District.
Dr. Dino Coronado, superintendent of schools for Weslaco Independent School District.
Dr. Georgeanne Warnock, superintendent of schools for Terrell Independent School District.
Read on for six keen insights about how to best support teachers and prioritize their continued growth.
1. Lead with empathy
"My mother used to tell me, you have two ears and one mouth, so use your ears twice as much as that mouth," said Cardona.
Nothing can replace active listening. With teachers facing burnout and demoralization, there's no substitute for taking the time to make sure educators are seen, appreciated, and valued.
What does that look like in practice? It may take the form of designated teacher advisory councils or other avenues for ensuring educators know they have administrators' active attention. Just as this guidance applies to those in the central office, it's also relevant for site-level administrators. After all, principals and their associates know their schools inside and out, so they have the best vantage point for figuring out how to reduce teachers' workloads.
2. Prioritize face-to-face interaction, but keep technology up to date
In many classrooms, in-person interaction is the gold standard. At the same time, technology has a complementary role to play for teachers and students alike—as long as devices and software are periodically upgraded to keep pace with modern demands. After all, nobody's going to argue about moving from bulky old laptops to interactive tools like smartboards.
On the educator side of the equation, administrators say they've seen positive results after "gamifying" various professional development elements, including the incorporation of digital badges and the creation of competitions where teachers devise strategies for incorporating technology into the classroom.
3. Embrace teamwork
Administrators may need to build bridges between various partners in the school community to reduce the burden placed on teachers. Members of the central office haven't been shy about stepping up to fill in gaps, but some roles can also be handed over to parent volunteers. In addition, when students receive greater access to counseling support, the benefits for the entire campus can be substantial.
4. Empower teachers with meaningful engagement initiatives and recognition
With widespread staffing shortages in education threatening to spiral further, administrators know they need to work proactively to drive teacher engagement and boost retention.
Warnock highlighted her district's efforts to incorporate Marcus Buckingham's work regarding workplace engagement.
"Right now, we're trying to build the best possible team," said Warnock, emphasizing that team members need to feel like they get to use their strengths every day and to work with supportive colleagues who share their values and mission.
5. Leverage data, and follow through
Administrators have several methods for taking a temperature check on teacher well-being and engagement. What are they seeing in the attendance data? How do their climate survey results look? What do they hear during informal conversations with support staff? When superintendents have the chance to walk the halls and directly ask teachers about how they're doing and what they need, the information they gather can be quite illuminating—especially if they've already created an atmosphere of safety.
The next step is the most important, though. Data only matters when it informs action, so administrators have to make sure that they create workable plans from what they learn. They also have to share their findings with teachers and demonstrate progress toward solving problems.
6. Help teachers chart their ideal career paths
To ensure districts are effectively prioritizing teacher well-being throughout educators' careers, administrators need to make sure they support pathways to advancement.
That can take the form of talent development opportunities for teachers who wish to pursue a career in administration, paving the way for them to become principals. But other opportunities should be in the mix for educators whose passions lie in classroom instruction.
"Not every teacher wants to be an administrator," said Cardona. "It shouldn't take somebody leaving the classroom to move up to get higher pay."
With appropriate pathways in place, dedicated educators can benefit from the chance to continue doing excellent work in the classroom while still gaining ample opportunities for career growth.
If you're interested in learning more about how to best support educators, take a look at our K-12 guide to teacher wellness.